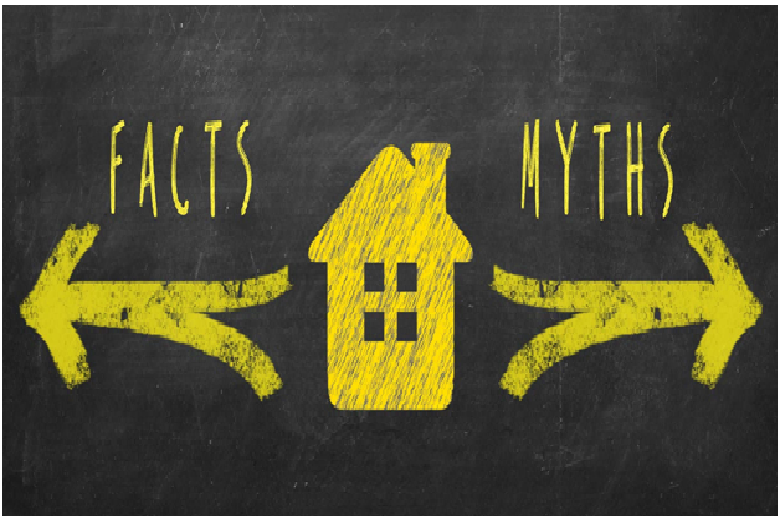 7 Condo Hunting Myths to Ignore
Condominiums, popularly known as a condo, are ideal low maintenance living options for a majority of the Canadian population. Citing today's busy lifestyle, nobody has the time to build a home from scratch. People are more inclined towards moving into a furnished apartment.
Although living in a condo has become extremely popular these days, people still are apprehensive about it. This is due to a lot of condo myths doing rounds in the market. If you are one such investor, confused between a villa and a condo, we have something for you. Here are the top seven condo myths busted, that will help you make an informed choice –
Condominiums implement strict rules and regulations
---
A lot of buyers have this misconception that living in a condo means adhering to strict rules, regulations and policies. However, the fact is that these rules and regulations are more oriented towards the safety of the inmates rather than imposing restrictions on them.
People living independently are usually adults and know what's right and wrong. Condo sellers understand this fact. All the condominium units do have a few policies that all the residents have to conform to, but these policies are specific to a given condo development and are not universal. If you find them to be too hard or daunting, you can always look for a new unit.
Condo rules make sure that the development keeps looking at its best and the value is maintained over the years. It is recommended that you properly inquire about the laws and regulations before committing to any unit to avoid any inconvenience later.
Spring is the best time to hunt a condo
---
Buying a condo unit is not something specific to a season. Although there is no denying the fact that spring is the peak time for real estate deals in Canada, it does not further imply that spring is the best time as well.
Every first-time home buyer at some point must have waited till spring to seal the deal. It is true that the spring market features the most varied selection, and it paves the way for a summer move in.  But, you sure can catch equally awesome deals during winter and other seasons as well. The options available may be less but so will be the competition. You never know when you may get lucky! Moreover, the sellers are eager to close a deal or two during low seasons.
You can't be yourself in a condo
---
Another condo myth doing rounds in the market is that people cannot be themselves in a condo. While the fact that you cannot make any changes to the exterior of a condo is right, you definitely can do whatever you please inside your unit.
You may choose the colors of paint, furniture placement, flooring, kitchen furnishings and whatever else you like to do. You may remodel the bathroom altogether or renovate the kitchen as you please. Just make sure that the community's building codes are not violated.
You cannot keep a pet while living in a condo
---
Whether or not you can keep a pet in a condo depends on the rules and regulations of the building. While some units some allow the residents to keep pets, some do not. Also, in condos that allow, residents have to make sure that the pets are well-behaved and not a source of disturbance for other residents. Thus, it is essential that in case you are a pet lover, you must inquire with the owners regarding the rules beforehand.
Condo hunting is more comfortable without an agent
---
Another common misconception regarding condo hunting that it is easier to do without an agent. Buyers think that they can save some bucks by not hiring an agent; however, this costs them in the long run.
Agents are usually the first ones to see when new deals and listings come up. They have a network of agents which lets them know about the listings that have not even shown up in the public circles yet. An agent may also help you avoid costly negotiating mistakes while sealing the deal. Thus, it is good that you have a professional real estate agent by your side while hunting a decent condo.
A mortgage pre-approval is not something necessary
---
Going condo hunting without having a pre-approved mortgage is quite a grave mistake to be committed. It is highly unlikely that a seller will entertain a deal without a pre-approval. Citing the competition from plenty of other buyers with pre-approvals in hand, you cannot afford to risk your favorite piece, can you? A pre-approval not only lets you stand a better chance at winning an offer but also lets you know beforehand what your budget is going to be so that you do not waste your time. also
Looking uninterested in a condo that you want would fetch you a better deal
---
A lot of home buyers adopt this strategy of looking uninterested in a condo that they are interested in. Well, let us burst the bubble for you – this strategy can backfire very quickly. Nitpicking criticisms or making an unjustifiably low offer can land you in troubled waters. Such things are more likely to annoy the seller rather than making him bargain with you.
Transit City Condos have almost everything that any potential homebuyer would look for. Located strategically, these condos offer easy access to amenities like shopping complexes, schools, hospitals, and parks. Thus, you get to enjoy a high standard of living at a reduced cost. The condo lifestyle is a low maintenance one. Probably, this is the reason that people are exploring their options these days rather than just committing to a bungalow.
Thus, these were the top seven myths about condo hunting prevailing in the market these days. A condo can be one of your best investments in a lifetime. Not only is a condo ideal for a residence, but also brings along a couple of benefits, that even an independent villa cannot offer. All that you need to do is identify the right unit out of the entire lot available on sale.