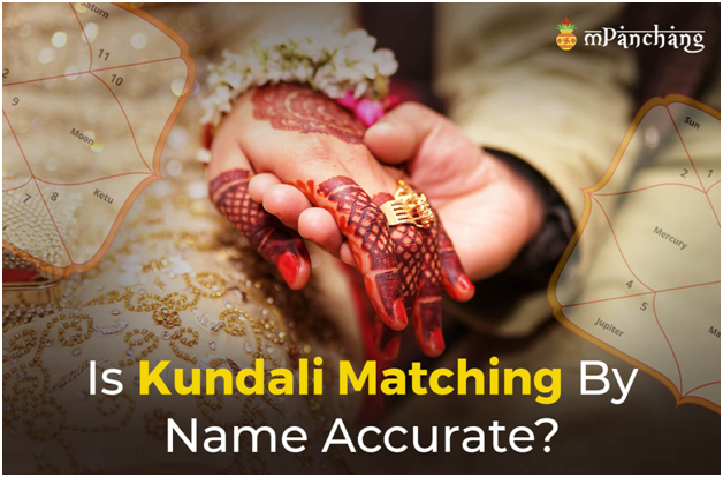 What Are The Benefits Of Kundali Matching By Name?
As they say, astrology is just a finger pointing at reality. Kundali matching by name can unfold the hidden traits of two people and throw light on the compatibility that they both will share on different life aspects. Therefore, it is widely used when people are planning to get married.
We, humans, are very eager to know about our future, and Vedic astrology can help us by giving reliable future insights. Since marriage is one of the most crucial decisions of life, people assess its fruitfulness by Kundali Matching.
People match Kundali by date of birth and by name also. Both the methods are correct as per the Vedic astrology. We will try to uncover the meaning and  importance of Kundali Matching by name in this article, but first, let me tell you what exactly Kundali matching is!
What is Kundali Matching?
---
Vedic astrology is a tool to tap into our future. By seeing your horoscope, astrologers can give an exact prediction of your future. Horoscope is essentially a map of planetary positions at the time of your birth. And by knowing the exact places of various planets, astrologers predict various life aspects of an individual including their personality traits.
Kundali Milan is probably the first and foremost custom that is taken into account before a marriage is solemnized in India. When two people decide to share their life as partners, they must assess their compatibility. And that's when Kundali Matching comes into the picture.
Guna Milan is an elaborate assessment of companionship based on various factors, which is also known as Ashtakoot Milan. Ashta means eight, and Koota denotes viewpoints. So it is the conscious analysis of two person's compatibility based on eight different aspects. They count Guna for every single aspect.
The best couple matches the highest Guna, which is 36. Nowadays people also useKundali Matching Online to gain accurate results in the shortest time.
Methods of Kundali Matching
---
There are two methods through which Kundali Matching can be done :
Kundali Matching By Name 
Kundali Matching By Date Of Birth
Kundali matching done by date of birth and time of birth is the most widespread and accurate. People match their birth chart to get a better idea about their married life.
However, many a times, people are not aware of their exact birth time. Then it becomes challenging to make a Kundali. Without knowing the right birth time astrologers can not decide the correct positions of various planets which ultimately cannot give the right predictions.
In such cases, astrologers try to match Kundalis by name.  Kundali matching by name is also a more straightforward and insightful way to unravel various hidden traits of a person. Based on your name and zodiac sign, they predict the compatibility between two people and the future of their married life.
The only concern for horoscope matching by name is that the name must be according to the zodiac sign. So the first letter of the name can denote the right zodiac sign, and based on it, astrologers can foretell about an individual.
Why We Must Do Horoscope Matching Before Marriage?
---
Why you take a test drive before purchasing a car? Why you carefully see four-five properties before purchasing your own home? Obviously, you want the best for you, and you don't want to take any risk. Marriage is one of the most critical life decisions, and you must leave no stone unturned when you are checking up on the compatibility with whom you are going to share the rest of your life.
But to be more precise, let me tell you a
Few points for which you must go for kundali matching.
---
Career and financial prospect
When you decide to get married, one of the wise steps can be to know your partner's finances and career prospects after marriage. With kundali matching, you can have insight about his/her career growth and professional life. The presence of Jupiter and Sun in your career house can predict bright professional prospects.
When you are planning to spend the entire life with someone, the very first thing you should consider is to check your mental, physical and emotional compatibility. Not only you both, but two families are connecting with a new bond. So by kundali matching, you can see how adaptable you both are and how harmoniously you can lead your life
After a point in marriage; people want to bear an offspring. Kundali matching can be beneficial as it can predict about the health of the child, is there any problem attached to it or not, and if there is a problem, it shows remedies too.
Celestial bodies affect our lives profoundly. When two-people share their life, their stars affect each other's life as well. Sometimes the bride or groom may suffer from some Grahadosha. Kundali matching can predict it accurately and then the Astrologers can suggest suitable remedies for the same. Mangal and Shani Dosha are major Dosha astrologers can predict at times of marriage. There are remedies for that. Astrologers recommend certain pooja and Kriyas for Dosh Mukti. Even when Kundali matches entirely there are some Pooja they recommend for harmonious wedding bliss
Concluding Notes
Today's smart generation may not believe in astrology. These old school concepts sound obsolete to them, but our ancestors have been using these methods for ages. It is time tested and accurate.
Believing in Kundali matching by name can open a gateway to a new dimension of relationship. You both can understand each other more profoundly. And there are remedies to solve any Dosha if found at all. Why don't you try it yourself?
In a society full of status matching, it is important to go for Kundali matching and gift yourself a happy married life!