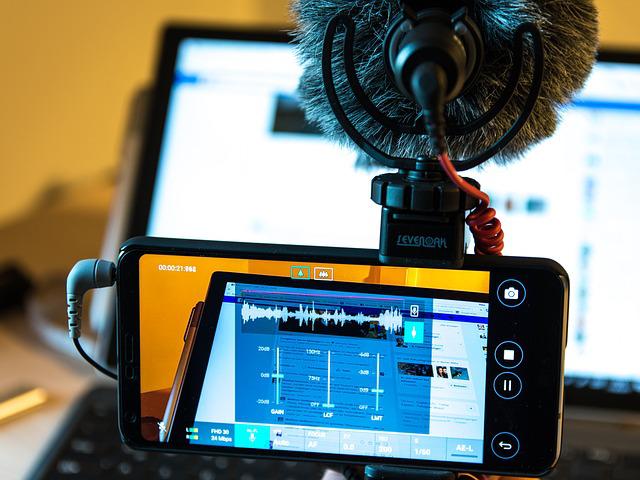 The Best Screen Recorder in 2022
A screen recorder is a software that captures every movement on your device to take a video of your screen and it can be used on any device. Screen recorders can capture anything from a portion of your screen to your entire screen. There are plenty of reasons for which you need a screen recorder. Professionals need a screen recorder to communicate a certain execution, method or training in the office environment. For training and to share gaming achievements, gaming professionals need a screen recorder. To record lectures, teachers need to record their screens with a screen recorder. Especially in the developmental stages and final stages of creation, application developers find screen recording and mirroring highly useful. By using a screen recorder, developers can record easily how their application is functioning, the errors it may be receiving or show exactly how the app works and explain its features. There are many screen recording software's around the world but not all of them give you sufficient. In this article, we have suggested you the best screen recorder for 2022. So if you are looking for a screen recorder with rich features, then this article is for you.
EaseUS RecExperts
EaseUS RecExperts is one of the best screen recording software with a full set of features and it is perfect for learners, gamers, trainers, teachers, YouTubers, etc. EaseUS RecExperts supports both Mac and Windows. You can record the screen with internal audio and your voice. Based on your needs, it allows you to record part of the screen or a full screen and also supports extracting audio from recorded video files or during recording. While you are recording the screen, you can capture your face via a web camera. This software lets you capture any video, website, software or desktop and saves it as a GIF. In this program, you can automatically set a time to start or stop a recording and are also able to schedule multiple tasks. You will be able to record team meetings, Skype calls, and WhatsApp calls with the help of EaseUS RecExperts. It supports various output formats like MOV, FLV, OGG, WMA, MP3, MP4, MKV, AVI, AAC, WAV, GIF, PNG etc. As it has a great number of rich features compared to other software, that's why EaseUS RecExperts is the best screen recorder.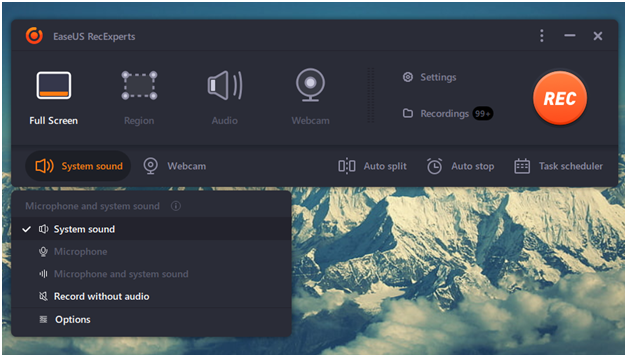 Features:
For any occasion, you can capture video, audio, webcam or image.
Zoom meetings, YouTube videos, tutorials, games etc. can be recorded in this software.
With the internal audio and video, you are allowed to record the screen on both Windows and Mac.
When it reaches a set time, duration or file size, this software auto stops the recording or auto split the recording.
Recorded footage can be saved in 10+ formats such as MP3, MP4, PNG, MOV etc.
As per as you need, you can trim the length of the recording or adjust its volume and add a custom intro or outro to it.
You can take snapshots from your PC or Mac screen by using EaseUS screen recorder.
What Can EaseUS RecExperts Do for You?
Record Meeting
Online video conferences have become the norm during this pandemic. If you don't want to miss any of your important video calls, you can record them. You can use EaseUS RecExperts to freely record team meeting, Skype call, WhatsApp call, webinar or zoom meeting. It allows you to record any meeting without any time limitation. Like a built-in trimmer, simple editing tools are provided. You can record Zoom meetings even if you are not the host with the help of this software.
Record Gameplay
Many gamers love to do live streaming of their gaming.  If you plan to start a YouTube channel for video games, you can use EaseUS RecExperts to record your gameplay effortlessly with or without narration. You can record your gameplay highlights to show off to friends if you are just a game lover. It works well even on low-end PC, so there is no reason to worry about lag issues. Including the internal or external sound, you can record a game with audio and to enrich the video, you will be able to record game with face. EaseUS RecExperts is the best game recording software.
Record Lectures
As remote learning is a trend, many educators share their PowerPoint slides on the web. For distance learners to understand the information, the video presentations with the speaker's narration are helpful. To record your face and voice narration on your PowerPoint content, you can use EaseUS RecExperts. You can record the webcam in 720p or 1080p. To record automatically, it offers you a task scheduler. You can export the videos in formats like MP4, MOV, FLV, etc. after recording the lectures. With a built-in tool, this program supports trimming videos. To modify your recordings, it provides basic yet essential tools. You can easily capture any region of your screen. This software supports cross-platform on Mac, PC, Laptop (HP, Dell, Lenovo) etc.
Record Netflix/YouTube Videos
Sometimes we would like to save videos when we are watching an interesting/entertaining/educational video on YouTube or any other platform so that we can watch it offline or share it with friends. You can rely on EaseUS RecExperts to record YouTube videos or record YouTube audio for later use as YouTube doesn't offer a direct save option. Recording Netflix is also allowed in this program. You can record videos with system sound and a microphone. The output video quality can reach 1080P/4K. You can configure framerate, bitrate, and resolution on this program.
Conclusion
We have to record the screen for various work purposes. By screen recording, we can capture those videos that are not available for direct downloading. We can record Netflix movies and watch them again with our family or friends. Recording gameplays are also an interesting part of screen recording. There are many tools to record a screen. Among all the tools, some are paid and some are free. In this article, we have suggested one of the best screen recorders for 2022, EaseUS RecExperts. It is one of the best all-in-one software to record your screen easily and also it works perfectly on both Windows and Mac. This program is rich with features and it also allows you to edit your recorded videos. We highly recommend you to use EaseUS screen recorder.