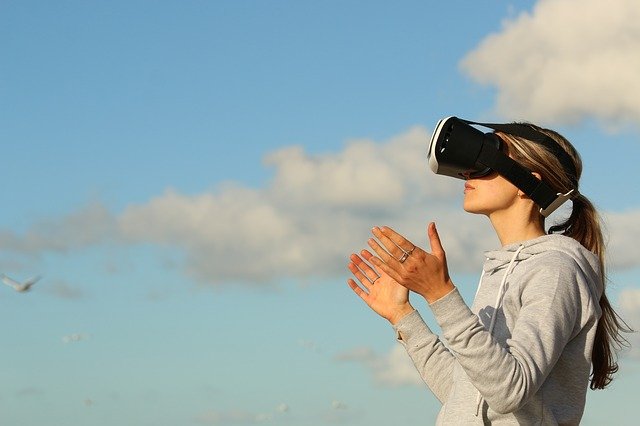 Top 8 AR and VR Trends to Look Out for in 2023
From developing entertainment-focused to business applications AR and VR have become a part of our daily lives. Here are the top AR and VR technologies to look out for in 2023
Technology has been evolving rapidly in recent years with different types of innovations being launched into the market. While some trends have a significant impact on the industry, some tend to fade away. The Augmented Reality (AR) and Virtual Reality (VR) technologies have been around for more than five years and content to impact many industries even today. 2020 has been an eventful year for these technologies. From developing entertainment-focused to business applications AR and VR have become a part of our daily lives. These immersive technologies hold the power to transform all sectors and with 2023 approaching, it is important to learn about the latest AR and VR trends.
Here are the top 8 AR and VR technologies to look out for in 2023:

AI with AR and VR
---
Independently Artificial Intelligence (AI) Technologies  and AR VR technologies have benefitted various industries, therefore, developers are looking for new ways to combine these technologies. These efforts have resulted in the creation of computer vision, which allows machines to monitor and analyze everything captured in the camera's range. Computer vision can significantly improve image recognition. The gaming industry is focusing on developing sophisticated AI-driven environments for games.
In the coming years, it can be expected that businesses and developers will leverage advanced AI methodologies such as machine learning algorithms to help devices in understanding and visualizing things effectively.
AR and VR Going Mobile
---
According to a report by GSMA Intelligence, there are 5.20 billion unique mobile phone users globally. This has led companies and developers to focus more on using AR VR with mobile applications. Ever since Pokemon GO became popular, there has been an increase in Mobile AR VR applications. AR has become the main concept behind Snapchat, an app where users get to use augmented picture filters.
In addition to these functions, top corporations like IKEA make use of AR VR simulated environments to assist their customers in visualizing the furniture set up in their homes before they even purchase those pieces. Both Google and Apple intend to encourage developers by launching instruments that permit designing AR VR equipped applications.
Tracking Eye and Facial Expressions
---
Recognising the natural expressions of the users becomes difficult when they are using VR head-mounted displays as more than half of their face is not in the view. To overcome this limitation, Apple patented an eye, expression, and gesture tracking headset earlier this year. This headset can track the user's facial expressions easily as it works with AR. Other companies like Tobii and Pupil Labs are also providing their users with software and hardware add ons for AR and VR headsets.
Socializing and Collaborating
---
Recently, Facebook purchased Oculus, a leading developer of VR headsets for digital entertainment and gaming. This shows that AR VR technologies can be integrated with social networking sites in the coming years. AR VR technologies can also be used for making virtual conference calls more collaborative. Users will be able to interact and connect with people through VR AR headsets both in a business capacity and for recreational purposes. The current pandemic has led companies to adopt a remote work model and with AR remote team members can work together in real-time without any hassle by utilizing AR & VR technologies.
3D AR avatars
---
Virtually created celebrities like Brud's Lil Miquela, Bermuda, and Activ8's KizunaAl have become internet famous just like real-life influencers. These virtual celebrities show how a new era of Artificially intelligent AR avatars is emerging. AR replica 3D avatars can be created within minutes by using a 3D Body scanning device that will capture a 360º image of the person. These 3D avatars allow gamers to create a virtual replica or persona of themselves to play online games in a virtual world. They can also help users get tailor measurements online without the designer having to meet the user in real life.
AR Cloud
---
AR cloud is essentially a real-time or spatial 3D map of the world. It allows experiences and data to be shared, augmented, and bound to specific locations to stay consistent across various devices and applications. This technology can transform shopping experiences as users will no longer have to visit a physical store and can walk through the store with an AR VR headset. AR cloud will also enhance virtual sports and gaming applications.
AR VR in Healthcare
---
Virtual patient consulting that has taken off due to Covid can become mainstream when combined with AR & VR. These technologies have become instrumental in gathering large amounts of medical data which will build immersive visualization tools for treatment and diagnosis. VR allows medical students to practice sensitive procedures such as children going through blood tests, surgery, and supporting PTSD patients. Virtual Reality can help healthcare specialists predict how a specific procedure will affect a patient and plan critical procedures with a greater precision. This technology can help doctors reduce the side effects of treatments on patients as well.
5G impact on AR & VR Evolution
---
It is likely that with the deployment of 5G networks, there will be increased adoption of AR and VR technologies. Because of 5G technology's low latency and high data rate developers and analysts believed that 5G could increase AR VR applications. Customers will get better AR VR experiences with the integration of the 5G technology. It has been predicted that 5G technology will speed up data transfers to the cloud, processing, and the generation of a virtual image that will in turn enhance the AR VR experience of users.
The above pointers clearly indicate the versatility of AR VR applications. These technologies are not going away anytime time soon. During the current pandemic, AR VR technologies have helped businesses adapt to the new remote work model by allowing team members to work together and communicate with each other through virtual environments. AR and VR will certainly enhance a company's marketing strategy as these technologies have the potential to attract audiences. Thus, it is important for businesses to leverage this technology for meeting their objectives.