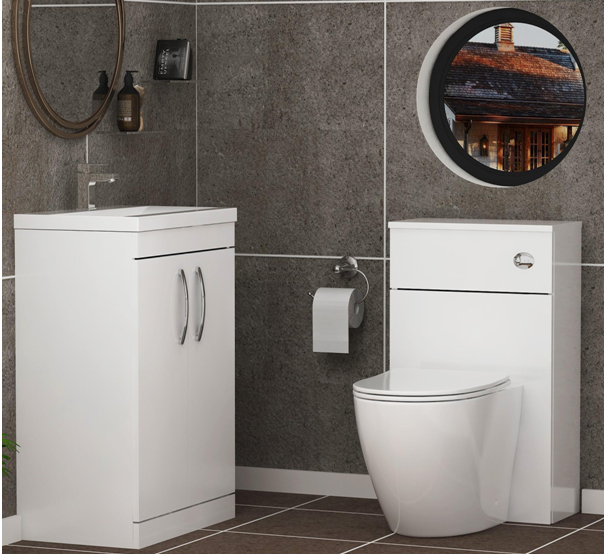 The Perfect Fit: Choosing the Right Vanity Unit for Your Bathroom's Aesthetic
Choosing the right vanity unit for your bathroom is an important decision that can greatly impact the overall aesthetic of your space. A vanity unit not only serves as a functional storage solution for your bathroom essentials, but it can also be a statement piece that ties together the design of your bathroom. This blog post will cover the key considerations when choosing a vanity unit, the different types of vanity units available, materials and finishes, sink options, lighting and mirror considerations, and installation and maintenance tips.
Considerations When Choosing a Vanity Unit
 When choosing a vanity unit, there are several factors to consider. You will first need to consider the size and layout of your bathroom. You may want to choose a 1000mm vanity unit that fits comfortably in your space and doesn't feel too cramped or too large. Next, consider the style and colour scheme of your bathroom. You want to choose a vanity unit that complements the overall design of your bathroom. Additionally, consider your storage needs. Do you need a lot of storage space or just enough for the essentials? Finally, consider your budget. Vanity units can range in price, so choosing one that fits your budget is important.
Types of Vanity Units
Several types of vanity units are available, including freestanding vanities, wall-mounted vanities, corner vanities, double sinks, and cloakroom vanity units.
Freestanding vanities have become a preferred choice for many homeowners thanks to their inherent flexibility and wide range of options. They offer a sense of independence and can be easily incorporated into any bathroom design. Available in an extensive selection of styles, from classic to contemporary, and an array of sizes, floor-standing vanity units cater to different tastes and space requirements.
Wall-mounted vanities fit on the wall and can be an excellent choice for smaller bathrooms or cloakrooms. Their ability to be affixed directly to the wall creates an illusion of spaciousness and makes the bathroom appear larger than it is. By freeing up valuable floor space, wall-mounted vanities offer practicality without compromising on style.
Corner vanities are designed to fit seamlessly into tight corners, making the most of every inch of the room. By utilizing the often-overlooked corner area, they provide a space-saving alternative that optimizes the functionality and aesthetics of the bathroom. They are available in a variety of sizes and styles, allowing for customization based on the specific needs and design preferences of the bathroom. They can range from compact single-sink options to more expansive double-sink configurations, catering to both small and larger bathrooms alike.
Double-sink vanities offer a fantastic solution for larger bathrooms or shared spaces, providing both functionality and style. Two separate sinks enable multiple users to utilize the vanity simultaneously, streamlining morning routines and minimizing conflicts.
Ideal for couples or families, double-sink vanities promote harmony and efficiency in busy bathrooms. They eliminate the need for individuals to wait their turn at the sink, allowing for simultaneous teeth brushing, face washing, and grooming activities. This saves time, reduces morning stress, and enhances the overall bathroom experience.
Materials and Finishes
Vanity units are available in various materials, including wood, MDF, MFC, glass, metal, stone, and painted finishes. Each material offers distinct aesthetics and durability. Wood provides a warm and natural look, while MDF and MFC are cost-effective choices. Glass adds a sleek touch, while metal imparts an industrial feel. Stone offers luxury and longevity, and painted finishes allow for customization. These material options ensure that vanity units cater to different styles and enhance the functionality of any bathroom.
Choosing the Right Sink
When choosing a sink for your vanity unit, several options exist. Undermount sinks are popular as they are easy to clean and provide a seamless look. Vessel sinks sit on top of the vanity and can add a unique design element to your bathroom. Integrated sinks are built into the vanity top, providing a sleek and modern look.
Lighting and Mirror Considerations
Choosing the right mirror size and shape is important when it comes to the overall aesthetic of your bathroom. Lighting options for above and around the 800mm vanity unit can also greatly impact the look and feel of your space. Consider adding sconces or pendant lights for a stylish and functional touch.
Installation and Maintenance
When it comes to installation, you can choose to DIY or hire a professional. If you're not experienced with plumbing or electrical work, hiring a professional is best. To keep your vanity unit looking its best, be sure to clean it regularly and avoid using harsh chemicals that can damage the finish.
Conclusion
Selecting the perfect vanity unit for your bathroom's aesthetic is an important decision that requires careful consideration. By considering the size and layout of your bathroom, style, colour scheme, storage needs, and budget, you can choose a vanity unit that complements your space. With the right materials and finishes, sink options, lighting and mirror considerations, and installation and maintenance tips, you can create a beautiful and functional bathroom that you'll love for years to come.