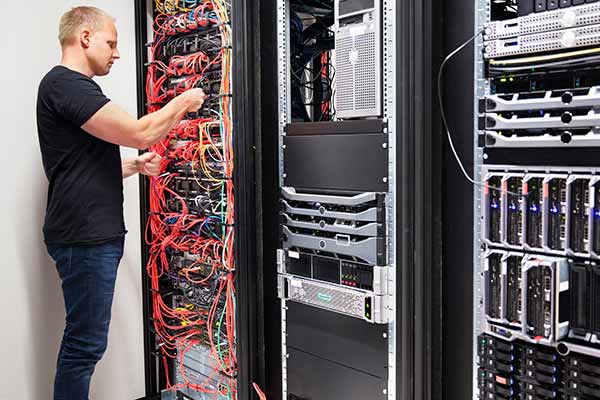 Modern Approaches to Corporate Information Security Management
Globalization has a huge number of advantages. Now companies work globally with the development of different technologies. The almost complete disappearance of borders gave birth to a new problem- how to protect the information of your enterprise?
Any leakage of information from your organisation can lead to serious problems for the company – from significant financial losses to complete liquidation. Industrial espionage, the enticement of qualified specialists and hacking attempts always pose a challenge to small as well as big companies.
So, these days, companies pay attention to Corporate Information Security Management. It is understood as the security of information and the entire company against deliberate or accidental actions, resulting in damage to its owners or users. Ensuring information security is aimed at preventing risks and eliminating their negative consequences. Have a look at some ways to ensure Corporate Information Security Management.
A Safe Website
---
A lot of important business information and customer data is stored on the website's server. Customers leave a lot of data on retail, E-commerce, and business websites when they have to make transactions and place orders. Professional website hackers & cyber criminals look for this information to make financial benefit out of that, damage the reputation of the brand and shut down the online business completely.
Website hacking always brings about negative ramifications. You lose the trust of your customers. Search engines look down upon your site and may delete it from their databases.
Therefore, you should take different measures to protect your site. Use strong and unpredictable login details and keep changing it from time-to-time. Add SSL certificate to your site and use plugins to prevent online security threats automatically. Block professional spammers and unwanted users from accessing the site. For this, you can use the CAPTCHA. Conduct website security audits at regular intervals to explore security loopholes and fix them on the spot.
Use Modern Software to Track Employees Activities in The Company
---
Corporate Information Security Management always starts with employees working with your company. There are many cases when employees commit misconduct on simple ignorance or negligence, transfer confidential information about the company to a third party or competitors for economic benefits. Therefore, companies must work with employees and let them realize their responsibilities when it comes to information security.
It should be understood that corporate information security is the responsibility of all employees. There are several cases wherein high ranking business individuals were involved in unlawful actions, play a double game, enjoy their privileges and abuse access to confidential information of the organization, and steal valuable information in order to gain profit for its disclosure. Most often, leaks occur against the background of negligence and carelessness.
So, you must regularly track the actions of all employees on computers with the use of modern tracking software. It helps you to determine the date of arrival and departure of an employee, the period of absence from the workplace, their contributions, and websites they visited during the work period. Electronic monitoring of employees lets you discover dishonest employees and falling the sensitive information about your business into the wrong hands.
Use the CRM Software for Information Accumulation & Processing
---
Many business organisations have to deal with a huge amount of time on a daily basis and offer personalised business solutions to customers. A business marketing individual always finds it difficult to store and manage multiple data on a computer, laptop, pendrive, etc. Therefore, you should use the CRM software for automatic data collection, storage and optimisation. Allow only reliable individuals to access the data stored on the CRM software and active two-step verification on it. Only authorised individuals can have access to the data stored on the CRM software.
Protect Your Computers & Laptops
---
The security of computers and laptops is important if you are really serious about Corporate Information Security Management. It has been observed that many companies use free or pirated software for conducting business operations.
This makes it easier for professional cybercriminals to inject malicious viruses or malware in your computer and fetch all data stored on it. Therefore, you should use high-quality and recognised OS, antivirus, firewall, browser, and other software to conduct daily business operations and ensure the protection of data created or stored on it. Protect computer with a strong password and limit access to it.
Protect Your Mobile Devices
---
With the growing pace of business mobility, mobile devices are used to conduct important business operations. Always keep in mind that Internet-enabled mobile devices are always prone to different types of online security threats. So, take all possible measures to protect the mobile device used for business activities. Use antivirus, safe browsers, and password protection technique to transfer data from one place to another with safety.
Use video Surveillance System
---
In simple words, video surveillance is a process of visual control and automatic image analysis. With its help, you can easily record the facts of theft or misappropriation of property and other activities. The camera data may reflect non-compliance with labor discipline, the disloyal attitude of employees, and illegal behavior in the company.
The video surveillance industry has changed significantly over the past few years. Many users prefer their system to be connected over the network to their computers. The main advantage of this solution is that you can watch and listen to the video/audio content your system, get access to the computer network and disable hacking attempts. Experts in the installation of video surveillance systems diligently study the new vulnerabilities of the security system and offer you smart solutions. Even with the basic configuration of the video surveillance system, you can eliminate 99% of attempts to steal your sensitive information.
Backup Important Business data
---
This solution implies storing important information not only on a specific computer but also on other devices: external storage or a server. the service of remote storage of various information in the "cloud" of data centers has become particularly relevant as it can protect a company in the event of an emergency. You can backup and restore data at any time and in any geographic location.
Disaster Recovery Plan
---
Develop a disaster recovery plan for emergency situations. Such a plan is necessary for each company in order to eliminate the risk of downtime as quickly as possible and ensure business continuity 24*7. If a company cannot get access to its information resources due to some reasons, having such a plan will help reduce the time for restoring the information system and preparing it for work.
End-to-end Data Protection
---
Just use end-to-end encryption to ensure the confidentiality of information during its transmission in electronic format. It allows you to confirm the authenticity of the transmitted information, protect it when stored on open media, software and other information resources of the company from unauthorized access and use.
Final Remarks
The protection of corporate information should be carried out comprehensively in several directions at regular intervals. The more methods are used, the less the likelihood of security threats and data leakage. Best of Luck!
Author Bio
Lisa Cooper work as a blogger with Fixtel – an Australian owned and operated telecommunications company offers enterprise cabling & security solutions in Australia. She loves to write insightful blogs & articles on the security Gadgets and Components of a Telecommunications System.