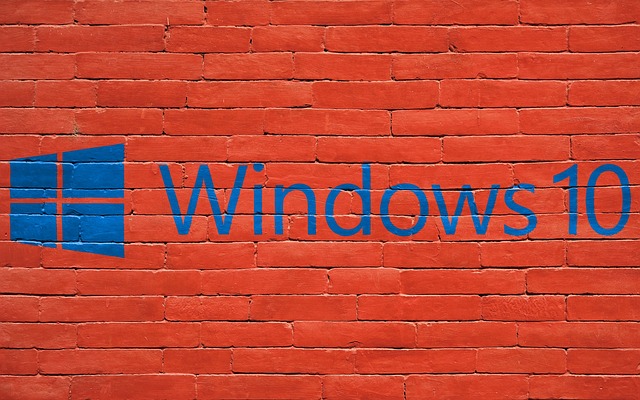 How to Bypass Administrator Password on Windows 10
Operating a computer can sometimes be overwhelming especially if you don't know your way around it. Sometimes, users tend to forget their password causing them to look for an alternative of how to bypass administrator password windows 10. Having to bypass window 10 admin password situation may arise if a user cannot remember his password.
 To bypass window 10 passwords can pose to be a herculean task where you don't know how to go about it. Therefore, this prompts us to come up with various ways on how to bypass administrator password window 10. By following these guidelines, you can be assured of achieving your desired result.
How to bypass Windows 10 with Command Prompt
---
If you are deprived access to your computer due to forgotten password, do not worry, you can use the command prompt to bypass it.
Steps to follow using the command prompt
---
Steps to follow
Get a window 10 setup disk also known as installation disk, and if you don't have, you can create one by burning a window 10 ISO to file to CD-ROM or USB flash drive
After that, insert the Windows 10 setup disk to your computer, this will enable you to reset the window 10 admin password and let your computer boot from the disk.
After the booting of the computer, you will see the Window setup window. You can then bring up a command window by pressing shift + F 10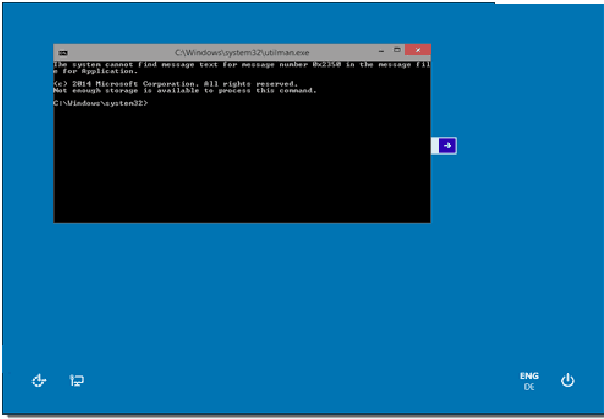 In the diagonal box where the command prompt pops up, you will replace letter d with your system drive letter and execute the two lines of commands which will replace the Utility Manager on Windows10 sign-in screen with command prompt, then after typing each line, press Enter.
Remove the Window 10 setup disk after you have executed the two lines of command successfully, and then restart.
After restarting the computer, On the Window 10 sign in screen, click on Ease of Acess Icon located at the lower right corner. If you successfully followed the previous step, you will see a command prompt Window pops up.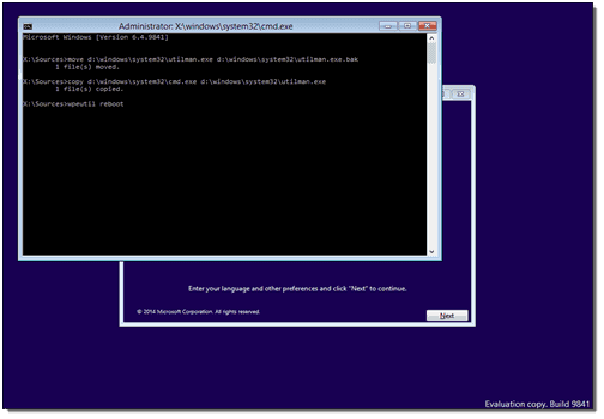 When command Prompt Windows pops up, type the password reset command:  user<username><password> and click Enter to set a new password for your Windows 10 local admin.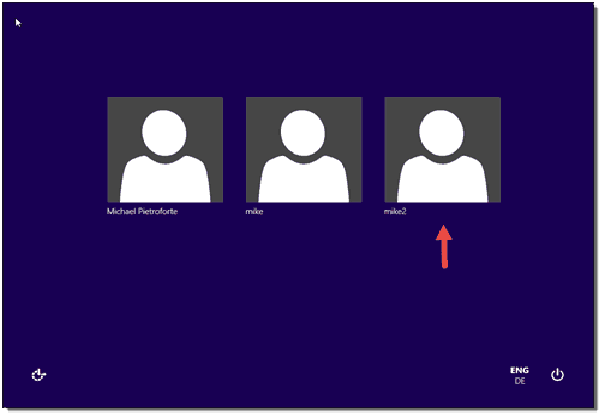 When all the information listed above, then you can close your command prompt and sign in with our new admin password.
Bypass Window 10 password with Windows Password Recovery
---
This tool allows you to get bypass you windows 10 administrator password within minutes and also helps with creating a new administrator while saving you the stress of logging in. The Windows Password Recovery is very versatile and can work on all windows and computer versions.
Steps to follow
Download Window Password Recovery on an accessible computer.
Insert a bootable CD/DVD ROM or USB flash drive which the recovery tool is on. This will help you to create a Windows 10 password reset disk.
Hit the USB device option on the program interface and select the inserted media.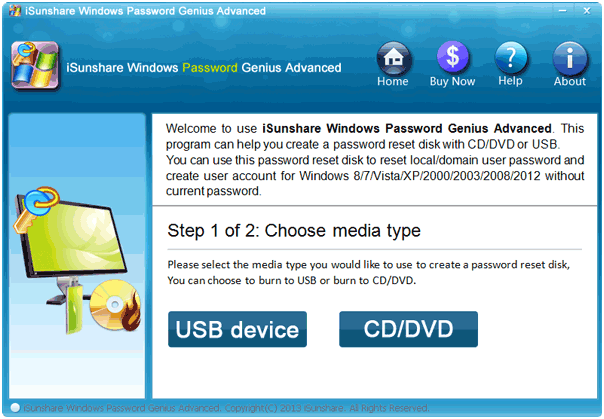 Click on the "Begin Burning button."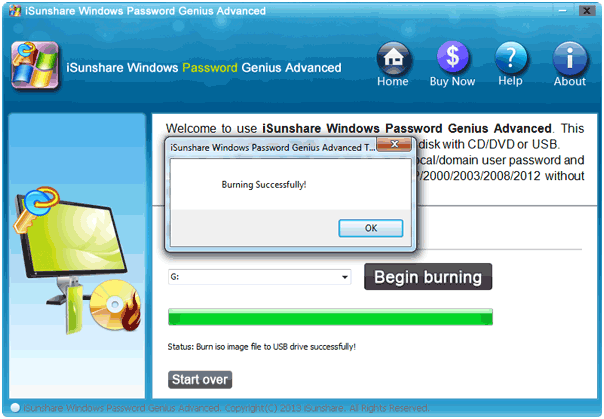 A dialogue box will appear when the burning his successful, click "OK" to proceed.
Unplug the inserted USB drive from the accessible computer and insert it in the inaccessible Windows 10 PC.
Select the Windows 10 users you want to edit and click on "Reset Password."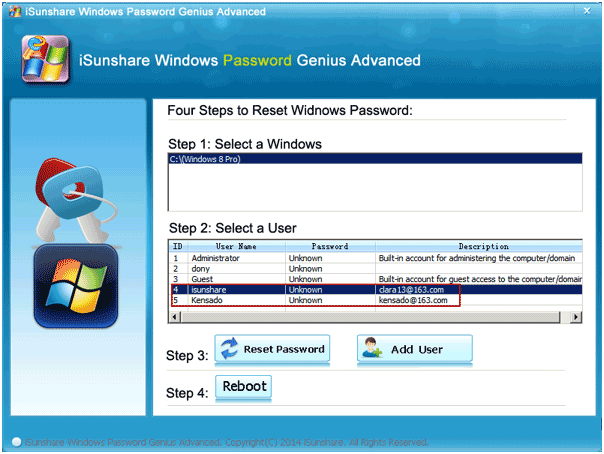 Hit "Yes" on the dialogue box that appears.
Remove the password reset disk to Windows 10 computer start like a fresh Windows system.
How to bypass windows 10 password using NT Offline Password and Registry Editor
---
The NT offline password and registry editor is a program design to bypass Windows 10 password. The Offline Password and Registry Editor is a high-speed program used in deleting administrator password.
Steps to follow
Download the NT Offline Password and Registry Editor.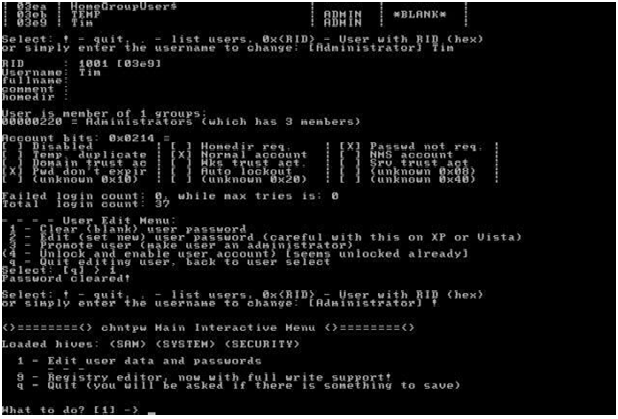 Burn the offline version of NT Password and Registry Editor ISO file to a disc.
Insert the CD/DVD or a USB flash drive into your computer and restart your computer.
After you restart your computer, an NT Offline Password and Registry Editor Menu will pop up, click Boot on the prompt as shown in the menu.
Wait for the Offline NT Password and Registry Editor to load.
Choose the window partition that contains the window installation that you want to delete window password from.
Select the password reset option on the diagonal box.
A default choice of Edit user data and password will appear, press Enter to select the default choice
Select the User you will like to edit its password.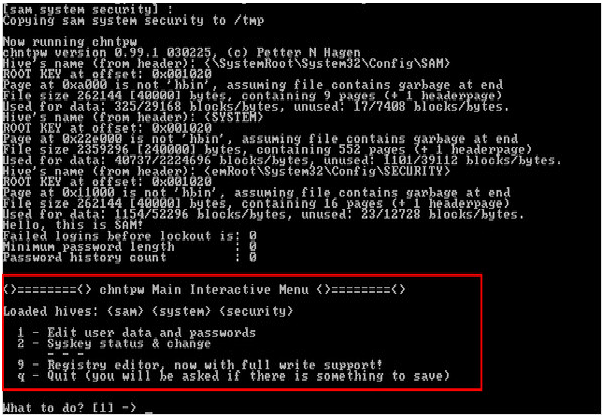 To quit editing user, press !
Press q to quit offline version of NT Password and Registry Editor.
Confirm the password reset changes.
If you through with using NT Offline Password and Registry Editor, press confirm to quit.
Remove the inserted NT Offline Password and Registry Editor, and then restart.
There will be no Password required after booting.
Reinstalling Windows 10 to Bypass your password
---
Another way to bypass your Windows 10 password is reinstalling your windows 10. This is advisable in a situation where you don't have any essential needs for the files on your computer, or you have those files saved in another computer as it will erase all data on your computer and leave a fresh window system.
Steps to follow in Reinstalling Windows 10
Download Microsoft Media Creation tools on your USB Drive which will begin with bootable Windows 10 on it
Insert the USB flash drive or CD/DVD into your computer and boot it.
A diagonal box with Windows logo will appear, where you will choose your language.
Select the suitable hard drive and partition to install the Windows 10.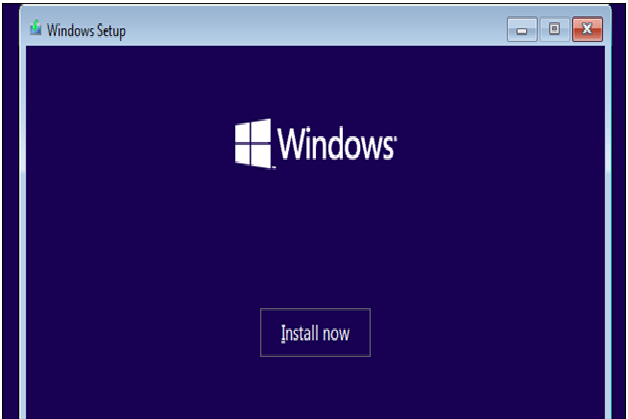 Your computer will reboot once the installation starts.
After the installation, reboot your computer, and you will have a fresh window system.
As you've seen, there are numerous ways of bypassing windows 10 administration password. Once you are done with any of the steps, you will have full access to your computer, you can always create a new password as there are some personal files you wouldn't want just anyone to have access to.
Bypassing Windows 10 password might be a little tasking, but if you follow the instructions of any of the methods listed above, be sure of having your desired result.