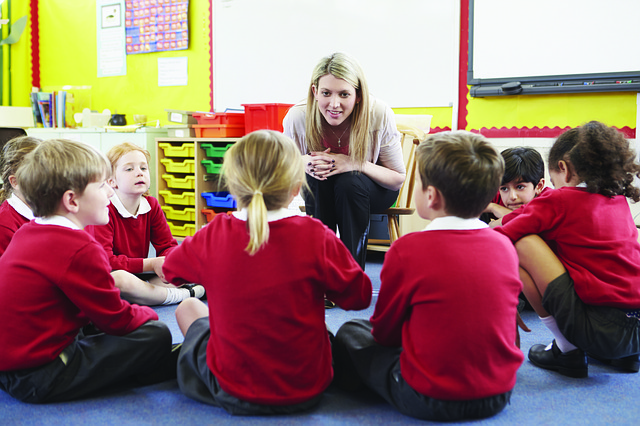 4 Easy Classes Every Preschool Teacher Should Take
Whether you teach at a public preschool in Los Angeles or at a private preschool in Austin every preschool teacher faces similar challenges. From unruly parents to frustrating paperwork and all those constant messes, teaching preschool takes a lot of patience and understanding.
Still, even with all the patience in the world sometimes you need a little help to give better care to kids in difficult situations. With that in mind, today we are going to go over four easy classes that every preschool teacher should take to become a better educator.
ALA.org's Creating Early Literacy Programs: Connecting with Early Childhood Development
---
If you're already teaching preschool you most likely already have, at very least, your Child Development Associate (CDA) certificate which is a common credential required by most states. However, there are a number of other certificate programs that can add a lot of value to your career and for your students that you may not have considered.
To start, ALA.org offers a great early literacy program that is perfect for starting young children on a path towards being lifelong lovers of reading. The course focuses on preparing children for kindergarten by improving communication skills and getting students used to the alphabet and reading.
The course is 4-weeks long and is led by the noted speaker, early childhood education advocate and former preschool teacher and librarian, R. Lynn Baker. Baker will take you through best practices for early literacy programming and make things easy to understand and then implement in your classroom.
OneBeatCPR's Pediatric Advanced Life Support(PALS) Class
---
The next course on this list won't make you a better teacher, but it may save a life. OneBeatCPR's Pediatric Advanced Life Support(PALS) class is probably the most important class on this list. This is really one of those courses you can't go wrong by taking.
When a child's life is in danger you need to know what to do—fast. That's where the PALS course comes in. Whether your student is choking or having a heart attack, PALS provides comprehensive medical training to help you deal with any potential pediatric medical emergency.
From training on how to use an automated external defibrillator to CPR for children, this course has it all. Not only will you feel more comfortable and capable in class after taking this course, but you will be more likely to be hired and receive raises going forward as well. It's a win-win.
Care Course's Abuse and Neglect: A Caregiver's Guide to Child Abuse Course
---
If you've been a preschool teacher for some time, then undoubtedly you've experienced parenting issues. However, it can be tough to differentiate between what is normal parenting behavior vs. what may be abusive.
Care Course's Abuse and Neglect class can help you recognize the signs and symptoms of a child that is suffering abuse or neglect. It also can help you understand the caregiver's responsibility in reporting abuse and ways you can help children who are the victims of child abuse or neglect.
There are often typical traits of abusive or neglectful parents and with the proper education, you can recognize these and help save a child from a real-life nightmare. Taking courses like this may not advance your career, but it can help protect children, and after all, that's why you became a teacher in the first place.
Child Care Education Institute's Attention Deficit Disorders Course
---
The final course on this list is Child Care Education Insitute's ADD course. This course is designed to help early childhood educators recognize the symptoms of Attention Deficit and Hyperactivity Disorders(ADHD) in children so that treatment can begin as soon as possible.
About 4 million children have ADHD in the U.S alone, according to a report from CDC.gov. That means knowing how to accommodate and these children in the classroom is vital for any preschool teacher.
This is one of the quickest and cheapest courses on this list, but it can pay some real benefits for your students suffering from ADHD, and the rest of the class as well who won't be as distracted when you learn techniques for handling kids who suffer from the disorder.
Education never stops and that's especially true if it's your job to educate young children. There are always new techniques and strategies that can make you a better educator. So don't wait, get started improving your teaching skills today. It can make all the difference.