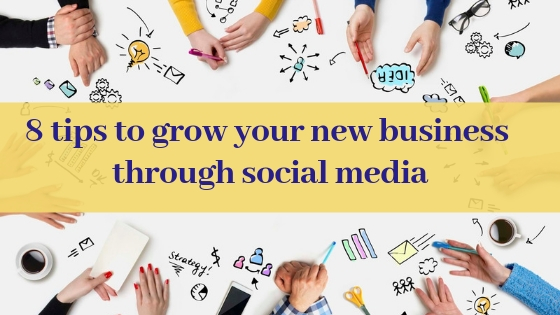 For growing your business in today's competitive market, one must use the power of social media to grow the business. There are various new opportunities that can be generated with a well managed social media campaign. Social media marketing helps to increase brand visibility. It provides a platform to directly reach out to the target audience. In this article, you will get to know about 8 amazing tips that will help you grow your business through social media.
1. Consistency
---
Social media posts and messages help to keep consistency in the mind of brand followers. It is important to be consistent for making any social media campaign successful. The ideal way to manage the regularity on social media proper plan of your goals you have, following you want to meet and a number of posts you need to do a day/week. You can't expect positive results if you suddenly go from posting once a month to five times a day. Balance is what you require for managing your social media.
2. Use relevant social networks
---
Everyone has a social network that they usually prefer over others. So, for making your social media success, you should try to share posts across all your social networks. Doing so will help you reach a good amount of quality audience. You can also forward the post with only a selected group of networks that are highly relevant for your brand.
3. Format content for optimizing each platform
---
People usually commit a mistake of posting the same content on all the social media platforms. But, this isn't the right way to manage social media. Your followers may find it frustrating to see the same piece of content everywhere around social media. Therefore, the best way is to create content that is specifically meant for different social media platforms. The message through your content can be similar but the content that you post on different social media channels should be different. You can create amazing social media content using the free designing tool. This will help you save a lot of your time and efforts.
4. Push networks that work well
---
Some social media networks work better than others. When you come across those networks that work better for your brand and has more relevant customers, you need to push these network and make the best use of them.
5. Content should align with your message
---
Building a strong social presence is more than just getting likes and follows. Even if you get a nice number of responses for each post, you should focus on the content that goes well with the message that you wish to convey. Everything that you present should be a good fit for your brand identity. Your message should be clear in the content.
6. Some important content might get ignored, but still, keep the post
---
Social media is just like another marketing strategy. Not every time you post, you will get the same amount of engagement through likes or comments. It can be related to charity, testimonial or other. Always remember that these type of content are a very important source of validity in the market. It might not get as popular as your other posts, but surely these will surely build a great foundation for your company.
7. Discover a balance between popularity and business
---
The professional social media site should always be about the business, but you should always make sure that it gets all the attention required. In other words, if you want to get popular on social media then you need to find a perfect balance of popularity and business. This point explains the need of having a little bit of both mixed with a fun quotient. You should never sound to informative or casual every time. .
8. Use social media plan to boost your business and marketing efforts
---
Every business has its own marketing plan other than the social media campaign. After all, a marketing plan has a different variety of techniques that work for one similar brand motive. A solid social media plan gives a good boost the marketing efforts that you are making.
If social media when done correctly tells your customers about the brand that it is active and focused on knowing customer views and communication. I hope this article helped you to know about some new tips that will help you use social media correctly for your brand. In case of any query, do feel free at any point to contact us through the comment section below. Thanks!