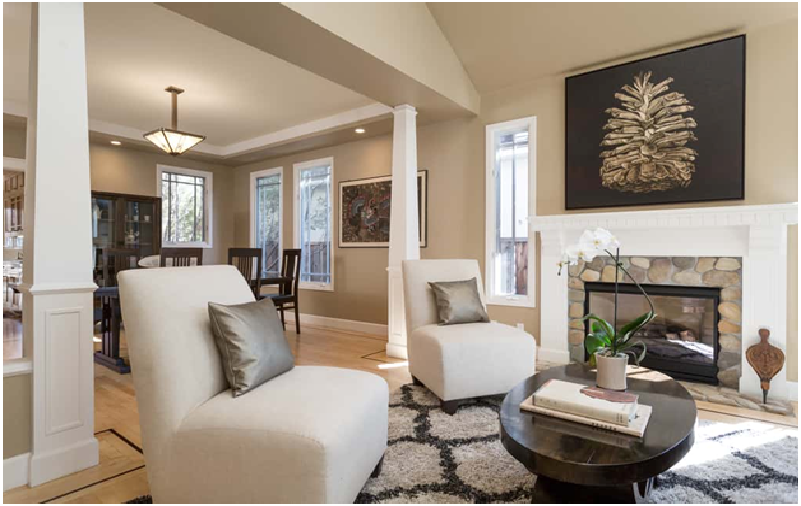 6 Home Staging Secrets to Appeal to Buyers
While some buyers will appreciate lush and ornate furnishings, there's a rising tide of homeowners who value minimalist details. Home décor today depends less on ornamentation, and more on the stylistic balance of decorative and functional elements. The idea that less is more is not just a proverb but the way the things are done in the world of home staging. When staging a home for sale, you aim to appeal to as many home buyers as possible, so rather than spending a fortune, focus on effective updates and tricks as described here.
Unify rooms with neutrals
---
A new coat of paint can give your home a fresh look. Since minimalism is all about subtlety stick to white or choose neutral colours. Using the same paint, you can easily refurbish a fireplace – just apply a light coat on each brick, leaving out the grout. By using the same colour as the walls, you can achieve an interesting but harmonious effect. smudgy bathroom walls are an instant turnoff for potential buyers, so scrub the old paint off and let them come alive with a new coat of paint. There are paint types that allow you to paint directly over the old tiles – certainly a much cheaper option than buying new tiles.
Declutter the kitchen
---
Don't let the old kitchen cabinets turn away potential buyers. Make them look like new by staining the wood anew, covering all surfaces. Keep the counters clear of unnecessary items and arrange the space so that everything is in space. Send the appliances that no longer work or show their age to a recycling depot. New appliances might be costly, but they add value to the property which allows you to return the investment. Onn the other hand, appliances like a dishwasher or dryer that still work shouldn't be replaced. As an alternative, clean them and have them coated with stainless steel covering for a shiny new look.
Use space-saving furniture
---
An excessive number of furniture pieces and the accompanying clutter makes the sitting room small and congested. Since the whole point of minimalism is to make with less, get rid of unnecessary furniture and décor items and show the buyer a true unburdened beauty of the space. Instead of the traditional loveseat and several ottomans and armchairs, open the space up with a pair of recliner lounges or modular sofas. Made to order, this flexible furniture can adapt to every room layout, while the materials used range from premium fabrics to European leathers.
Let the rooms breathe
---
When the potential buyers come, they should see only the important furnishings in rooms. Manage the bookshelves and remove newspapers and books, leaving only a few select titles as a décor. Any item that suggests personal interests or passions sends a message that the seller isn't through with the home on the emotional level. Instead, focus on showing buyers the architectural features. A small vase with flowers is much better than an engraved picture of your favourite holiday destination or a fishing trophy.
Watch out for curb appeal
---
Finally, first impressions and last impressions when leaving the home are likely to linger the longest in the buyer's mind. Look to your home's curb appeal as your business card. To make a lasting impression, make sure the paint isn't peeling off the fence, woodwork and the house façade. Scrub the front door and give it a fresh coat of paint, and if needed repair or replace house number decals and the mailbox. If you have difficulties maintaining your lawns lush and green, check out what native grasses grow in your region and fill up the dry patches with a type more resistant to drought.
Avoid common mistakes
---
For buyers who're looking for a fresh start, outdated décor won't be too appealing, but it probably won't kill the deal. What would kill a deal is the furniture scale. A humungous sofa that dwarfs the room is equally bad as the furniture that seems to float around without much function. Buyers often have trouble envisioning the space, and extreme colours and patterns on the wall won't be helpful at all.
Using these tips, you'll be able to decorate a home minimally and still reap positive reviews at the staging event. Make sure to pay equal attention to the inner and outer areas of the home, and especially to the bathroom and kitchen.