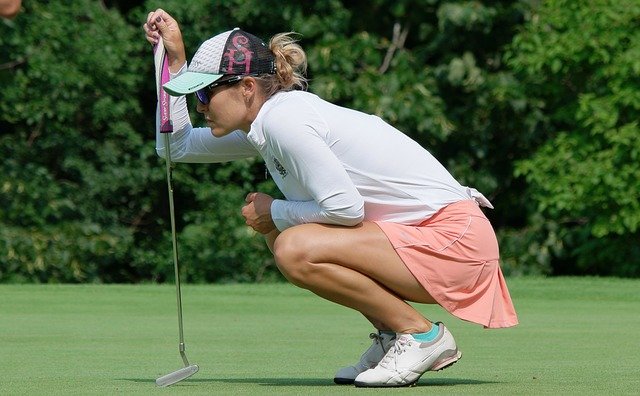 Illegal Golf Clubs: Everything You Need To Know
Did you know that some golf clubs are illegal? To be clear, no one will be sentenced to prison for playing with them, but a golfer will be disqualified from a tournament if they use a non-confirming club during competition.
The USGA (United States Golf Association) is the golf governing body that sets the rules and determines if a club is illegal or not. Do you currently have an illegal golf club in your bag? They are sold online and some older clubs are now illegal due to rule changes.
That being said, we suspect your clubs are perfectly fine, but we explain below how you can confirm. We will also provide some examples of illegal clubs so you can make sure other players aren't taking advantage of you on that weekly side bet.
What are illegal golf clubs?
---
To the naked eye illegal golf clubs may appear the exact same as legal ones. Unless it is something crazy, it will take a trained professional to identify.
Why Are They Illegal?
---
There are many different reasons a club could be deemed non-conforming (illegal). Here are some the easy ones to understand:
The club must be one unit (one piece) that stays connected
Length – they must be between 36" and 48" long (one exception is the long putter)
The volume of the clubhead cannot be larger than 460 cc (cubic centimeters) – most new drivers are exactly this size to give the player the largest legal advantage
"The clubhead must be generally plain in shape. All parts must be rigid, structural in nature and functional" – some examples that would break this rule include holes throughout the face, holes through the head, or optical or electronic devices
The grooves on the clubface must be straight and parallel
Clubs must not have technologies that act like a "spring" in the face – the USGA has a test they perform called the "Pendulum Test" to check for this
As you can see this gets complicated quickly and these are just a few examples of what might make a golf club illegal. You can read the detailed rules on the USGA website.
What the US Golf Association says about Illegal Golf Clubs – How Can You Confirm?
---
Quite simply, the USGA does not allow non-conforming (illegal) golf clubs to be used in tournaments governed by their rules. To help facilitate, they test clubs as they come to market for purchase.
The easiest way to confirm the clubs you are playing is to check the Conforming Club and Ball Lists on the USGA website. That's right – there are illegal golf balls as well.
This tool is easy to use. You can search by manufacturer or download the entire list. Once you find your club you can rest easy that it is legal for play. If you are wondering about that new club you buddy just bought – get the model and manufacturer and check this list!
Why Some Golfers Still Use Illegal Golf Clubs
---
Golf is hard. If you are a recreational player who doesn't compete in tournaments, do you care if the USGA considers your club illegal?
Would you have more fun on the course if you could hit the ball 50 yards further off the tee? If you are a casual player – does it matter your club is non-conforming? This becomes an interesting topic for golf equipment companies. The vast majority of people that enjoy the game will never play in a USGA event or even a serious amateur tournament. With that in mind, should they market and sell illegal golf clubs?
Many well-known golf brands do make illegal golf clubs, but they are harder to find and typically, you wouldn't accidentally buy one. You can find them online, but it is very clear in the description they are non-conforming (illegal golf clubs).
The other reason a golfer will use an illegal club is they simply don't know they are illegal. The most likely scenario is they have an old set of irons that have illegal grooves. The USGA implemented new rules related to grooves in January of 2010 that made some older sets illegal. These illegal grooves don't provide much of an advantage to the average player.
List of Illegal Golf Clubs
---
For the most part, the illegal golf clubs you are going to find are all drivers that exceed the regulations to provide more distance, but there are many reasons a club can make this list. Below are examples of non-conforming golf clubs.
Callaway Big Bertha (Version 1) Wedge – this is an example of an older iron (wedge) that was legal at the time it was produced, but was impacted by the rule change in 2010. The grooves on the face of this club are now illegal.
Yonex Cyberstar Nanov Hybrid – it wasn't just irons that were impacted by the 2010 rule change. This hybrid has illegal grooves.
Belly Putters – yes, putters can also be illegal. In this case, the club itself isn't illegal, but it is how it was being used. Belly putters were designed to be anchored in your stomach, but in 2016 the USGA announced this was no longer a legal way to putt. You can still use the club, but you cannot anchor it.
Formula 11 Driver by Krank Golf – an example of a driver built as non-conforming on purpose to provide more distance – the "spring face" is too hot and does not pass the USGA test.
Diamond Tour Felon Driver – cute name! Similar to the Formula 11, this club is built non-conforming on purpose and marketed as illegal and longer than clubs the USGA would approve. It is too big and the face is too hot.
HONMA ZERO 460X DRIVER – Japanese golf companies produce many drivers that are considered illegal by the USGA. This is another example of a club that is illegal due to the design of the face.
Face Shaving – this is a process that you can now request via several websites online. The companies will shave the face of your current driver, providing you with more distance. This process takes a club that is legal and makes it illegal for competition. These can be difficult to spot.
PING Eye 2 Irons – an example of an older club that was legal when originally sold, but is now considered non-conforming because of the grooves on the face. Originally, the USGA grandfathered these as legal, but once a few tour pros started using them, they reversed this decision.
Orlimar Big Buddha 520cc Super Jumbo Driver – this driver is built with a 520cc head, so much larger than allowed by the USGA.
Power Play Juggernaut Titanium Draw – Another driver example that was built non-conforming on purpose. The head is 515cc and it has an offset to help reduce your slice.
These are just 10 examples of illegal golf clubs, but you can find others.
Conclusion
When it comes down to it, there are two types of illegal golf clubs – those designed to be illegal and clubs that are accidentally non-conforming. The same can be said for golfers that leverage them. Trying to get an edge or unaware.
At this time, playing with non-conforming or illegal golf clubs is not widespread. You will not encounter it very often, but this could change going forward. Is there a reason why a recreational golfer shouldn't take advantage of more technology? What's the harm? Golf is hard – making it easier for high handicappers and beginners may help grow the game.
That being said, there is a negative connotation related to illegal golf clubs at most courses. If you decide to try one out, be aware that others may consider it cheating. If that makes you uncomfortable – stick to clubs you can find on the USGA conforming list.