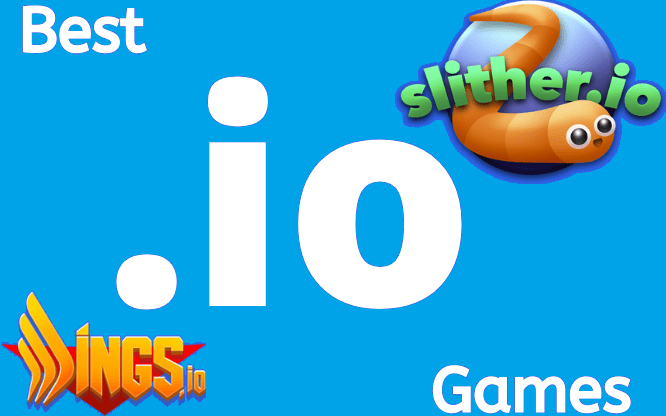 Io Games Unblocked: List of 10 Best .Io Games Unblocked
Io games unblocked could be the answer if you are looking for ways to pass the time during work or school. These games can be played at school or work, helping you beat boredom.
Schools and businesses mostly use firewalls to block gaming sites, to keep students and employees focused on their tasks. But .io game sites offer a solution, allowing you to play even in restricted places.
Just remember to play responsibly by sticking to your free time or breaks. You can easily find these games by searching for io games unblocked at school or work on the internet.
So, if you are looking for the best unblocked .io games, you are in the right spot. Here are the top 10 io games unblocked you can play:
Are Unblocked Io Games Safe to Play?
Safety is one of the primary concerns people consider about playing games. Unfortunately, unblocked games do not provide full security, so people should be cautious when looking through this list of unblocked games.
These unblocked games can still be lots of fun when played responsibly. You simply visit the website and choose the game you need to play. You will have lots of entertainment as there are hundreds of io games unblocked available to play.
List of 10 Best .Io Games Unblocked
Among the huge list of .io games unblocked, here is the selected top 10:
Slither.io 
Slither.io is listed at the top of the list due to its popularity. A touch screen or a mouse can be used to play Slither.io, and the viewpoint used to play the game is top-down.
You can control a little snake that can be decorated in various ways, including with colors and patterns. The character in Slither.io can never stop moving and will follow your mouse or finger wherever you move it, just as in the popular Snake game.
Tiny orbs of various colors are dispersed around, and you will eat orbs as you pass over them and increase the length each time. Using your size and shape, you can cause other snakes to clash with one another to eat their orbs and grow as soon as possible.
The more powerful you are, the simpler it is to eliminate other players. One common tactic is to go around other smaller snakes, circling them as you go until they eventually come to you and you can eat their orbs.
Wings.io
Wings.io might appeal to gamers who enjoy flying simulation or vehicle combat games. Players fly small, maneuverable aircraft and attemt to eliminate enemies using different ranges of weapons.
Wings.io lets players climb the leaderboard without actually fighting. Tokens are thrown over the sky, and each one adds ten points to a player's final score.The most important fact is that to play this game, you must manage and maintain your aircraft.
To protect your aircraft from other enemies, you must then fire a bomb. Avoid leaving the sky level, but if you do, your flight will be aborted, and you will need to resume again. You must move quickly and take out everyone to appear on the scoreboard.
To make yourself a ruler of the skies, try to destroy every airplane. The most important tactic is to conserve your craft and gain power so that you can try to avoid detection and hide in a corner while collecting upgrades.
Repulsed.io
Repuls.io is an important game in io games unblocked with multiplayer first-person shooter games. With a vast area to explore, you can get a variety of weapons, vehicles, and equipment to get players from across the globe.
Halo and Battlefield are an inspiration for this online multiplayer game. In this interesting game, you will have the opportunity to fight epic battles against actual opponents in a vast and open environment that has to be explored.
You will be equipped with everything necessary to defeat the opposition and get access to a sizable arsenal of weapons, vehicles, and equipment. Create a great soldier with unique colors and weapon skins.
Clans can be joined or created. See your position on the worldwide battlefield by looking the leaderboards. You will have a lot to prove with a customized profile displaying your K/D statistics.
Agar.io
Originally developed for the PC, Agar.io is a multiplayer game. Gaining weight by eating other smaller players or circles is the objective of each player who controls a cell. Agar.io is named after Agar, a material used to culture bacteria.
When people think about online-based gaming, Agar.io can be the first title that comes to mind. In this multiplayer online game, your objective is to control a circular cell and ensure that you consume nearby smaller static cells.
You risk becoming dinner for your opponent and losing the game if their circle is larger than your own. You can split your circle into two halves and control both of them when battling the large enemies in the IO game.
Gats.io
Gats.io is a shooter, so you choose your color, armor, and weapon for shooting. To earn points, you must attack and defeat other players. Points can then be used to unlock bonuses and unique skills.
To accommodate any play style, Gats.io offers 21,600 various class and perks load-out combinations. At stats.gats.io, you can view player statistics that have been recorded.
Gats.io has similar to Call of Duty's multiplayer mode as players could only view the mini-map, and it's a lot more entertaining than it appears.
Team deathmatch, dominance battles, or free for all are conducted between players using a variety of weaponry. Although it is simple, this game has enough to enhance your interest, and the multiplayer features provide teamwork and tactical consideration.
StackBallio
Finding a puzzle game when you just have a limited amount of time to play can be the perfect solution for those who don't want to play multiplayer shoot-ups. It can easily turn into a good time pass while playing online games.
StackBallio is one such game in the list of io games unblocked. As the stages become harder, you will need focus, and you will have a lot of work to do to guide the bouncy ball through a helix and to the bottom.
Dexterity, focus, and attention are the three key components of this game. This game is free to play. You can play this game on a computer and on your smartphone or tablet by tapping or swiping.
It might seem easy, but if you put your mind to it, you will notice how much you can improve your ability to control a jumpy ball. Win this Helix game by bringing the ball to the bottom.
Subway Surfers.io
Subway Surfers is one of the well-known endless runner games. Jake, the character you control, attempts to flee the irritable Inspector and his dog by riding the subways.
To get as far as you can in this endless running game, you will have to avoid trams, trains, and other obstacles. In io games unblocked subway surfers, you can move further by collecting coins to get power-ups and specialized equipment.
The additional characters and game boards can be unlocked using coins. You can change the appearance of the characters and give your hoverboards new abilities with your keys. Don't forget to finish the rewards because they will give you the keys.
Skribbl.io
You can play the Skribbl io games unblocked at school or office and try to guess what other people are drawing. You can play for free without having to create an account or download Adobe Flash Player.
You will be happy to know that Pictionary is available online on Scribbl.io if you are familiar with the game. In this game, you have to draw and make a guess. Players in this online game attempt to draw while making assumptions about what the other players have made.
Before drawing, the players are asked to make predictions using three words from a list. In a chat box, users can make educated guesses, but only the erroneous answer is shown. Only after all other possibilities over is the right answer is given.
Tetr.io
Online multiplayer and single-player game Tetr.io is like many Io Games Unblocked, and it is available for free. To compete for a spot on the leaderboards, players can play online against friends and rivals from all around the world.
To see who can remove the most blocks in the shortest amount of time, players compete against one another in a puzzle game that may be played in multiplayer mode.
You can play for fun and amusement in the Marathon mode also. Many players who have played Tetris before play this game easily. It is without a doubt one of the best games available, despite lot of game options available.
Mope.io
Mope.io is a game of survival and hunting. Everyone who plays Mope.io is an animal, so in Mope io, you must eat other players to survive.
You are challenged to turn a mouse into a dragon in this online multiplayer game, so you need to eat food first in order to grow. Eat the light-green opponents, and the other players that are highlighted in red must be avoided by players to prevent being eaten.
The game starts with players choosing the type of creature they wish to play, and they enter the server as a member of the lowest level of the food chain. They gradually try to hunt for food and become stronger to battle the server's most dangerous enemies.
As long as players keep their creatures alive and work to gather and learn about every kind of monster the game has, they will gradually be able to see their creatures grow larger.
Final thoughts
Unblocking.io games can provide access to a variety of fun online gaming opportunities. Overcoming restrictions and playing io games unblocked subway surfers or any games mentioned above is simple if you follow the necessary guidelines.
Consider using proxies or browser extensions to get around restrictions and experience the thrill of multiplayer.io games. Always put your online security first and only use resources and technologies you can trust.
You can immerse yourself in the exciting and competitive world of.io games with a little imagination and the appropriate tools.