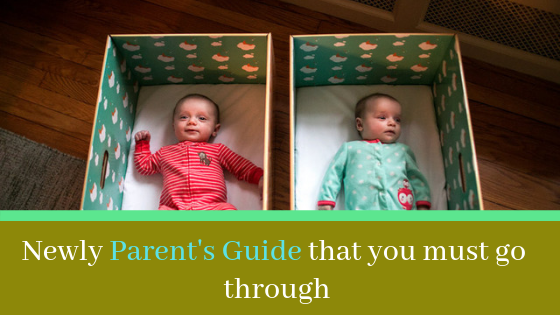 Newly parent's Guide that you must go through
"Being a parent means loving your children more than you've ever loved yourself." Along with this happiness comes to a lot of responsibility and every parent at some point can feel intimidated. It is totally normal to feel so as it is your first time as a parent. Knowing a few things can make it a lot more confident about parenting. This article will help you know some basic parenting tips to celebrate their bundle of joy
1. Take some help
---
Consider taking help while going through this time. Talking to some experts in the hospital and taking advice from them can be a great help. Nurses can be a great source of help in showing how to hold, change and take care of the baby.  
Hiring a nanny for your baby can provide you with some home assistance. If you are not sure about going for any outsider help then relatives and friends are some great options to opt.
2. Handling a Newborn
---
Don't worry if you have very less or no experience around newborns. You might feel a bit scared to hold them as they are way too fragile. But remember a few things so that you can be in the moment of affection in a carefree way.
a) Washing hands:
We all know that newborns don't possess a strong immune system so, the risk of infection is comparatively high. You need to check that your hands are washed properly or use hand sanitizer to be assured about their safety. Not only you but also be sure that everyone who handles your baby has clean hands.
b) Hold them correctly
You should always remember to support the baby's head and neck. Hold the head properly and support it while you lay them down.
c) Don't play around:
Many people in excitement forget that the newborns are sensitive. So, remember that newborns should are not prepared for any rough play like jiggling the knee or throwing in the air.
3. Bonding and Soothing
---
Bonding is considered the most pleasurable part while taking care of an infant. Stay close to your child to develop a more emotional connection. Becoming a parent is one of the most joyful and emotional moment. This phase brings overwhelming care of your kids. Which leads to forgetting some most important things. To avoid such mistakes you can create a checklist using a free designing tool. This is a tool that will help you to be on point with your baby care. Newborns find themselves comfortable in a loving and warm environment. Bond with them by cradling and stroking them gently in different ways. This gesture makes them feel more comfortable leading to better emotional growth. Go through some books that include infant massage that is asked recommended by doctors also. But remember babies are not as strong as adults so messages should be very gentle. Some babies are sensitive to light or sound and easily cry, startle or sleepless. In that case, remember to keep the level of noise and light very low.

4. Bathing Basics
---
Sponge bath should be given to your little one till:
The navel heals completely as the umbilical cord falls off

The circumcision healing
These baths should be given from two to three times a week during the first initial year. Frequent baths can lead to drying of the skin.
Don't run for things after you have done bathing your baby. Make sure everything is ready before like
A soft and clean towel

Mild soap and shampoo (for the use of baby only)

Clothes

Clean diaper
Infants tend to sleep during the daytime rather than the night. So, keep the lights of the room dim or make use of nightlight. Playing baby rhymes can help your baby to be active daytime and sleep comfortably at night. Don't show them too much of videos on the phone as it can be harmful to their eyes.
You might feel a bit anxious about handling a newborn but in no time you will develop a proper routine and be confident with things around. Just give some time to yourself and you will be a pro in taking care of your child. I hope all these points helped you to know about some amazing ways to celebrate your little bundle of joy. In case of any doubt or query, do let us know through your comments below.