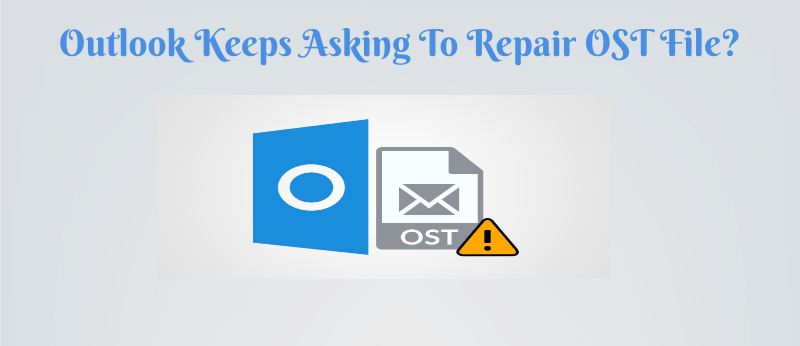 Outlook Keeps Asking to Repair OST- Fix It Here!
Outlook Keeps Asking to Repair OST: Microsoft Outlook comes in full-fledged suite known as Microsoft Office. It is one of the stand-alone application with many advanced features like calendar, contacts, notes, task manager, etc. As it has all the required features that are required by an organization user so, it is in very much use by them. However, the Outlook is in use so as the time passes; its data file i.e., OST & PST might get corrupted. It can be due to any possible reason like oversized OST file and starts displaying errors. Among all such error, message Outlook keeps asking to repair OST file is the most frequent one. Thus, to get rid of this problem permanently, multiple workarounds are discussed in this blog. One can take help of them for the same.
Reasons Behind OST File Corruption
---
If Outlook keeps asking to repair OST file, then there must be some reason behind it. In this section of the blog, we are going to discuss all possible reason behind the damaged OST file.
Let's get started!
Now, before knowing the causes of OST file corruption, keep in mind that it can be because of hardware related issue or software related issue.
#1: Hardware Issues
There are some situations in which a user face problem in OST file and all of them are because of some hardware related issue:
There are some bad sectors in the hard drive and OST file is stored there only.
If during OST file and Exchange Server synchronization process, some interruption occurs because of network interface hubs, cards, routers, cables etc.
Another possible reason could be an abnormal system shutdown due to a sudden power shutdown.
#2: Software Issues
There are some situations that damage OST files and includes software related issue:
If there is improper system recovery, it might damage OST file or get overwritten with the garbage data
Virus or Malware infection to the OST file is one of the most common reasons behind it.
If the Microsoft Outlook application gets terminated suddenly without saving all changes, there are high chances of corruption in OST file.
When the synchronization process of OST file fails in between very badly.
How to Avoid Outlook Keeps Asking to Repair OST File Issue?
---
Now, if you are looking for a solution to fix OST file related issues, go through the segment of the below. All manual and professional ways of doing so are discussed.
Technique #1: Renew OST File
If you are connected with Exchange Server, then one thing that you can try is to recreate OST file of Outlook. This will clear all small or other issues in OST file. To do this, a user needs to first delete the OST file and when you access Outlook again with Exchange Server, it gets recreated automatically. But, this method is not successful in all possible scenarios like in slow internet connection or large size of OST file.
Technique #2: Inbuilt Utilities
Microsoft offers inbuilt utility for Outlook to repair OST file i.e., scanost.exe or scanpst.exe. Both are available in different versions of Outlook. Scanost.exe is used to repair only corrupt OST file but scanpst.exe is used to repair both damaged PST or OST file. Depending on the version of Outlook, a user can try them to fix the issue.
SCANOST.EXE: Available in MS Outlook 2007 and below versions.
SCANPST.EXE: Available in MS Outlook 2010 and above versions.
However, these two inbuilt utilities are also a not perfect way of fixing the OST file issues. As they are capable to deal with only small and minor corruption issues. Whenever any major or severe issue arises, they fail badly. Thus, a user needs to look for some other alternative approach for the same. For complete info, the user can refer Repair OST file Outlook 2010 / 2013 / 2016.
Technique #3: By using OST Recovery Software
If above-discussed techniques are unable to fix the Outlook keeps asking to repair OST file issue, then a user has left no option except going for a professional solution. OST Recovery application is one of the best application to recover damaged OST file. However, a user just needs to add any kind of OST file like an orphan, inaccessible, corrupted, it overcomes all issues in just a few numbers of clicks. Apart from all this, the software is capable of recovering permanently deleted data from OST file. It supports OST file recovery for all versions of MS Outlook and can be installed on any Windows OS version. This software comes with easy to use and simple graphical user interface so that everyone can easily use this software. This software is compatible with all versions of MS Outlook installation.
Conclusion
If our default email application starts creating issues, it affects our daily work badly. Outlook keeps asking to repair OST file is among all of them. Now, users are looking for a foolproof solution for the same. Therefore, keeping all type of users in mind, multiple approaches to deal with OST file problem are discussed above.