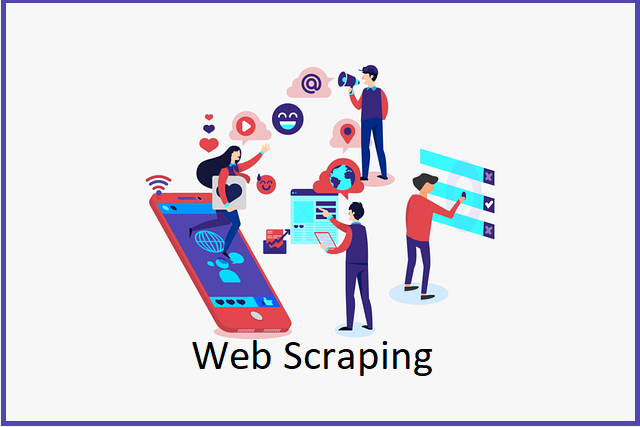 The Immediate Future of Web Scraping Solutions
Web scraping has been recognized as one of the most performed activities for digital brands worldwide. This is because they help make the process of gathering data both fast and convenient.
There are several applications for the data businesses collect this way (as we will see shortly). Still, one question that many people are asking is what the immediate future of web scraping is. What is in the future for this all-important business operation?
A simple answer is that the future is bright and only holds great things for web scraping. This can be easily seen in how the need for data has been growing and how the amount of data entering the internet every day has steadily increased.
We will consider this question further right after we understand the importance of digital data and web scraping.
What Is The Importance of Digital Data?
---
Digital data includes all data that can be scraped and gathered on the internet. They are mostly collected in the raw unstructured format before being parsed, exported, and stored in some local depository.
Once analyzed, they can be very important in several areas, including the following:
Making Business Decisions
The major reason brands bother with data is to help them make the best business decisions. Data can be facts, statistics, or trends that can help a brand make proper predictions with minimal risks when properly analyzed and applied.
Businesses that use relevant and current user data to back their decisions make more gains and fewer mistakes.
Identifying Market Trends
Another importance of data is that it helps companies identify current market trends. Market trends are patterns that point to where the market is headed. By identifying and aligning with them, brands put themselves in a better position to deliver better customer satisfaction, make more revenue, and become market leaders.
For Business Intelligence
Business intelligence is important and considered a must-have; it allows brands to set up unique strategies such as competitive pricing that help them make more profit and fewer mistakes.
But to have business intelligence, a business needs enough digital data to analyze and apply into creating the necessary insight that then constitutes intelligence.
What is Web Scraping?
---
Web scraping is the technique used in collecting and extracting content from multiple platforms at once. It involves the use of sophisticated tools such as proxies and scrapers to interact with the target destination.
The target could be an eCommerce platform, a search engine, or a social media channel. Regardless of the destination, the proxies function to clear any obstructions, challenges, and blockings while the scraper does the extraction.
Therefore, both tools are vital to the process and must be used to make the task easier, faster, and smoother.
Because of how important proxies are, they have been available in different types and shapes, and it is even possible to write a simple scraping script on your own.
For instance, using the Python library known as lxml, anyone can create a simple tool used for scraping and parsing. All that is required is a few hours of lxml tutorial to get started. Go to this blog article to find out more about the lxml tutorial in the Python programming language.
What Are The Uses of Web Scraping?
---
There are several uses of web scraping in today's competitive market, and below are some of the most common:
Financial and Investment
Good financial investments need to be backed with reliable and current data collected in real-time. Failure to do this could result in massive loss.
Web scraping collects accurate publicly available data and compiled from different sources to access both opportunities and risks.
Brand Protection
Every serious company has a marketing and PR team that toils around the clock to keep the organization safe.
A most effective way to protect a brand is to monitor where it is being mentioned online.
This protection covers everything from comments and reviews to possible asset theft. Web scraping makes it possible to collect enough data to do this regularly.
Price and Product Intelligence
Web scraping is also commonly used to scrape product prices from competitors' websites. This information is then used to craft intelligence strategies such as dynamic pricing or competitive pricing that help to grow the brand more quickly.
How Web Scraping Is Relevant Today
---
Web scraping has been in use for as long as the internet has existed. And its usefulness grows in direct proportion with the explosion of the internet.
This means that as the internet continues to evolve and digital data continues to be increasingly popular, web scraping will only witness an increasing relevance.
Presently, web scraping is relevant in several areas of life and business, including in the following:
It is relevant in equity research where investors can use it to draw new and better opportunities for investing in the equity markets
It help venture capitalist make informed decisions about where to place their funds
It is applicable in targeted marketing, advertising, and ad verification
It plays a huge role in analyzing and understanding market sentiments
Web scraping help brands outperform their competition and generate leads more conveniently
The Future Prospects of Web Scraping
---
Like we have said, the future of web scraping is directly linked to the future of the internet. A few of the many things that hold great prospects for the future of web scraping include the following:
The Increasing Need For Data
Data is growing in importance due to the high competition in the market and the constant need for businesses to outsell their competitors.
This growing need makes web scraping even more important as it is one of the most effective ways to gather this data in large amounts at once.
The Rise Of Mobile Devices
More people are using mobile devices, and it is estimated that this will only continue to increase.
With more people using mobile devices, the rate of data generated will also continue to increase, making web scraping a future necessity.
The Spread of Fast Internet
Web scraping occurs on the internet and because there is much data to extract. Therefore as the internet continues to explode into every corner of the globe and more data is generated, web scraping has a brighter future.
Machine Learning and Artificial Intelligence
It is no longer hidden knowledge that AI and Machine Learning are growing quickly and interestingly.
When Machine models get better at doing things with as minimal human input as possible, tasks such as data extraction will become easier and more popular.
Conclusion
The immediate future of web scraping is indeed an interesting one. From all indications, this exercise will become easier, faster, and more popular, and brands that are yet to take advantage of it may want to do so now.