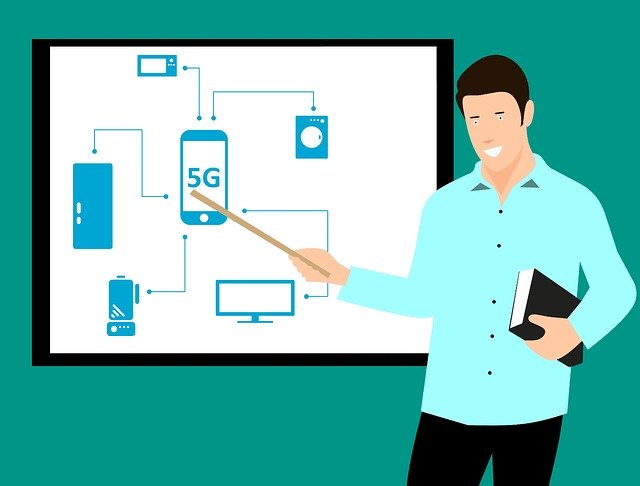 What Can We Expect from 5G?
After 3G and 4G, the launch of 5G should not really come as a surprise to anyone. In fact, it has been a long time in the making, and standards began to be set in 2017. Networks are already available, but 2020 is expected to be the year that 5G realises its potential. In a world where connectivity is essential for just about everything, new and improved mobile technology could not come too soon.
5G means that a lot more services can be available online. But even so, changing your office location can involve many arrangements and expenses. Firms like Mustard IT, who offer IT relocation services in London, can ensure that the transition is smooth and secure.
What is 5G?
---
The 'G' refers to the generation of wireless technology, and each is distinct from the next in data transmission speeds and encoding methods. 1G was analogue voice, while 2G brought us digital voice from technologies like GSM, CDMA and TDMA. 3G brought mobile data and speeds up to a few megabits per second, with EVDO, HSPA and UMTS. 4G took things forward with LTE and WiMAX, with speeds of hundreds of megabits, and even gigabits. Each generation has represented new technologies that have transformed mobile use.
The fifth generation is set to expand mobile use further by not just connecting people, but also a range of items, devices and machines. It will offer peak speeds in multiple gigabits, extremely low latency (the time taken for data to travel from one point to another) and huge capacity.
Where is it available?
---
Most 5G networks were first launched in 2019, with some in 2018. New networks are introduced daily, and these are also constantly expanding.
In the UK, the first to launch a 5G network in May 2019 was EE. This began in just six cities and spread to 50 by the end of the year. EE was shortly followed into the 5G market in 2019 by most major UK mobile carriers. In chronological order, these were: BT, Vodafone, Three and O2. Sky Mobile launched its 5G network in January 2020.
Each carrier varies in terms of their coverage, claiming to provide 5G in up to 50 UK towns and cities. However, this may mean some, but not all areas within cities. Coverage is improving and is expected to be much more widespread by 2022.
In the US, 5G is currently offered by Verizon, AT&T, Sprint and T-Mobile, and in Australia by Telstra. Large-scale 5G operations are underway in China across 50 cities, and networks has also been launched in South Korea, Japan, Spain and Switzerland.
How does 5G work?
---
One thing that sets 5G apart from 4G is that it operates on three different spectrum band. Each band makes a significant difference in terms of usage.
Low-band spectrum include networks that are lower than 1GHz, and with speeds that do not usually exceed 100Mbps. This band is the one mainly used for LTE in the US, and T-Mobile provides the widest coverage. Though speeds are lower with low-band spectrum, the coverage and wall penetration are more impressive.
With speeds up to 1Gbps and lower latency, mid-band spectrum networks are more advanced in their capabilities. Unfortunately, the penetration of buildings is not as effective as low-band spectrum. In the US, Sprint uses Massive MIMO to improve wall penetration and coverage on the mid-band, as well as beamforming to strengthen the service.
High-band spectrum is also known as mmWave, with speeds up to 10Mbps and extremely low latency. However, this band fails to deliver in terms of coverage and wall penetration. High-band spectrum is currently driven by AT&T, Verizon and T-Mobile.
Will 5G be faster?
---
5G will certainly provide faster internet speeds. On average, it is around 20 times faster than 4G, and in some cases faster than Wi-Fi. But this does vary depending on the carrier, country, location and device.
In 2017, 13 minimum requirements for 5G were created by the International Telecommunication Union (ITU), an agency of the United Nations. After this, a set of standards were made by the 3rd Generation Partnership Group (3GPP). These standards include peak data downlink rates of 20Gbps and uplink rates of 10Gbps, per base station. In the real world this equates to download speeds of 100Mbps and upload speeds of 50Mbps.
In terms of latency, 4 milliseconds is the standard, with 1 millisecond in particular circumstances. 5G base stations should support movement up to 310mph and significantly more connected devices than 4G.
What phones are available with 5G?
---
In the UK, there are currently eight 5G supported mobile phones available across six carriers. These models are Oppo Reno 5G, OnePlus 7 Pro 5G, Xiaomi Mi Mix 3 5G, Huawei Mate 20 X 5G, LG V50 ThinQ 5G, Samsung Galaxy Note 10 Plus 5G, Samsung Galaxy Fold 5G and Samsung Galaxy S10 5G.
In the US, the additional 5G phones available are the OnePlus 7T Pro 5G McLaren Edition from T-Mobile and the OnePlus 7 Pro 5G from Sprint. With Verizon, Motorolo's 5G Moto Mod 5G phones are also available: the Moto Z4, Moto Z3 and Moto Z2 Force.
What else can we expect from 5G?
---
The new generation of phones brings greater promise than just mobile connectivity. Another technology on the cusp of mass production is the automated vehicle. 5G networks can be used to share information between drivers on locations, traffic and road conditions. Information can also be shared between automakers and drivers. Public infrastructure, such as flood drains and street lights will also be more easily and efficiently tracked and managed remotely.
5G will also bring vast improvements to the capabilities and communications of IoT (internet of things) devices, and also in health care, where it can help with telemedicine, remote recovery and precision surgery. 5G can reduce risks in many industries by providing the remote control of heavy machinery. These are just some of the growing applications of 5G.
5G has yet to reach its potential in terms of coverage and penetration, and it is still limited to a certain number of mobile phone models. These are the challenges that the new generation of phone still must face before widespread adoption is realised. But when this is finally here, the new world of 5G will bring many significant changes.