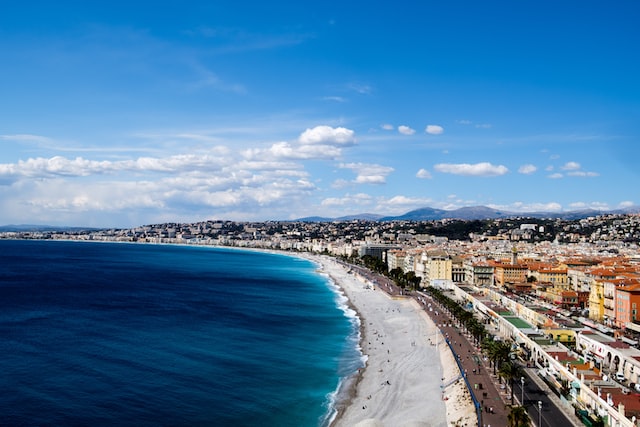 4 Beautiful Spots To See Along The French Riviera
Mentioning the French Riviera conjures up images of lavish yachts anchoring near sandy beaches where fancy parties go non-stop from dusk till dawn. Hopping from glamourous film festivals to world-renowned port towns, A-listers have long flocked to the Côte d'Azur. But there is more to this sun-soaked region in southern France than its glitzy reputation would suggest. So, whether you're yearning for a sweet city break to take your mind off your daily routine, an adventurous road trip across secluded hilltop villages, or a seaside stopover, here are four gorgeous spots to discover on the French Riviera.
Grasse
Grasse doesn't have the Mediterranean Sea right at its doorstep. But the city's fragrant fields of flowers make up for the lack of beach access. Grasse has been known as the world's perfume capital for centuries, indeed. Local tanneries switched to perfume in the 18th century, swapping the rather putrid smell of leather for the aromatic scent of jasmine, lavender, and May rose. And this long-standing tradition is thriving as dozens of perfume companies still operate in Grasse. Perfume houses like Fragonard and Molinard are even open to the public. You may also visit, smell, and create personalised fragrances through workshops offered at famous factories.
Nice
Nice comes a close second to Paris for city breaks in France. And with an international airport to boot, the largest metropolis on the French Riviera is where most tourists kick off their trip in southeastern France. Nestled along the Mediterranean, the city is the perfect stopover for a sophisticated beachcation. But summer vacationers may easily rub shoulders with culture vultures, as Nice is as much about crystal clear waters as world-class museums. So, stroll down the Old Town to snap a picture of a baroque church or grab a tasty delicacy at one of several open-air markets before hitting the Matisse Museum. Nice is also a great base to explore the beauties of the French Riviera on an organised tour or with your own vehicle. The lavender fields of the Verdon gorges are a two-hour ride to the west, while the Italian Riviera is less than an hour away.
Monaco
If you want to spice up your stay on the French Riviera, then Monaco is the way to go. 20 km east of Nice, the Principality is an easy day trip if you cannot afford the luxury of its historic palaces. In this bulwark of extravaganza and opulence, global superstars come shopping and partyingwhile affluent entrepreneurs park their supercars by some of the fanciest dining outlets in Europe. The Casino de Monte-Carlo is acompulsory stop to feel the Monégasque vibe all the same. With its Belle Epoque architecture, this gambling venue is a marvel to look at. But gamblers are in to make bank. If you're a first-timer, though, you may hone off your skills on online casinos for real money before making the trip. Top platforms boast a variety of table games like Blackjack, poker, and baccarat. Machine slots are another staple, leading to progressive jackpot games. Trusted real money casinos even reward users with lofty bonuses, such as welcome offers and loyalty programmes.
Saint-Paul-de-Vence
Another inland gem, Saint-Paul-de-Vence is your dream Provençal village. This walled medieval village sits atop a hill in Nice's backcountry. Its centuries-old ramparts are the ideal place to start your visit while soaking up the sights of the olive groves dotting the valley and the deep blue sea on the horizon. You might as well spend a lazy afternoon on a café terrace, unless you'd rather sign up for a pétanque lesson. But as ancient as it may be, Saint-Paul also boasts a modern side. Following in the footsteps of some illustrious peers, such as Marc Chagall and Henri Matisse, artists have turned the village into a creative hub. From outdoor displays to galleries, art is everywhere. Modern art enthusiasts may even pay a visit to the Fondation Maeght, which exhibits over 12,000 pieces of art from prominent 20th-century visionaries like Wassily Kandinsky and Joan Miró.
Do you dream of elegant perfumeries, sun-drenched beaches, and artsy villages? The French Riviera is all that and beyond. And this iconic French region has many more treasures in store than we have listed. Your best option is to rent a car, thus. But you may also hop on a coastal train to hit the most gorgeous spots of the French Mediterranean shores.