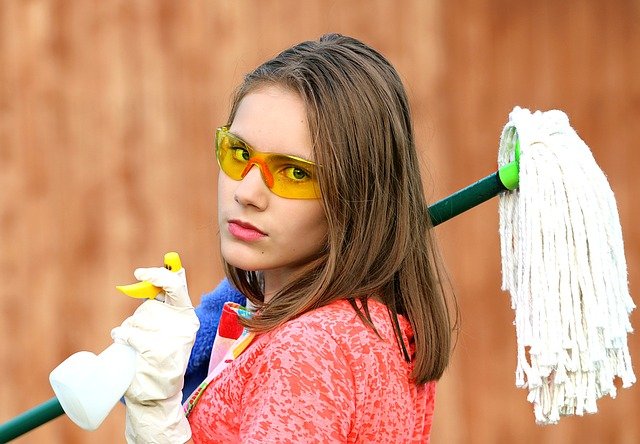 How To Choose The Right Spring Cleaning Service
If you are a homeowner who loves clean and tidy spaces, staying on top of your spring cleaning all year long is necessary. But this task can be overwhelming if you don't have the time or desire to perform this task yourself. When hiring a spring cleaning service, here are 10 critical tips that will help you choose the best one.
1) Ask for referrals
When choosing any kind of service, especially ones in which you cannot visit the business beforehand, it's important to ask for references. With regard to housecleaning services, word-of-mouth recommendations go a long way. Ensure that your friends and family members have hired professional home cleaning help before they recommend their services. If not, they may just be getting rid of their junk.
2) Ask for a list of services offered
Many cleaning services offer a variety of packages to suit your needs, with different areas cleaned to varying degrees. For example, some may offer basic spring cleaning, while others have an extensive service that includes the garage and basement as well. Ensure you know what specific tasks each agency is willing to perform so you can pick one that does exactly what you need.
3) Be wary if they try to sell supplies or products
Some spring cleaning companies may be trying to upsell when they ask questions about your inventory of household cleaners and other supplies. Hiring a professional housekeeper should save you time during this busy season, not add work by requiring you to go out and buy special soaps and chemicals.
If the company you're interviewing asks questions about what products you use or if they can bring their own supplies, it may be a good idea to keep looking. The only exception would be if the benefits of using their products are better for your family's health or well-being.
4) Ask for an estimate
Estimates will vary depending on the size of your home, how quickly you want the job completed, and which area(s) need attention. Most professional housekeeping services should provide an estimate at no charge. If a representative from a particular service is reluctant to give an estimate without talking to you in person, don't hire them unless they guarantee a fixed price. Even if they do offer a free estimate, you still want to compare prices and services with other companies.
5) Inquire about their policy on cancellations and refunds
When interviewing a spring cleaning service, ask how often they've been able to do the job within the promised time frame. If there have been any complaints from past customers who didn't receive their service within this designated timeframe, then it's best to keep looking for someone else. Time is also of the essence when hiring a cleaner because you want your home back as soon as possible. To ensure you don't waste money if something comes up unexpectedly during your busy day, be sure to inquire about what happens in case of emergencies or cancellations – both theirs and yours. Find out if they charge a cancellation fee or have a strict policy that will automatically charge you for the first hour of service paid if unable to come within their specified "window". Keep in mind, however, that most reputable services are understanding and reasonable with cancellations.
6) Ensure they're insured
Some house cleaning companies may provide workers' compensation insurance as well as general liability coverage. If possible, find out how much professional liability insurance the company carries and if it's sufficient for your needs. If their answer doesn't satisfy you or you can't get an answer at all, then it's probably not the right time to hire them. It's always better to be safe than sorry and ensure there is proper coverage in case something were to happen during the cleaning process. Let them know that you care about the condition of your home and possessions before they enter, so it's important to choose a reputable housekeeper.
7) Be specific with what you want to be cleaned
Before hiring any spring cleaning service, make sure you highlight each area that needs attention throughout your entire home or business. Be as detailed as possible by specifying what surfaces need dusting (such as shelves, tables, cabinets – inside and out – windowsills, ceiling fan blades), floors mopped (tile/wood/laminate/linoleum; kitchen floor swept; living area vacuumed), bathrooms scrubbed (toilet; sink; shower; bathtub; tiles; mirror), garbage emptied from kitchen and bathrooms. If there is a laundry room in your home, you should also mention that you'd like this area cleaned.
8) Ask about their knowledge and experience
Ask how long your spring cleaning service has been in business and what other services they offer besides housekeeping (greenery care/landscaping, carpet washing, etc.). It's also a good idea to ask for specific examples of the work they've done previously as well as references from past clients. When you're speaking with them on the phone or via email, pay attention to their communication skills during the conversation. Are they professional and friendly? Do they seem like an expert? Do not hesitate to ask any other questions you may have and seek further clarification if needed.
9) Let your intuition guide you
After speaking with your chosen spring cleaning service, you might have a good feeling about them. This is often your intuition communicating with you that this is the right choice. Your gut instinct is usually correct so just go with what feels right and continue on the path.
10) Get everything in writing
Once you've chosen a company to hire for a spring cleaning, make sure to put all of your agreements in written form. This includes their terms and conditions as well as payment information (hourly or flat rate?), cancellation policy, date(s) for service, how many cleaners will be coming, and their estimated arrival time range. Having all of this information before signing any contracts ensures there are no hidden costs or unpleasant surprises down the road because it's all been clearly laid out beforehand.