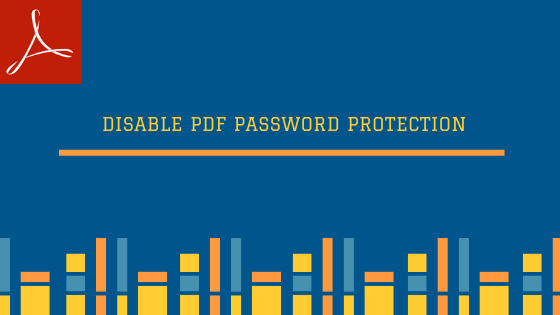 How to Disable PDF Password Protection Manually?
Are you also among those users who want to disable password protection in PDF document? If yes then go through this blog & resolve your queries.
But, I am sure you might have some questions like this:
1- How to disable PDF password security
2- How to turn off security settings on PDF
3- how to disable security settings in PDF
4- Will I be able to save PDF without password
Well, please don't panic you can disable PDF password protection manually. You have to follow simple steps that I am going to tell you in this write-up & then you will be able to save the PDF document without any passwords and restrictions.
Methods to Remove Password from Adobe PDF File
---
1- Google Chrome
2- MS Edge
How Google Chrome Disable PDF Password Protection
---
To know how to save PDF without password using Chrome follow these simple steps:
1- Drag & drop Adobe PDF file in Google Chrome
2- Enter the document open password that needs to be removed
3- Select Print option from the File menu of Google Chrome
4- Choose Save as PDF as your destination printer & hit Save button
5- Now, this file is free from any password protection
How MS Edge Remove Password security from PDF Document
---
Follow these simple steps & disable PDF password protection
1- Firstly, open PDF document using Microsoft Edge & enter the password
2- Click the Print option or simply press CTRL + P
3- Now, you need to select the Printer & choose Microsoft Print to PDF option & click Print
4- Save this PDF document and give the new file name
5- Choose any desired location & provide file name & hit Save button
6- Finally password is removed from Adobe PDF document permanently
Pitfalls of the Manual Method
1- Applicable for single PDF document
2- Does not work if the Print function is not known
Why Users Search for Some Alternatives?
---
"A few days back I some PDF reports from my friend, I know their passwords but I want to remove it permanently. Every time when I open these files it asks for the password? Although I know Google Chrome can be used to save PDF without passwords. But, the procedure is very lengthy and time-consuming. I have applied the same steps for each individual document. So, can anyone suggest any simple utility which can disable PDF password in batch?
"Recently I switched to Windows 10 operating system, I am having some PDF files which does not allow me to perform the printing operation. I need to take the print of these files on an urgent basis. Does anyone know a reliable method for the same?
Now I want to ask you one thing, did you find these queries too or you are unable to you are finding difficulty in removing PDF password manually. If yes then don't worry. I would suggest a simple method i.e. SysTools PDF Unlocker Software. With this utility, you can disable PDF password protection from multiple PDF files even when the Print option is disabled.
Want to Know the Perfect Solution?
I must say you should go for the professional utility like SysTools PDF Unlocker Software. This tool helps you to remove security restrictions from PDF file without any hassle. The reason for recommending this tool is that it not only saves your time but also gives the 100% guarantee for disabling PDF password protection. Along with password security, you can also remove restrictions like the copy, print, edit, comment, sign, etc.
4  Steps to Disable Password Protection in PDF
---
1- Download the tool & browse the PDF document
2- Preview the restrictions & click the Unlock PDF button
3- Enter the document open password of the PDF document
4- Now, the password has been successfully removed from PDF
With this professional software you can disable PDF password protection from these files:

Time to Conclude
In this article, I have discussed the manual methods to disable PDF password protection. Complete step by step process is described to remove password from Adobe PDF files. But, there are some limitations associated with the manual methods so it is advised to take help from an automated solution.