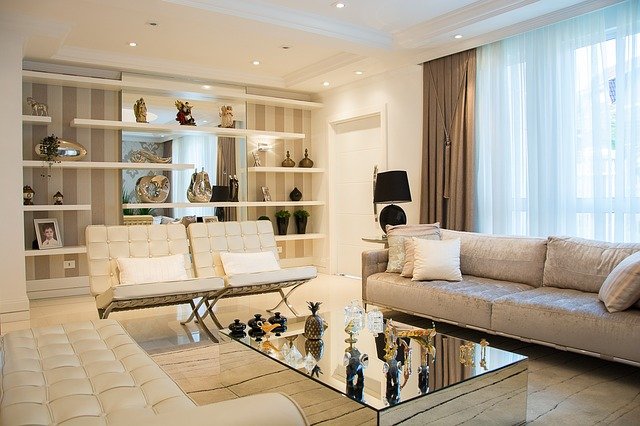 Common Injuries Caused By Furniture Toppling On A Child
In the United States, there are an average of 22,500individuals treated in hospital emergency rooms annually for injuries that result from furniture (and televisions) tipping over. About 40% of these injuries sustained from a falling piece of furniture, representing the largest age group, occur to those nine years of age or under, as follows –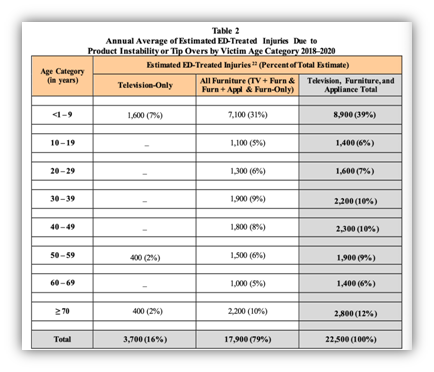 Source (Page 13)
To the young and inquisitive, furniture is seen as an amazing climbing opportunity, a new way to explore and discover the intricacies of their world. Drawers in a large piece of furniture can easily morph and become steps to climb. These pulled-out drawers can easily create enough imbalance that can cause a tip-over that can lead to serious injuries and even death in only an instant.
The Consumer Product Safety Commission (CPSC -Feb. 2022) reports there have been 581 tip-over fatalities in the U.S. since 2000. Nearly four of five reported fatalities happened to kids or young adults under the age of 18. Because more than 90% of furniture tip-over accidents happen in the home, it is critical to proactively protect your children from furniture defects and tip-overs.
Furniture Tip-Over Accidents
The Consumer Product Safety Commission estimates that 7,900 emergency room-treated injuries each year involve children that have been injured by falling or defective furniture. The cause of those injuries includes the following-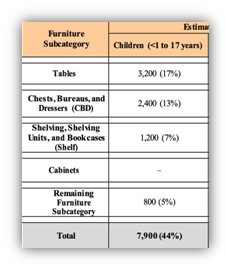 Source – Page 16
Television-only emergency room-treated injuries to children amounted to an estimate of 1,800 annually.
3% of children who went to the emergency room for an injury created by a furniture defect or tip-over are admitted to the hospital for residential treatment in Florida.
Of the injuries caused by falling or tipping furniture at an emergency room, injuries to boys accounted for those injuries sustained girls, across categories –

The Bedroom Is The Most Dangerous Place For Tip-Over Deaths
The Consumer Product Safety Commission reports that 90% of tip-over deaths occur in a residential setting, with 45% of those deaths occurring in a bedroom. The living or family room is the location with the second most tip-over fatalities (19%) in the home. Note – miscellaneous rooms, for the study, refer to playrooms, daycare rooms or hallways, etc.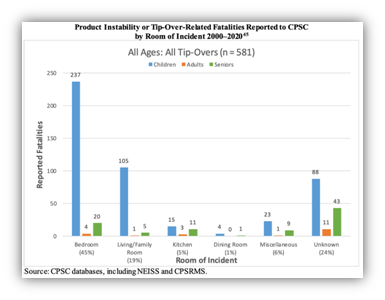 Source – Page 29
Many believe that a kitchen or bathroom creates the most risk for children. The bedroom, with tables, TVs & other high-risk furniture, is the room where children are left alone most often, where tragedy can happen in an instance. When left alone, children have the chance to climb without supervision, which leads to additional risk.
The reported fatalities associated with furniture or television tip-overs were caused by –
The individual being crushed beneath the product – 55% of reported fatalities.
The individual was asphyxiated by the tip-over – 22% of reported fatalities.
The individual was hit (not crushed) by heavy items – 16% of reported fatalities.
Unknown reasons – 7% of reported fatalities.
The location of the injury that caused the fatality included –
Head – Only injuries accounted for 58% of the reported fatalities.
Torso injuries accounted for 24% of the reported fatalities
Limbs (and other body parts) accounted for 9% of the reported fatalities.
Head & Torso injuries accounted for 7% of the reported fatalities.
TV Tip-Over Dangers
Incidents occurring from TV tip-over incidents have declined since their peak in 2011. This decline is likely due to several factors. The first is the new generation of smart devices and flat screen televisions that are significantly lighter than the old-fashion CRT televisions from years ago.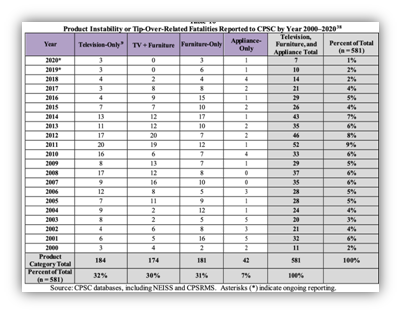 Source – Page 23
Additionally, nearly 7 years ago, the Consumer Product Safety Commission launched a safety campaign entitled "Anchor It," which was aimed (and obviously successful) at mitigating injuries and deaths from tipping furniture and televisions.
However, TVs – of any size that are unanchored/unmounted still create hazards for children and seniors. When replaced, older televisions are moved to the guest bedroom and set upon a table or desk. Keeping a television that is placedin a low position and anchored greatly reduces hazard potential.
Types Of Injuries
Most furniture tip-over deaths are the result of asphyxiation (oxygen deprivation), caused by the serious weight of heavy furniture tipping over and onto someone.
A furniture tip-over has the potential to crush a family's security chile, at the same time creating grave risks to children and other family members. The most common types of injuries that may result from the above-noted tip-over accidents include –
Traumatic Brain Injuries (TBI) – TBIs are among the most debilitating and life-altering injuries. While mild Traumatic Brain Injury victims may recover fully, more moderate, or severe cases will likely cause some form of permanent impairment or lack of functioning that remains well after the victim is released from the hospital.
Serious Bruising–another term for bruising is contusion. This is discoloration of the skin from trauma to soft tissue.
Hematomas – a hematoma is similar to a bruise, only it is considered more serious with swelling and symptoms that appear quickly. Depending on their location, hematomas can be quite serious. For example –

Hematomas of the Head – these injuries may cause confusion, headaches, speech issues, nausea, or vomiting, to name a few.
Hematomas of the Face –the area around the eyes and nose are quite susceptible to bruising and damage. Often, the nose bleeds profusely.
Hematomas of the Abdomen –often, these hematoma's symptoms (pain & tenderness)show up in time after swelling has occurred.

Broken Or Fractured Bones – the force from a heavy falling object can easily cause a bone to crack, fracture, or break, which all refer to the same medical condition. Fractures are typically defined by their location.
Spinal Cord Injuries (SCI) – these can happen as incomplete or complete spinal cord injuries. The complete spinal cord injury is considered the most serious and can result in devastating consequences.
Each year, tens of thousands of children are taken to the emergency room after suffering an injury created by a tip-over accident. Traumatic Brain Injuries (TBIs) are, unfortunately, one of the most common types of injury that happen from falling televisions or furniture.
The areas of the body for children's injuries that were the result of furniture defects, or a tip-over incident include –
| | |
| --- | --- |
| Area of Body Impacted By Injury | Number of Children Injured & Treated at ER |
| Head | 4,500 – (20% of all emergency room treated injuries) |
| Legs, Feet & Toes | 3,000 – (13% of all emergency room treated injuries) |
| Arms, Hands & Fingers | 1,400 – (6% of all emergency room treated injuries) |
| Torso | 800 – (4% of all emergency room treated injuries) |
A study issued a few years ago by Shane's Foundation, notes that, at that time –
Nearly 99% of head injuries sustained by a child were related to televisions tipping over.
Head injuries accounted for the most injuries sustained by children.
Children aged 2,tend to be the most injured children. They are also most likely to be killed by a piece of furniture that has toppled.
How To Protect Your Children From Furniture Defects & Hazards
Most parents focus on small choking hazards, cabinets with dangers, and unguarded stairsteps when childproofing a home. Despite the danger it poses, furniture is often overlooked when taking precautions to safeguard your home from a small, curious child. Furniture risk creates the worst type of risk – unnecessary risk.
The reality is that furniture may appear to be harmless standing in the corner, that is until a child becomes injured or worse.
Safety Tips That Can Reduce Furniture& Television Tip-overs
Keep TVs Low To The Ground
A low base for a television reduces the distance in which it can fall. The television should also be situated as far back as possible. This is especially important for older TVs as they can be quite heavy and, therefore, dangerous if they are tipped over and land on someone. Conversely, a television that has been mounted on a wall will be safely out of reach for small children.
Anchor Heavy Furniture & TVs To Be Safe
Anchoring heavy furniture, like a shelving system, dresser, or television, can save the life of a child and adults from injury. Anti-tip anchoring kits are available in local stores or retailers on the internet – often for just a few dollars. Although there may be a need for basic tools (like a drill, etc.), anchors available in these kits typically take only a few minutes to install.
Clearly, little effort is needed to reduce a large risk.
Toy, TV Remotes& Other Objects Should Be Kept Off Shelving or Furniture
Children are curious by nature, with little in the way of impulse control. If something shiny catches their attention, they are likely to be more than tempted to morph into a mountain goat traversing a heavy piece of furniture. Keep surfaces as close to bare as these empty shelves are less enticing to the young and inquisitive.
Additionally, if a heavy object is placed on shelving or furniture, it may cause it to become imbalanced due to a shift in the center of gravity. Furniture that is not balanced will tip more easily than furniture designed with a proper center of gravity.
Install Child-Resistant Locks on Drawers& Cabinets
This is a smart way to keep curious children from climbing on dressers and other high-risk furniture items. It also protects a child from dangerous household chemicals.
Electrical & Other Cords Should Be Out of a Child's Reach
The power cords attached to televisions and lamps (and other electronics) should be, to avoid temptation, hidden, or at least, out of reach of a child. A hanging cord can be tempting to pull, which results in objects crashing down from their perch. Clearly, this creates an avoidable but hazardous situation. Additionally, children need to be safeguarded from all electrical hazards.
Furniture Buying Tips
When buying furniture, consider these buying tips to help keep children safe from tip-over accidents –
Select from quality furniture that is built low to the ground. The furniture should be constructed with a broad base, which creates sturdiness and stability.
Look for furniture manufacturers that provide proprietary safety information, their own instructions, or equipment to help safely anchor the furniture to a wall or floor.
Give the furniture you are interested in buying a test drive – at a store. Use this time to make sure the construction is sturdy and stable.

Do the drawers fall out easily when opened?
If you pull out the top drawer and apply pressure, does the furniture stay balanced and sturdy?
Tip-Over Myths About Furniture
Unfortunately, there are many fallacies about the risk of tip-overs posed by televisions, furniture, and other high-risk items. The following are the most common misconceptions –
The Furniture is Too Heavy To Tip Over
Even a young child of limited weight is heavy enough to upset a large furniture item's center of balance. Most children are ingenious enough to create a staircase by using a dresser with multiple drawers. While this reveals the qualities of an innovative thinker, it also creates enough of an imbalance to offset the balance of the piece of furniture.
When a child jumps on a dresser, a bookcase, or other large, heavy object, the force of pressure is even greater, creating bigger risks and usually more serious results.
The Kids Do Not Play There
Even if supervised, children are notorious for exploring and wandering in curiosity. A room with dangers should be locked or further restricted (by a gate) to avoid unfortunate events that can happen in an instance.
The Bookshelf Looks Stable
The reality is, it is not possible to determine how stable or sturdy a piece of furniture is just by looking at it. And even if the furniture is stable, when left untouched, its center of balance is easily shifted by a child climbing or opening the drawers to create a path upward.
Our Well-Behaved Older Children Know Not To Climb On Furniture
The reality is that while furniture can appear harmless, children can and do forget (or willfully ignore) rules set in place for their own protection. Younger kids cannot be responsible for the places their curiosity takes them. Even children old enough (and well behaved enough) to know better will likely be tempted – given a large enough payoff or an insatiable curiosity.
Check on the Furniture That Has All Been Recalled
An upright piece of furniture poses a threat of injury from a tip-over. And note that there are recalls for furniture that is determined to be unstable or the cause of fatal tip-over injuries.
However, the manufacturing industry for furniture isn't subject to restrictive laws and regulations with regard to tip-overs. This appears to be changing due to multiple calls for legislation to be enacted to help minimize the risk heavy furniture poses.
At present, there are no requirements for the testing of furniture from manufacturers regarding the item's stability and safety. ASTM F2057 – 19, are the voluntary standards that have been recognized by the industry (as well as the Consumer Product Safety Commission) as the best practice to implement in an effort to prevent dressers and other clothing storage units from tipping over and causing an injury.
ASTM International is considered one the global leaders in developing furniture manufacturing standards that enhance health and safety.
A Word About The STURDY Act (HR 2211)
The Stop Tip-Overs of Unstable, Risky Dressers on Youth Act defines, for this legislation's purposes, a "clothing storage unit" as follows –
A free-standing piece of furniture that is either manufactured in the United States (or imported to the US for use) as a unit, typically in the bedroom, in which clothing can be stored.
The act was designed to require the United States Consumer Product Safety Commission to create, implement, and enforce consumer product safety rules related to dressers or free-standing clothing storage units. The law was developed to ensure children are offered maximum protection against the unnecessary risk of injury death caused by a tip-over incident.
H.R. 2211 clears the pathway for the Consumer Product Safety Commission to create a final rule to help in the prevention to prevent deaths from furniture tip-overs. The provisions included these safety standards for dressers or clothing storage units –
Testing options that simulate a child's weight of 60 pounds, which is an increase in the weight currently used to test stability.
Objective and measurable tests simulating real-world use, among others.
Consider flooring differences when testing the furniture.
Because H.R. 2211(The Sturdy Act) has yet to pass both houses of Congress, it is essential that manufacturers follow the current voluntary furniture safety standards.
Safeguard Your Home Against Furniture Tip-Over Risk
Understanding the risks and potential dangers created by unsecured, imbalanced, or defective furniture should be all the encouragement one needs to safeguard their home from unnecessary risk.
Furniture manufacturers have rarely been faced with accountability even if manufactured furniture is deemed unstable and the cause an injury or death. If you believe that a defective product caused a child's injury or death, it is critical to contact a licensed attorney to learn how to recover the damages you deserve.