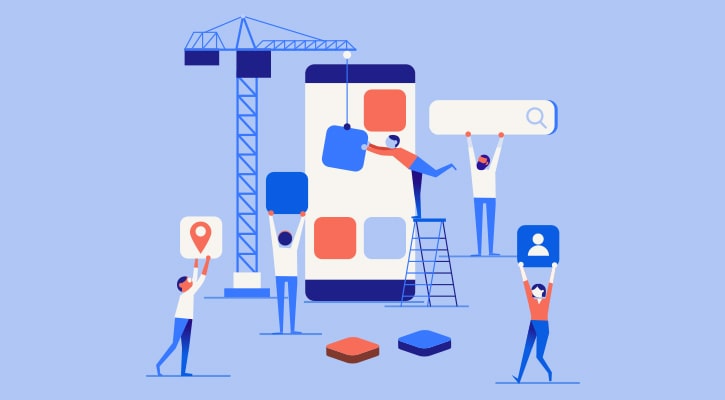 In today's digital era, finding mobile app developers isn't difficult, what difficult is finding an app developer who is perfect for the execution of your idea.
Nowadays, almost every business of every industry knows that the mobile apps are the future of their business. With billions of users worldwide, mobile app industry is the primary channel to target potential customers. However, a mobile app is not something that could be developed by just anyone. The process is way more complicated than it seems.
The point to focus on is, that if you want to develop a successful mobile app for your business, then you need to carefully find perfect mobile app developer for your project.
Why? – Well, it's mainly because the fate of any mobile app heavily depends on its developer, and a perfect match could help you generate unimagined profits and growth for your business.
So…How to Find Perfect Mobile App Developer?
Assuming that you already have an app idea in your mind and a desire to implement it, let's discuss how to get started.
Tip 1 – Be Ultra-Selective!
---
With 6000+ mobile app development companies existing in the world today (according to Clutch), it's clearly a buyer's market. But, as there are a lots of options available, choosing the right candidate for your project can be an uphill task.
If you're facing a similar problem, we recommend using a reputable referral website like Clutch. It is a reviews and ratings platform that identifies & lists top professional services agencies to help buyers choose the right partner.
Using Clutch, you can:
Find & Contact One or More Companies: Clutch has lists of top companies for almost all professional services including, mobile app development, web development, software development, and more.
By simply visiting their mobile app development companies category, you can get in touch with one or more app development agencies.
Review Past Client Reviews: If you're considering a company to hire, make sure it has multiple verified 5-star reviews from past clients.
Clutch interviews & writes extensive review of each client along with project details, the obstacles being faced during the development journey, and how a particular company solved it.
All these information help you to understand how much a company is dedicated to overcome challenges and providing ideal solutions to their clients.
Don't Get Turned Off If Your Budget is Not in Their Listed Ranges: Remember, these are only suggested budget ranges and many times a mobile app development company might work on your project even if that's not in their listed range.
The reason for this is two-fold. – First is, a company might believe in your mission or secondly, they might see future business opportunities with you.
---
Once you're communicating with one or more companies, it's time to share your vision, short & long-term goals, and the business plan.
The best way to get started is with having high-level technical discussions. If you feel confident that the company has the required expertise to build mobile app for your business, move forward to the Discovery process.
At this stage, you might feel scared, especially if you're outsourcing for the first time, that your idea may get stolen. But, if that's your only concern, you can just ask for a signed NDA (non-disclosure agreement) before you share your idea.
Nowadays, almost all agencies are open to signing an NDA before discussing about a project. So, when in doubt, just sign an NDA.
Once you've got an NDA in place, openly share everything – the idea, the business plan, the wireframes, and so on. These information help development companies to thoroughly assess the scope of work and to write an accurate proposal.
Keep in mind that if you hold anything back at this stage, there might be conflicts during the development period, mainly on project costs. So, hold nothing back and explain how exactly you want your mobile app to be when you're choosing to hire mobile app developer.
Remember, the best engagements and business relationships start with full transparency, trust, and a well-defined scope of work.
Tip 3 – Turn on The Review Mode
---
Once you've discussed your app idea in-depth with multiple prospective partners and have got estimates from all of them in hand, it's time to turn on the review mode.
Most companies at the time of creating estimate assume that you're happy with initial discussions and now the price is the only factor left.
While the price or the costing of your project is undoubtedly a critical factor, but there are following other essential considerations that must be kept in mind while finalizing.
Timeline: If one company offers the lowest price but can start working on your project only after three months, your mobile app's 'speed to market' will be much longer. Not only that, but it will also incur an opportunity cost.
On the other hand, if a company offers a high, yet considerable price and guarantee to deliver your mobile app three months ahead of the other prospective partners, you get an added value in terms of increased 'speed to market'.
First Company on the List Might Not be The Best for You: While nobody seems to talk about this, but Clutch allows agencies a paid option to get their name on top of the list. Though their clients' reviews and ratings still count in deciding their position on the list, but sponsorship does help them to move few positions upwards.
Therefore, don't think the first agency on a list would be the best for your project. At this point, you need to ask yourself which company really understood your vision, has the right level of expertise to deliver, and most importantly, which company is most interested in your business idea.
To identify, you can ask the following questions to your prospective partners.
What do you think of my idea & business plan? What would you change in it?
What are the two biggest challenges you foresee in developing my project?
Who will be on my team? Are they full-time employees and how long they've been with your company?
Who will be the main point of contact and how often they'll communicate?
These questions will help you identify the right company which is more interested in your business than a revenue opportunity.
Be Confident & Just Do It!
The outsourcing process might seem daunting as mobile app development is. Without any doubt, it's a complicated task. But, trust the process.
Stay positive and just make sure that everything, from the app strategy to design, development, and testing have been reviewed from 360-degree angle. And soon, you'll see your app idea becoming a reality.