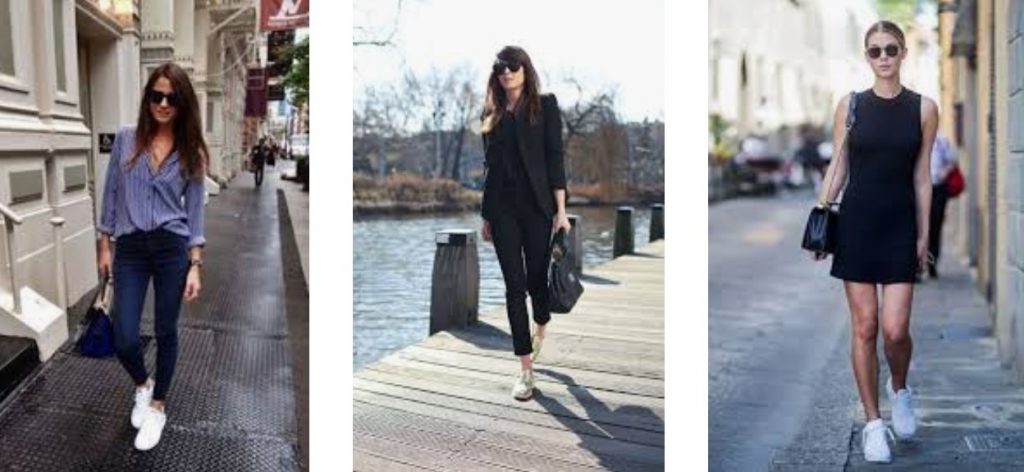 People are working extended hours, and companies are implementing casual dress codes for a variety of health, safety and practical reasons. Employers are showing greater consideration for their workers' comfort and displaying concern over employees sitting at a desk or standing for long periods of time. Combined with longer commutes and lunch break exercising, employees are opting for comfortable discount sneakers that can still look professional at the workplace.
Movement Is Important
---
Flexible khakis and jeans made of stretchy fabrics are replacing stiff slacks, tight pencil skirts and cumbersome blazers. Studies show that remaining stationary during a full work shift is not very healthy. Getting up at least once an hour to do some type of movement generally improves circulation and blood flow.
Wearing the right sneakers that also make moving around at work easier won't clash with most casual dress codes. You'll find there are sneakers with a versatile enough design that can help you look like you mean business, such as the line of footwear from Diadora shoes. While the Italian sports shoe manufacturer offers models in a wide assortment of colors, sticking to a dark, traditional and single-colored sneaker is best for the more conservative workplace environments.
Lunchtime Workouts
---
Crunching in as many activities as possible into a one-hour lunch break is common, and Nike provides apps to track what you do. Whether your break consists of running errands, walking around the block or exercising at an on-site gym, there are Nike shoes for every type of professional. Slip-on sneakers resemble the traditional office loafer, come in the right colors for an office and they add comfort and cushioning to your feet. Nike is famous for its innovative Air sole technology, recognizable "swoosh" logo and their slogan, which aptly reminds you to "Just Do It" even before it's quitting time.
Sneakers for Meetings
---
If your day consists of attending meetings, tennis shoes can help build and display your confidence. They also provide an easy glide and comfort for your feet, especially if you need to remain relaxed through long and hectic brainstorming sessions. The B. Elite Premium model by Diadora is worn during some of the most high-profile tennis matches in the world. You can communicate self-assurance to the team at work by wearing Diadora shoes to meetings.
Sneakers and Staying Late at Work
---
Some management and leadership positions require staying late at the office after everyone else has gone home for the day. This is a time to turn on some music while getting caught up on the day's work or the end-of-the-month budget. If there are others staying late at work with you, sneakers demonstrate that you're someone in charge. Breaking out some brightly colored Nike shoes from your briefcase or laptop bag shows everyone still there that you have a positive attitude about putting in the extra time. Nobody likes staying late, but if you came prepared to take on the extra work hours, you've helped to increase the motivational factor for others who may be putting in some extra time.
No matter what your dress code is at work, casual or otherwise, you are bound to find brand name footwear such as Nike or Diadora shoes that will fit your style at work or at home. Check online for the best deals and a wide range of choices!