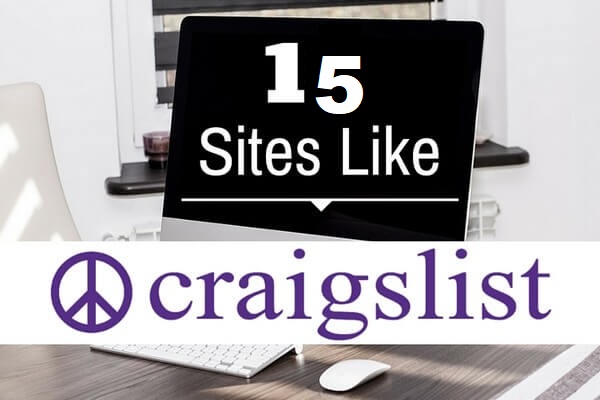 Best 15+ Sites Like Craigslist: Alternative Classifieds for Buying & Selling
Are you finding Craigslist Alternative Classifieds websites? Here are top Sites Like Craigslist: Alternative Classifieds for Buying & Selling
Craigslist is one of the oldest names when it comes to classified website. This amazing place has everything to offer starting from a house to junk. Craigslist not only provides you with amazing deals but will also help you found people to hook up with and find a job as well. Craigslist is certainly the best and biggest US-based classified website on which you can buy and sell stuff that too for free.
There are multiple reasons to love this website and the main is that you can save and make money while using this website. You can also find jobs, Houses and services.
15 Craigslist Alternative Classifieds websites
Gumtree
---
Gumtree has entered into the United States Recently but is giving a tough competition to the website that is there from some time. Gumtree is very popular across the UK, South Africa, and Australia. You can post anything over gumtree such as Property, Automotive, Services, Jobs, For Sale, Electronics, etc. Gumtree is much better than Craiglist when it comes to UI. A user can navigate very easily throughout the website.
USA Today
---
USA Today is one of the leading newspapers in the US and has a dedicated classified website registered to their name. Being one of the most reputed publications in the United States, this website has a user base of 1million+ people. The USA Today features categories like Auction, Automotive, Jobs, Education, Real Estate, Sports, Business and Marketplace.
Penny Saver
---
PennySaver USA is another website that is entering the USA market and currently has enough user base to fit in the competition. Penny saver is best when it comes to local deals. In PennySaver USA you can put up your advertisement post-Sign-Up. Penny Saver also offers you categories like Real Estate, Pets, Vehicles, Services, Food, and Garage sales.
Geebo
---
Geebo has a minimalistic designed UI that is super is to navigate and leaves the user amazed. So if you are looking for a super safe place to sell or buy goods or exchange services, This is the place for you. Geebo is majorly focused on local communities within the United States. While dealing over this website, the user is provided with a list of different measures and he/she can also report the abusive content if there's any. Geebo features categories like Farm Equipment, Services, Real Estate, Jobs, and merchandise.
City News
---
City News is an international classified website which is famous all around the world. Major regions where this website is famous are the US, Canada, UK, Asia, and Europe. Based on the locations that city news cover. This website has a huge userbase. This website offers the users free listing along with the premium listing for $3.
The categories that are covered by this website are Home Improvement, Kitchen, Medical Clinics, Cooking, etc.
Oodle
---
Oodle has a simple and very easy to use interface that makes this website best for users. Oodle has a userbase of 1m+ users and features categories like Communities, Jobs, Pets, Personals, Real Estate, Services, Vehicles, and rentals. This place has everything that you need and hence is one of the major alternatives to Craiglist.
Free Ads Time
---
Free Ads Time is a free classified website. Covering all the major categories like Jobs, Services, Communities, Pets, and vehicles. In order to post over this website all you need to do is find the city in which you want to show your ad and post it there. You can choose the regions from the US, Canada, Europe, Asia, South America, and Oceania.
Ad To Ad
---
Ad to Ad is an excellent solution for your classified ad posting and is used majorly by people of Canada and the US. In order to post over this website, you will need to signup first and then you will be able to post or make a listing. But what makes Ad to Ad stand out of other is the category called Aviation. So if you are rich enough that you can buy a jet, you can check out their aviation Category.  Rest categories are Vehicles, Aviation, Boats, Electronics, Personal, Jobs, Announcement, Hobby and Real Estate.
AdLand Pro
---
Adland pro is live since 1998 and is one of the most popular services in the United States. It is necessary to register on the website in order to post over the website to maintain the security between Sellers and Buyers. So once you have registered on this website you will be able to make the listings. You can post ads for selling your old stuff, listing a job and finding things to buy.
Adland pro has categories like Jobs, Automotives, E-Books, Online Lessons, Real Estate, Business, and services.
10 Day Ads
---
10 Day Ads is an excellent service which lets you post your listing in more than 1 location. This feature of the website allows you to sell and trade faster with an extended reach to your product or service. You can post your ads with pictures and videos to get reviews and ratings of other users. Ratings and certifications are a helpful measure for trusted sellers and besides, restrain scammers from cheating on the website.
Ads Globe
---
As the name shows Ads Globe is a classified service that is used all over the globe and is a hard competition for Craigslist. The location is detected automatically and you can also change the location manually. In order to list your ad, you will need to sign up over the website first. The most popular categories are Merchandise, Rentals, Automobile, Pets, and Real Estate.
Trovit
---
Trovit is not a typical place where you list or buy things, but this is a website which helps you to find other places to post your ads. This is a massive search engine for the classified websites, You can find anything that you need over here. Trovit provides you information from international places like South Africa, Turkey, USA, Italy, and India.
eBay Classifieds
---
eBay is a major competitor of craigslist. It offers you similar services like craigslist but with the credibility of a brand. eBay classified provide you with a category listing ranging from jobs to selling and renting, and more than 150,000 ads are posted every month. The only thing that is not on eBay classified is the personal section. and the recent revamp of the website has made it a much more user-friendly interface.
U-Exchange
---
This website is like Recycler, This website is not great for career or apartment, but is a major spot for people looking to barter goods and services. You can also refer to this website as a swap site. This website is more streamlined than the Craiglist and could work for one-off instance when you need to get something very specific done.
Adoos
---
Adoos is a typical classified listing website which has categories like real estate, community, vehicles, and jobs. Unlike Craigslist, Addos lets you sign up or sign in to the website through your Facebook account. The UI or the layout of this website is much more simplified or eye-catching as compared to Craigslist. Adoos has a significant amount of ads that are pointing to external sites, you will have to paddle through to find out what you actually need.
DealDash
---
DealDash is an interesting variant to online auction shopping. It has been providing deals for the Americans since 2009 when the first auction went live. The exciting thing? All DealDash auctions start at $0.00 and a 10-second timer starts counting down. Whenever you place a bid the price of the auction increases by 1¢. Once no new bids have been placed the auction ends and the final bidder can buy the item for the final sales price. Read more about what real DealDash customer reviews have to say about the auction site.