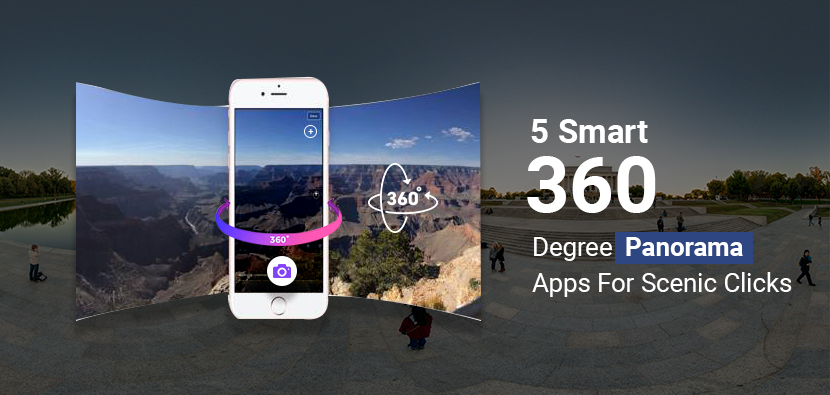 5 Smart 360 Degree Panorama Apps For Scenic Clicks
Mobile app development companies have certainly improved our lifestyle for good reasons. With the advancement of technology, people are now granted the unique immersive experience form different business services. Likewise, users can capture and create vista images with a 360-degree view for better visualization. Hence, with the newest cameras for panoramic images have changed the way we have experienced photography until now.
Using 360-degree camera apps, smartphone users can transform a normal view into one sophisticated 360-degree panorama. Such apps allow capturing complete roll around scenic images with spectacular details. Improved technology is offering apps with extraordinary filters, outstanding light and exposure techniques to make a photograph more appealing.
The best 360-degree photography apps
---
Virtual reality development companies has tried their hands to offer the user the latest 360-degree photography apps. In order to delight the users, the world of 360 camera apps is expanding every day. With 360-degree mobile apps users, as well as, mobile app development companies are making the best utilization of advanced technology.
There are cheap and comprehensible apps for users to check out 360-degree images and videos. Here are some best 360 camera apps to take the perfect 360-degree panorama.
Panorama 360
---
The app is a popular having 5 million downloads that allow users to capture three-sixty panoramas and videos. With a single tap, the user can initiate the camera in order to start the shooting that includes normal, manual and real-time modes. This camera app allows users to upload images to a social media platform. Apart from that user can also take benefit of Geo-tagging to mark the location of panoramas.
Roundme
---
This 360-degree app is focused on viewing 3D VR images through a VR enabled headset with phone inserted or user's phone. Smartphone must have the accelerometer and the gyroscope to bring the best scenery for users. The motion-sensitive panorama viewer can upload and share their content through Roundme web service.
Sphere
---
Sphere 360 camera app has some different approach that allows users to take 360 spherical images while traveling. This app has been awarded the best app in the tech category. With this app, the user can enjoy panoramic views and share them with friends. It is a unique blend that offers users 360 views and a virtual tour of places to offer a panoramic view.
Pano
---
Pano app comes with reliable 360 camera app functionality to create 3D images, good UI, and panorama building. It offers options to click a photo with proper alignment and color addition to create a more appealing photograph. The reason of popularity of this app is the perfectness of this app that is taking 360-degree panorama images to the different world.
Photaf Panorama Pro
---
Photaf is an accessible VR camera app with a high definition mode of capturing 360 images. This app has a simple user interface and incredible photographic possibilities which let users set them as phone's wallpaper. This is the reason this app is mostly used by real estate agents to show the 360 VR tours of space to distant clients.
Bottom line
Capturing 360 photos and videos are in trend today as it looks really cool. All you need a good 360-degree panorama app with a smartphone in high quality. These apps are with many editing tools like image rotation, instant effects, zoom ability, sharp coloring, etc. Some of the advanced features like video sessions, voice command, photo timer, and social sharing are taking the user experience to the new heights.
With over 8 years of experience, we have developed deep expertise in the virtual reality mobile apps industry. If you are looking for a virtual reality app developer who can give shape to your imagination, then feel to connect with us.