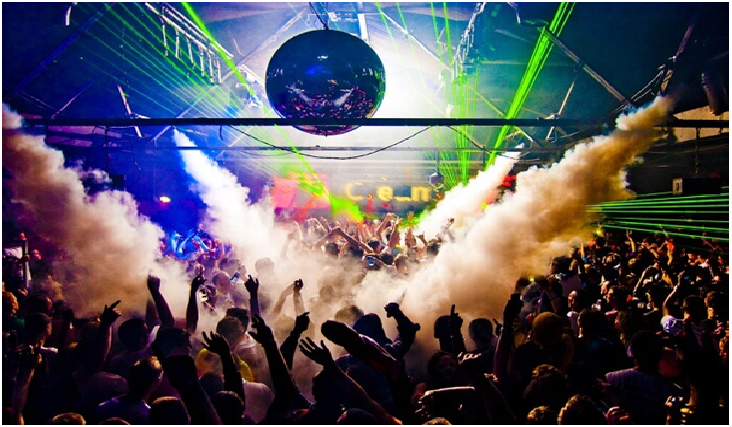 Brief Guide Through Bratislava's Nightclub Scene
Bratislava is charming, flamboyant trendy capital of Slovakia. It is set along the steady Danube river. The city is surrounded by vineyards and Little Carpathian Mountains. It is mostly pedestrian meaning that you can take a walk to any part of the city. It may be small but it's full of vibrant energy. Over the last decade, the city has established itself as a great destination for young people who love to travel, have a lot of fun and at the same time not break the bank.
One of the reasons why this city started to flourish is because of their low-cost airlines operated by Ryanair connecting Bratislava to the UK, Spain, Italy, and France. And if you're staying in Vienna you can always take a one-hour bus ride to Bratislava and extend your fun. The epicenter of nighttime activities is concentrated in the historic Center-Old Town. In the streets of Michalská and Ventúrska, you'll find all the bars, pubs, clubs and nightclubs that offer striptease. It's no wonder so many fellas choose to celebrate their banging bachelor parties right here!
Apart from the great nightlife, you should definitely try the local cuisine and great local beers. One of the best local beers is "Martiner", the Golden Pheasant and Saris. And the best part-pints cost no more than two euros! You will be served by friendly and hospitable waiters, and you'll surely meet some of the locals. Bratislava has the largest complex of student accommodations in Central Europe. Meaning that this is definitely a youthful town full of positive energy. Without further ado here is a list of Bratislava's most visited clubs!
Subclub
---
Subclub is a legendary underground club, which used to be a WWII nuclear bunker! It is situated in the hill below the castle of Bratislava. It's got that 'Blade' kind of vibe. There is a tunnel you'll have to go through to get to the side of fun! The club is charactered by labyrinth corridors and darkness with florescent lights guiding your way. It is the heart of electronic music like techno, minimal, deep techno, DnB, Neurofunk, etc.
It's open on Friday and Saturday from 22:00 to 05:00.
Nu Spirit Bar & Lounge
---
This is one of the busiest clubs in Bratislava. It's open 6 days a week and here you can enjoy a variety of live music. Ranging from jazz to hip hop, house to DnB. The majority of pubs in town close at midnight and after that people start gathering around the entrance of Nu Spirit Bar & Lounge. This club sometimes organizes special events where you can dance on the table with a bottle of Hruškovica in your hand 'till sunrise.
It's open from Sunday to Wednesday from 17:00 to 01:00 and Thursday to Sunday from 17:00 to 04:00.
The Club Bratislava
---
This club is one of the most exclusive and hottest in the capital of Slovakia. It's located in the Park Inn Danube Hotel. It's a very large dance hall covering 400m2! It has a special hexagon LED wall, great light shows, fluorescent lights, great cocktails, and multiple VIP tables. They are the host of some of the hottest DJs like Jekey, Sidney Samson, Markus Schulz, Junior Jack, and Fatman Scoop. They also organize theme parties: Playboy, Hendakai, Alice in Wonderland…
Open from Thursday to Saturday from 22:00 to 05:00.
Le Club
---
Le Club is a perfect place to start your evening. Here you can enjoy a fancy dinner, nice wine, and they have a Cigar menu. This a luxurious club characterized by a stylish interior, live Dj sets, and first class service. If you have a nice suit or a glamorous dress you've been dying to wear but didn't have the chance – this is the place to wear them. This one of the favorite spots on local businessmen, celebrities and politicians.
Open from Thursday to Saturday from 15:00 to 04:00.
Trafo Music Bar
---
Trafo Music Bar is located in the heart of the centers pedestrian zone. It's in the underground of an 18th-century palace. It has a characteristic 15-meter concrete bar that can offer you every drink you can imagine: from beer to cocktails. Here you can enjoy every kind of music ranging from RnB, Hip Hop, House and Mainstream.
Open from Thursday to Saturday from 21:00 to 04:00.
Radost Music Club
---
Radost Music Club – Radost meaning Joy will literally bring you just that. It's a small underground club that gets packed very quickly so if you decide to go there, get there on time! The music is electronic varying from, techno, minimal, house, DnB… This is one of the few clubs where you can also sit in a comfortable chair and smoke a hookah while you wait for the sunrise.
Open Wednesday and Thursday from 19:00 to 6:00, Friday and Saturday from 22:00 to 06:00.
Alligator Crystal Rock Pub
---
The Aligator is the perfect place for lovers of good old rock'n'roll. The interior is quite unique, the dance floor is above a boxing ring and they have a large alligator statue. Here you can drink some local beer and headbang to local rock bands.
Open from Monday to Wednesday 17:00 to 01:00, Thursday and Friday from 17:00 to 04:00 and Saturdays from 19:00 to 04:00.