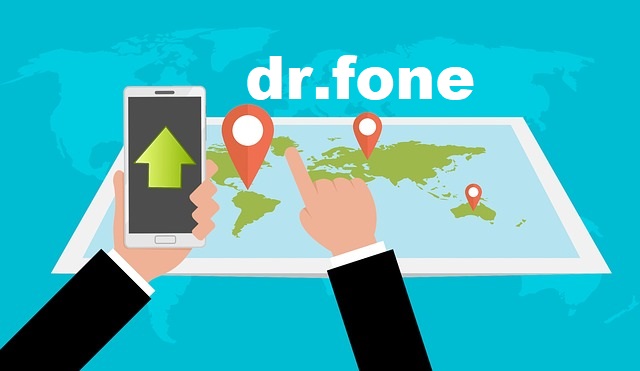 Control your iPhone's GPS manually with Dr.Fone Virtual Location!
Many services nowadays are tracking to know the user's exact location. When posting a photo to social apps, for example, it will tell you where that image was captured. And there are also other services that end up tracking your phone to find out where you are in real time.
If you are uncomfortable with this and have already thought about changing your real location for greater security or even to use some service not available in your region, you must have found work solutions. And here we have a very practical and simple to use option, the Dr.Fone Virtual Location.
Due to the closed nature of iOS, it is not possible to install any app that controls this manually, from the iPhone itself – but you will be able to do it with Dr.Fone Virtual Location, available for both macOS and Windows. It is a simple solution for Windows and Mac that allows you to generate a fake location on your iPhone. So with a simple click you can be in Paris, the United States or any Asian country you want. Not only does it fake the location on the iPhone, this application can also solve problems related to the iPhone GPS not working. In other words, iPhone GPS not working solved thanks to Dr.Fone.
The software is very simple to use and only requires you to connect your iPhone to your computer using your own Lightning to USB cable. There, you have a window with a map and you can control your location in various ways.
Virtual Location allows you to move from one location to another in three different modes:
---
Teleportation: fast but it can cause problems with certain apps.
From one point to another: as if it were conventional locomotion in a map app, and you can still set the speed of the route – on foot, by bicycle or by car.
Or even free form, either by clicking on multiple points on the map or using a kind of "joystick".
If the idea is to use the tool in apps and games, the ideal is to avoid the "teleportation" mode as much as possible so as not to run the risk of your account being blocked.
The purposes of such a utility (fake GPS for iOS) are the most varied, such as cheating on a little game, using for dating apps based on geolocation, accessing some unavailable streaming content where you are or any other personal or professional need. There, it's up to you.
Dr.Fone Virtual Location can be downloaded and tried for free [ZIP], and your subscription varies from US $ 5 / month (in annual payment) to US $ 10 / month (in monthly payment), valid for use with up to five devices.
With Dr.Fone, there is no need to root Android to use the program and thus change the location of the phone, there is also no need to jailbreak if you use the Iphone.