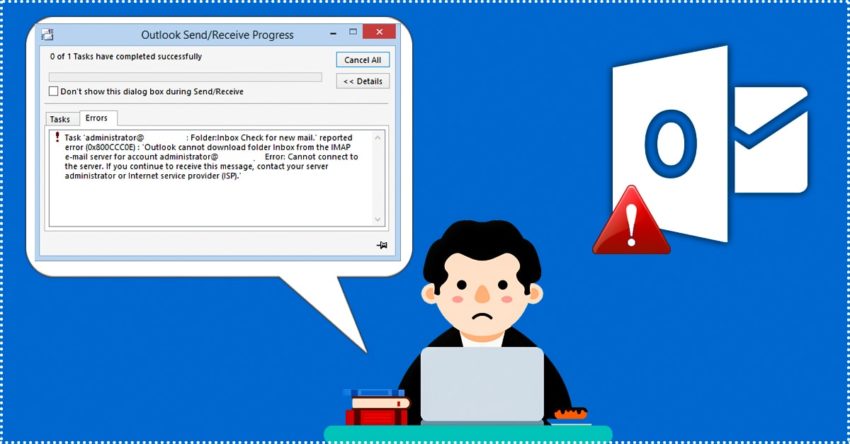 How to Resolve Outlook Error 0x800ccc0e
A brief guide to fix 0x800ccc0e Error
Microsoft Outlook can throw up errors from time to time, and unfortunately, many of these errors don't have an elaborate error message, and hence, it can be hard for users to understand the problem and its root cause. Most times, you only get an error code and have to scramble to know what it is, and how you can fix it.
One such error code is 0x800ccc0e.
On the face of it, the Outlook error 0x800ccc0e means nothing to you. But in reality, it is a serious problem that stops you from sending and receiving emails.
So, what is this 0x800ccc0e outlook error, and what's the solution? Let's find out.
What is Outlook Error 0x800ccc0e?
---
With this 0x800ccc0e error, Outlook is trying to tell you the following:
Poor or no internet connectivity
Antivirus and firewall settings are preventing Outlook from connecting to the Internet
SMTP authentication error
PST files are corrupted
Now that you know the reasons, let's move to the more important part of how you can resolve it.
How to resolve Outlook Error 0x800ccc0e?
---
The solution depends on the cause of the problem. Here are some possible solutions.
Resolve configuration issues at the time of setup
0x800ccc0e is a common error code while setting up the Outlook email client and if you face it, follow the below steps to resolve it.
Go to Accounts > Properties > Servers
Navigate to "My Server Requires Authentication" and check the box
Enter your email ID and create a password
Press the "Apply" and "Accept" button. This should resolve the problem for you.
Remove Duplicate Accounts
One possible reason for this error is the presence of duplicate accounts that can cause conflicts. To fix this,
Go to Tools > Accounts > Mail
Look for any duplicate accounts, and if you spot them, delete the duplicate account by clicking on the "Remove" button
Restart Outlook and see if this fixes your problem.
Change the Port Number
The outgoing SMTP server may be listening at the wrong port, so change it to the standard 587 to see if it resolves your problem.
To do that,
Go to File > Tools > Account Settings
Navigate to the Email tab and again, click on "More Setting"
Navigate to the Advanced tab, change the port number to 587, click OK.
Restart Outlook and check if the error is resolved.
Reinstall Outlook
Sometimes, uninstalling and reinstalling Outlook is necessary to fix this problem. So, try that as well.
Repair the PST Files
The cause of the 0x800ccc0e Outlook error could be a corrupted PST file, in which case, there's a chance you could lose all your emails, contacts, calendar, attachments, and anything else stored in your mailbox.
The best option in such cases is to use a third-party tool called Stellar Repair for Outlook.
What is Stellar Repair for Outlook?
---
Stellar Repair for Outlook is an advanced and comprehensive tool that can repair multiple PST files that are severely corrupted in one-go. What it essentially does is extracts all the data from the corrupted files and display them in the preview pane.
You can decide which data you want to recover, and this tool will automatically recover them, and store them in a file format of your choice (PDF, XML, HTML, etc).  The highlight of this tool is that all the complex functionality is masked behind a simple and intuitive interface, thereby making it ideal for users of all technical skills.
To learn more about this top-notch tool, contact Stellar Info right away.