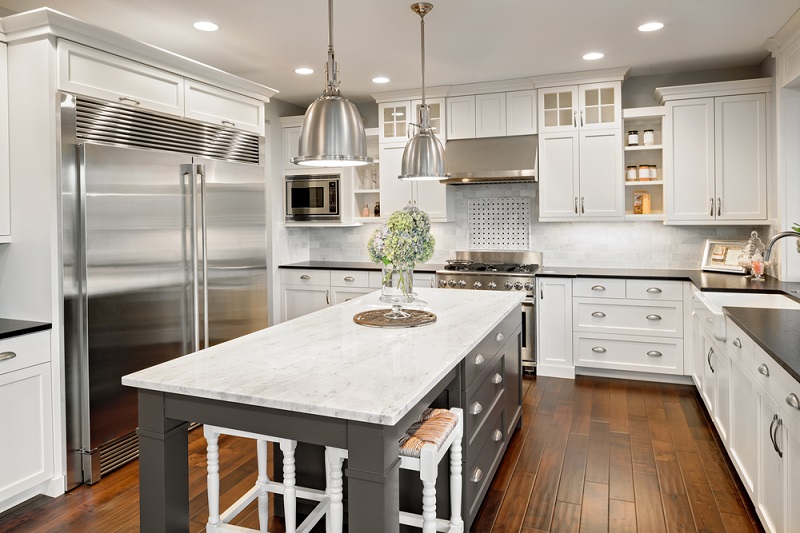 5 Tips on How to Update your Kitchen Without an Expensive Remodel
While there were very few positives to come from the ongoing COVID-19 pandemic, homeowners who may be considering selling their homes in the next few months have one thing going for them: high home prices. Thanks to the pandemic, home prices have skyrocketed and buyers are more incentivized than ever to find a new home.
While sellers are nearly guaranteed to close with a favorable price on their home, any good real estate agent would attest to the importance of renovating before staking a  'For Sale' sign on your front lawn.
Understandably, not everyone has the budget for major renovation projects. Luckily, there's plenty that can be done on a tight budget.
If you only have the budget or time to update one area, be sure to devote all your time and energy to the kitchen. As the focal point of your home, the kitchen is the room that'll make or break your home selling process, and giving your kitchen some minor updates will drastically determine your closing price.
Keep reading for some recommended kitchen updates that won't cost a fortune!
Update your kitchen with a new backsplash
While you may not have any plans to sell in the near future, updating your kitchen still has many positive benefits, like impressing your guests! However, if you are thinking of putting your home up for sale, you'll be please to know that all kitchen upgrades have an average return on investment of 72%. Even if you have no plans to sell soon, you'll still recoup most of the costs of your updates when that time does come.
Depending on the extravagance and the material you choose, adding a new kitchen backsplash can be expensive. If your tastes are lavish, you may end up paying around $100 per square foot of kitchen backsplash, however, even materials like granite can go for just $10 per square foot — all you have to do is shop around!
If you're on a seriously tight budget but want to update part of your backsplash, focus on the areas above the stove and sink.
This project can cost anywhere from $150 to $400 and takes about two days with hired labor, so you'll complete the job quickly, easily, and inexpensively!
Consider updating your countertops with affording options
New countertops can cost anywhere between $1,800 to $4,100, so it's no cheap task. However, while you might think of skipping this update in order to save money, think again. Countertops are the focal point of any kitchen, and updating the space with new countertops will immediately transform any kitchen from outdated to modern.
Luckily, there are affordable options out there! All it takes is the time and energy to hunt for cheap-yet-appealing countertop options.
When it comes to cabinets: don't replace, just paint
The average cost of new cabinetry exceeds $5,000, so hold back the urge to simply rip out your old, outdated cabinets in favor of all-new cabinetry. The task is one of the costliest parts of any kitchen remodel, but luckily there's a much cheaper way to impress both your guests and your buyers.
Cabinets are easily transformed with a fresh coat of paint. While we all love a pop of color, try to stick to whites and grays, as they'll stand up to the tests of time. Remember to paint both the inside and outside of the doors for best results.
If your cabinet doors are failing you, consider simply getting rid of them. Open cabinetry is in, and many designers opt for this look anyway.
Consider replacing your outdated kitchen faucet
This may seem like a small change that might not make a huge difference, but replacing an outdated kitchen faucet won't simply improve your kitchen's desirability but also its functionality. Newer faucets offer plenty of different functions, all you have to do is find the one that works best for you.
Keep in mind that higher faucets have a multitude of purposes, including filling large pots and washing your big cooking equipment. An expandable nozzle is also a great tool when cleaning!
Use these tips to optimize your kitchen counters and storage spaces
Top real estate agents nationwide all attest to the importance of storage space, which was a top kitchen upgrade in 2021. Especially after the COVID-19 pandemic, buyers are on the lookout for kitchens with plenty of space.
Try limiting your appliance selection, choosing a coffee maker that tucks away easily, keeping small appliances stored away in the garage or pantry, buying a magnetic knife rack to keep your countertops clear, and purchasing organizational tools like an overhead hanging pot rack or Lazy Susan. While these tips require little investment, they'll transform any busy kitchen into a spacious, organized space.