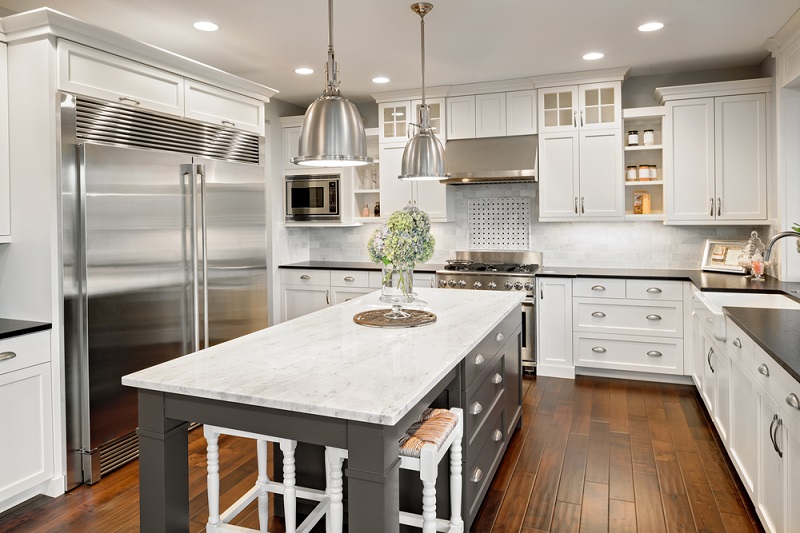 4 Simple Ways to Upgrade Your Kitchen
The kitchen is known as the heart of the home. It is one of the most important areas of your home that should be well maintained to boost the overall look of your home. You don't necessarily have to rob a bank to upgrade your kitchen. All you need to do is come up with innovative ideas to match your budget and you're good to go. In this article, we'll shed light on simple ways through which you can upgrade the look of your kitchen.
1. Spruce Up Kitchen Cabinets
One of the easiest ways to upgrade your kitchen is to experiment with kitchen cabinets. You can simply apply a fresh coat of paint to those old cabinets and make them instantly look new. In addition, two-cabinets are also one of the most popular trends to go with.
You can paint the upper cupboards with light hues and choose a bold color for the bottom of cabinets to give it a good contrast. This little change can give your kitchen a whole new look without moving your budget.
2. Explore Your Furniture Options
Using tables and chairs in the kitchen is trending these days. It also saves the dining room space. Buy kitchen furniture from Luxo Living to cater to your kitchen furniture needs. They have a variety of tables and chairs to suit your dining needs. For instance, you can have an option of oak, aluminum, fiberglass, etc when it comes to choosing seats.
When you're buying kitchen furniture, pay attention to the kitchen theme and color scheme. Choosing contrasting colors can give your kitchen a facelift. It's up to you whether you go with classical style or trendy style for your kitchen.
3. Replace Countertops
One of the first things you see entering your kitchen is the countertop and cabinets. If you have an outdated or worn countertop, replace it with a new one. There are a variety of countertops available in the market to spruce up your kitchen and give it a whole new look.
One of the best options to go with is a marble countertop. In addition, quartz and soapstone also add a great texture to your kitchen countertop. No matter what you choose, don't forget to follow the color scheme and layout of your kitchen to make the most out of your investment.
4. Focus On Lighting
The kitchen is the place where you would be spending most of your time, make sure it's not a dull place to kill the vibe of the kitchen. Choose the right lighting to make your kitchen a welcoming place. Lighting can give your kitchen an instant bright appearance.
You can add hanging pendant lights above the dining table to give a touch of task lighting. Similarly, if you have a row of wall cabinets, you can add LED lights along their bottom to exude a luxury theme of your kitchen. The right lighting can help you change the whole outlook of your kitchen.