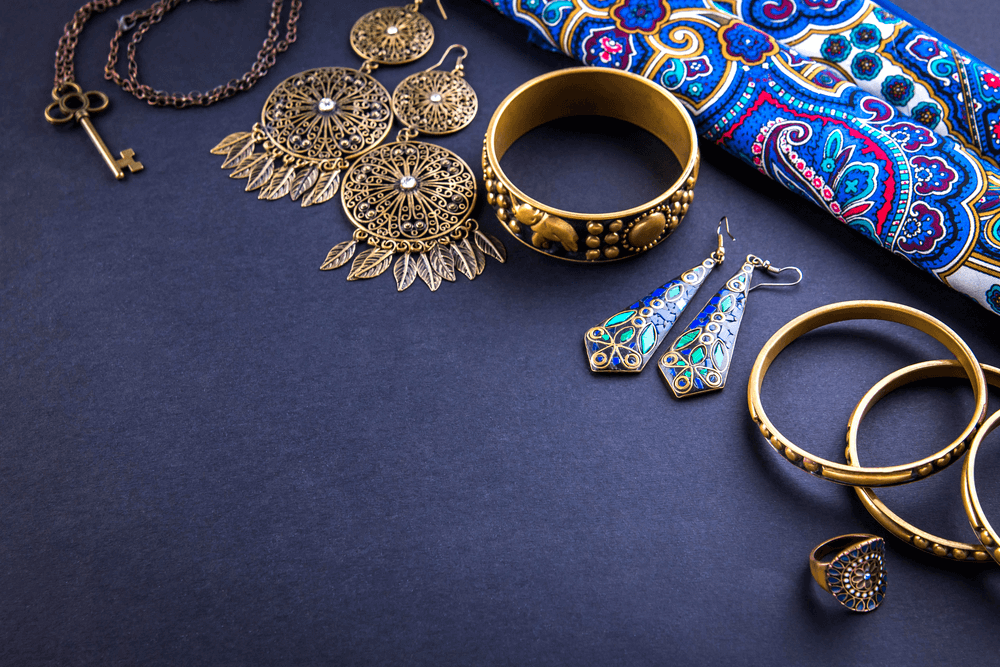 Indian Jewellery With Western Outfits
A lot of us have this pre-conceived notion that Indian jewellery goes very well only with Indian outfits. But not many of us realize that Indian jewellery is extremely versatile to go with Indian as well as western wear. What makes them so versatile is that you cannot group them in a single category. You have temple jewellery, kundan, antique, minakari, ivory, gold jewellery etc. that give you different finishes depending on how you wear them.
Recently, many celebrities have been seen pairing up western outfits with Indian jewellery which become a huge style statement. So, how do you decide the type of jewellery to elevate your look?
Off-shouldered dresses leave your neck and shoulders exposed. Wearing a heavy-work kundan necklace or a chunky oxidised necklace depending on your dress' colour scheme will give you the perfect fusion look. Keep the necklace statement and either pair it up with simple earrings or leave your earrings home to grab all the attention to your jewellery and your beautiful shoulders.
Pair up your chunky gold danglers or even chandbalis with the skirt and top or jeans and tunic. Statement pieces grab all the attention to them giving you edgier looks. Leave your hair open or do your hair in French or Dutch braid to complete the whole look.
If you are wearing a maxi dress, pair it up with an oxidised silver necklace to give a boho-chic look. To complete the look, wear boho braids or leave your hair open. A maxi dress with an Indian print elevates the look even more.
A collared shirt with a layered kundan statement piece compliments a lehenga really well. Crop top with statement gold temple jewellery also gives a lehenga a pretty fusion look. You can find a lot of gold jewellery designs that go well with crop tops.
With a formal shirt and trousers, a pendant set with beautiful earrings looks beautiful. They can make boring formal wear into something interesting. Look online for gold pendant set designs with price and go for it!
Do not wait until your wedding to wear mathapatti. Layered and oxidised mathapatti works so well with beachwear. A wrap skirt and a spaghetti top coupled with open hair and mathapatti look very edgy and cool in the scorching sun.
Bring out your bangles and bracelets to pair up with jeans and skirts. The chunkier they are, the better the look. Remember to wear them mismatched or on one hand to give an edgy look. Wearing them on both hands tend to look more traditional and may not go with the outfit.
Silver anklets with ankle-length jeans make all attention go to your feet. Pair them up with simple sandals and pedicured feet, and you are ready to be photographed as a model. You can even opt for a single anklet to give a chic look.
The difference between getting an edgy look and traditional look with Indian accessories is a very thin line. Remember not to stack up jewels. Wearing a statement piece usually doesn't need any other accessories, hence keep it single and simple. Adding desi jewellery to contemporary clothing is a wonderful way of reminding others and oneself of their roots.