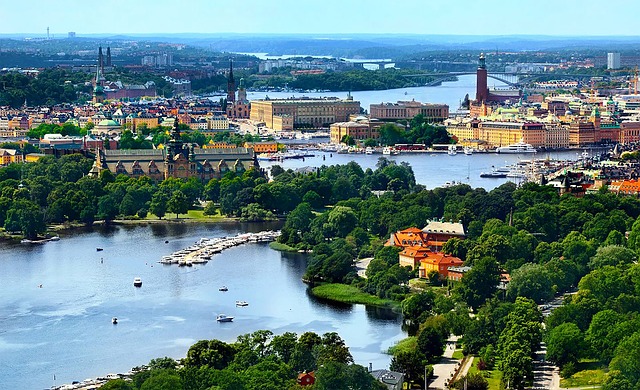 Choosing Public Transport or Hyrbil (Car Rental) for Your Stockholm Tour
Sweden is one of those countries that people want to go to mainly for the scenery. It is considered one of the most beautiful places in the world and for good reason. The vast open fields, rivers, and forests that you can explore are almost endless. However, most tourists like to go to the museums and cafes dotting along with the city, as well as the various attractions surrounding them. It seems that there is nothing that you cannot explore when it comes to this part of the world.
One of the advantages of traveling here is the other destinations that you can reach after Sweden. As it is a part of the European Union, you can have ease of access to other countries surrounding. However, there is so much to do in this Nordic nation that you will end up staying here for longer. You might end up finding places that are not often talked about in travel blogs and sites. The real question starts with the ways that you can move around the country.
There are two ways that you can go around it: through public transportation or by renting a car. However, there is another possibility that you can take before we will discuss those two: bringing your vehicle. It is possible to use yours especially if you are living in the European Union or the United Kingdom. For one, you should already have a European driver's license which would make it easier for you. Unfortunately, it is not possible for many others so it would be best to stick to the previous options.
Advantages Of Rental Car
---
Most tourists who can afford more for their vacation would usually rent a vehicle to suit their needs. It is the usual choice, especially in these times. There are so many companies that offer the best and most affordable rent-a-car or hyra bil Stockholm has to offer. No matter what your preference is in vehicles, these rentals will have them ready for you as long as you have everything that they need.
Privacy And Security
One of the most important parts of traveling, especially with your family, is safety and privacy. Even though you cannot escape it while on the plane, it is better once you are on land. You do not have to worry about encountering anything or anyone dangerous if you are driving your car. It is also great since you can do anything you want inside as long as you are doing it safely. If you want to enjoy Sweden without much interaction, then this is your best bet.
Comfortable Experience
Another great thing about traveling inside the car is the comfort it gives to you. Sweden is safe from pollution, so you can keep the windows open without worrying about it. Also, it is great if you want to control the temperature, especially during the summers and winters. Most rented vehicles will have an HVAC system ready at your disposal.
Time Is Not an Issue
Traveling will often require some time management, as you have to balance everything from the time of your arrival to departure. If you are driving, then you do not have to follow any kind of schedule or itinerary. You can go anywhere you want and whenever you want to since you can always just go there without worrying about the time. Also, it is a better way to explore a foreign environment since it can take some time for you to appreciate every sight and experience.
Ease Of Access
It is also great if you are going around with someone who might have difficulty moving. Whether it is a baby that needs to have a special seat or someone with a disability, you can have the comfort you need in a car. Some models are outfitted with attachments that make it easier to hold a wheelchair. Most rental companies can also provide baby car seats with an additional fee, so you do not have to bring your own. Also, you can usually take the car outside of the country to another EU state as long as it is stated in your contract.
Advantages Of Public Transport
---
On the other hand, you might want to use the local taxi or other forms of public transport here in Sweden. It is not recommended right now because of the current pandemic, but it is a viable option once everything goes back to as normal as it was before. As long as the borders open though, you can still go to Sweden as a tourist. There will be some safety measures in place, but it will be as comfortable as possible for anyone who wants to go.
There are many ways that you can go around it. For one, you can download applications like Taxi 020 or Taxi Stockholm as these are usually more affordable than Uber. You can also follow most Swedes in Stockholm by using their train (both commuter and underground) and bus networks known as T-Bana. You can buy the tickets in the information centers or kiosks.
More Affordable Both for Shorter And Longer Stays
A great thing about taking public transport is you do not have to pay a lot for a set amount of time. You can only rent a vehicle for a set amount of time, and extensions would mean higher costs. With public transport though, you will only pay for the fare. You can stay for longer if you want to in a specific place, or you can go somewhere else as long as the transport is still available.
Enough Safety Measures
Even though you will be in public, you do not need to worry much about your safety. The city of Stockholm along with the entirety of Sweden is known for its relatively low crime rate (read more about this here: https://www.ojp.gov/ncjrs/virtual-library/abstracts/crime-trends-and-measures-against-crime-sweden), so you can travel safely even at night. It is also great as everything is well-lit in the train stations and buses, and you can easily approach a police officer as most of them are trained to deal with tourists. Most Swedes also speak English fluently so you can easily communicate what you want and ask where to go.
Great For Inter-Island and Country Travel
Tolls are always a pain for travelers who are using their car, and you will encounter these in bridges in Sweden. If you want to go from one island to the next, then you will end up paying the toll fee going in and out of these places. A great thing about the trains and buses is they will lead you right where everything you need is there. These are usually areas in the middle of the city, so it is perfect for those who are going here for the first time.
If you want to travel here in Sweden, then we recommend renting a private vehicle once the borders open. The pandemic is still ravaging the rest of the world, and Scandinavia, in general, has isolated itself to make sure that the virus does not travel further. However, it would be fun to experience public transport once it is available and safe from the pandemic woes. What is better than experiencing Sweden like a local Swede?