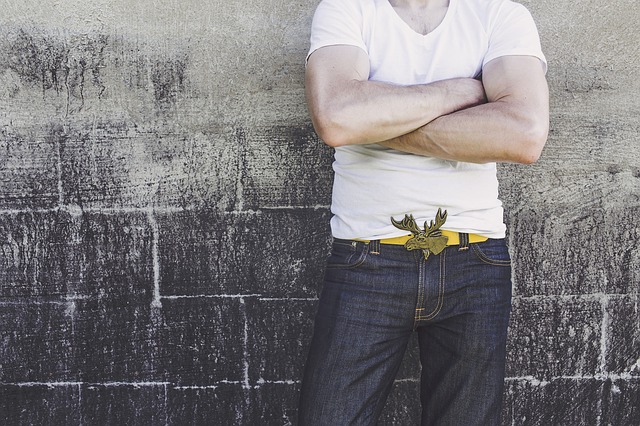 5 Secrets to Appear Great In A T-Shirt – Appear Stylish In The Perfect Fitting Tee
The T-shirt! Probably one of the most adored garment by people and which never goes out of fashion.
Why this evergreen craze for a t-shirt? Because of its ease of maintenance, affordability, and innumerable styles and design options that leave t-shirt lovers spoilt with choice.
Either you pair it up with sneakers or shorts, jeans or tailored pants, an aviation t-shirt can sport a look of its very own with ease.
T-shirts are available in plenty of style choices – printed, patterned, floral, solid, full sleeves, half sleeves, superhero t-shirts, captioned ones, collared ones, customized ones, and many such.
We often see companies, groups, students, and other organizations getting their messages printed on t-shirts and using them as their official wear during events, camps, sports, etc. This is a trend that is showing how much popularity t-shirt is gaining among its every user group.
If you are a t-shirt lover and confused about how to appear great in a t-shirt, we are here for you. In this post, as you move ahead, you will learn 5 secrets to appear great in a t-shirt and rock that stylish rock with pretty ease.
T-shirt Secret #1 – Listen to your body to ace that perfect fit
---
T-shirts give different look for different people. It all depends on the silhouette of the person wearing the t-shirt. Just because a t-shirt looked great on your brother or friend, it need not necessarily mean it will make you appear great.
If you have a tummy and look like an apple at your belly area, remember that a t-shirt will not hide it. And if you are wearing it for a date or to an occasion where you need to make a first impression, it would be wise if you can stay away from the t-shirt.
On the other hand, if you are too lean, a t-shirt will make you look like a stick. So, a t-shirt won't be a great option too.
So, how to choose that perfect t-shirt that suits your body structure well? Here are some tips:
The seams of the –shirt should neither be too loose nor too tight; they should exactly fit your shoulders and you should be comfortable moving your arms when you wear it.
The sleeve length should never be till your elbow. It should display your biceps part well.
The length of the t-shirt should be such that it covers your waistband and extend beyond your hip bone.
The tightness of the around your waist matters. It should never be too tight nor too loose. Else you either appear too thin or too fat in a misfit t-shirt.
T-shirt Secret #2 – Understand the necklines
---
Most American Heroes t-shirts usually come in two necklines: crew neck and V-neck.
If you think any neck will serve the same purpose, think again. You need to know what's the difference each neck offers and which suits you perfectly.
If you are well-built with an attractive chest area, v-necks will work magic on enhancing your plus points.
If you are thin and want to turn away others' focus from your chest area, then select crew necked ones. They distract the attention towards shoulders and do not highlight your chest area.
While you also find t-shirts in other neck designs, such as deep-V or boat neck or scooped, it is a wise thing to experiment them only if you are a regular gym doer with manly chest muscles and biceps.
T-shirt Secret #3 – Go with the occasion
---
From their evolutionary days when they were used as innerwear to the current trend when they have become unanimous wear for every occasion, t-shirts have evolved pretty amazingly.
However, you should know where to wear a t-shirt and where not to wear it.
If you are planning for a casual meet with your friends, going on hiking or cycling, or celebrating on a yacht, you can rock in floral, military print, captioned and abstract print t-shirts.
If you are looking for a t-shirt to wear on a casual Friday in office, you can choose striped and collared ones. Either you have a dress not at your office or not, collared ones give you that formal look than the non-collared ones.
For all other occasions, check the dress code and dress accordingly. Remember, a dress maketh a man.
T-shirt Secret #4 – Understand the fabric
---
T-shirts often do come in various fabrics and have various purposes and meanings.
Cotton ones – either combed or organic or Pima cotton – have nice softy texture and make you comfortable for a sunny day as they keep your body cool and give good ventilation and lets your skin breathe.
Merino wool t-shirt – you can choose this when you are traveling and when you can't carry more clothes, as you can use a merino wool t-shirt for a week without washing.
Bamboo t-shirt – this looks expensive and is generally considered as a high-end category one.
Jersey – Made out of cotton and synthetic blend, this goes well for sports lovers.
Stretch materials – Lycra or spandex suits well for gym goers and they withstand multiple washes, dry quickly and won't wrinkle.
T-shirt Secret #5 – Pick the right color
---
The color of the t-shirt says a lot. A tip here is a dark color t-shirt can suit any occasion easily. You can never go wrong with it.
Black – The color that puts you in the safest zone. This will go well with a pair of black jeans or dark blue denim very comfortably and make you look stylish without much effort. Just make sure that the color is bright and not faded, as black fades easily after few washes.
Grey – This is another safe bet when you are confused about which color to choose. Neutral and pleasing, this color gives a good opinion of you for the onlookers.
White – When going with white, opt for v-necked ones, as crew necked ones are considered as undergarments. Also, make sure that there are no stains or color bleed of other colors, and remember to wash our white t-shirts separately during every wash.
Other colors – When choosing other colors such as red, brown, orange or green and such, make sure that they match your skin complexion.
So, are you ready for that stylish look on your t-shirt now? Keep rocking!