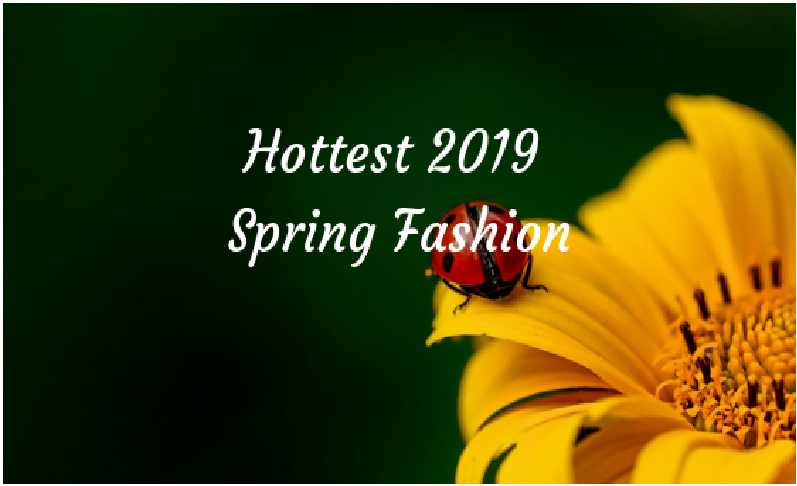 Spring is the season of change. As the temperature begins to rise, it's time to add new warmer items to your wardrobe. Spring fashion isn't just about florals and pastels. There're lots of other trends that you can experiment with in the warm sunny season. As a matter of fact, spring is a season where you can step out of your comfort zone, mix patterns, and layers to create the perfect outfit. Here are the hottest spring fashion trends you can see in 2019.
Rubber and Latex
---
Although rubber has this industrial feel to it, fashion designers like Calvin Klein decided to use it in their spring collection. Lightweight industrial rubber is used to make tight and figure-hugging elegant pieces that can be worn in the morning or at night.
Don't expect this material to be breathable; it will keep you warm so you can skip an extra layer. Industrial rubber and latex can be found in tight pants, pencil skirts, and crop jackets. Opt for bright naughty colors the match the essence of the season and wear latex in bright, bold hues.
Monochrome Neutrals
---
Not necessarily a new trend, but certainly one that will never go out of style. Monochrome neutrals and earthy colors can never go wrong. Designers like Burberry and Max Mara used the neutral sandy beige in the entire outfit from the coat, to blouse, trendy rompers and pants.
A neutral color can be worn in the morning and go all the way to an evening with friends. Experiment with shades found in nature, and you won't risk looking washed out.
Ruching
---
Soft fabrics can be ruched to create figure-hugging designs that will make you look curvy. Ruched tops will give the illusion of a fuller bust while a ruching waistline can mask the belly you've been trying to get rid of after months of hibernating.
If ruching seems so much for you, you can add a few details to the sleeves. Tory Burch and Tom Ford weren't shy to use ruching in top and bottom pieces for a festive look.
Unusual Necklines
---
Asymmetrical necklines are elegant and unique. They show a part of your chest and your shoulders for a chic look. Asymmetrical necklines show the collar bone when they're gathered above the shoulder. They can be worn in more daring designs that combine pieces of fabric to create a unique bralette top.
The best thing about an asymmetrical neckline is that it will draw all the attention to where you want it most. Wear them in a simple black dress for a night out, or in a silk blouse that goes under your suit in the morning and is good to show off at a semi-formal dinner.
Paisley Prints
---
Paisley prints are Persian inspired motifs that can be found in various kinds of fabrics. This spring you can wear them in lightweight silk and chiffon pants or skirts that attract attention. Combine a Paisley crop top with black pants for a statement look inspired by Chloe or go for the full-length dress look by Loewe.
Paisley prints are colorful and will provide the right transition from the dark winter monochromes. Start with a lightweight silk scarf and work your way up to a full design.
The Fanny Pack
---
Whether you like it or not, the fanny pack is a crucial member of the upcoming spring trend. Even if you're not a big fan of the fanny pack, you'll find it growing on you. Check the new collection by Rihanna, Rochas, and Gucci and see how the stylists styled it by wearing it on the waist, letting it sit on the hip, or sling it diagonally.
Fanny packs come in various shapes and patterns, but they're not big enough for the lady who likes to carry all her belongings in a big shoulder bag. However, this is a perfect choice for days out when you want to have your hands free for shopping bags.
Butterfly Details
---
Some fashion trends are well-identified by the season. Butterflies associate perfectly with spring and the blooming of flowers as they turn the grays and whites into an incredible colorful palette. This 90's trend found its way to the runways one more time in 2019, inspired by the designers' appreciation and love for nature.
Butterfly inspired tops and details are good pieces to add to your evening wardrobe. A small butterfly on the shoulder of your evening gown will make you stand out.
Go Clear
---
Transparent and clear items look extremely elegant this spring. Fashion designers introduced transparent boots that go all the way above the knee. But you can also find transparent overalls to add on top of short dresses, transparent coats, or even skirts worn on top of bodysuits.
These transparent items might not be practical enough to wear every day. But they will turn heads.
Color Blocks
---
Color blocks are still in fashion. You can see how Escada and Tibi went for color blocks in several trendy items that will add elegance to your spring wardrobe. Bold colors work for every body type and occasion so you can start experimenting with them.
Go for shades of black or blue for a subtle look that can be worn on formal occasions such as black rompers. If you're bold enough, you can mix and match hues from the color wheel and see where your creativity will take you.
Crochet
---
Remember the 70's when people were all about crochet and knits? Fashion designers decided to revive this classic trend in the spring season of 2019, so you can see a few crochet pieces in the wardrobe of Michael Kors and Oscar de la Renta.
Crochet can be warm enough to wear on chilly days, yet the pattern can let some air in. Moreover, knits have this elegant handmade-feel to them so they'll always look unique.
These are some of the hottest trends that you can go for this spring. Mix and match to add a few pieces and bring life to your wardrobe after winter.