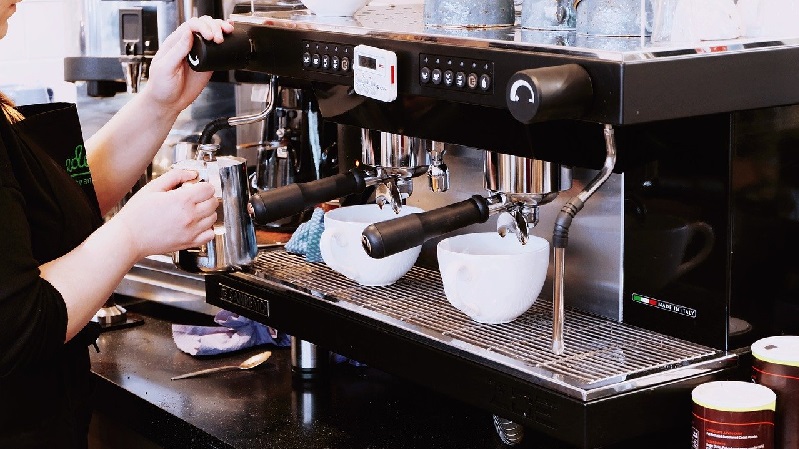 Smart Kitchen Appliance for a smarter Home
Smart kitchens are what everyone dreams of. Everyone wants to have a kitchen where everything can be done with just a blink of an eye. How cool it will look when you just order, Alexa, brew me some coffee and you will get the coffee!!
Doesn't everything sound too unrealistic? But, nothing is unrealistic now. Everything you dream of has finally become true. In this article, we have mentioned the names of the smart appliances which everyone should have in your kitchen to make your kitchen a smart one. Latest Kitchen Gadgets like rotimatic will make your task very easy. Let's get deep into it and see what is good for you.
Automatic pan stirrer for the easy cooking
---
How many have you dreamed of having something so you don't have to stand for hours in front of the stove stirring a dish constantly? This automatic pan stirrer is such a help in the kitchen for making dishes that require constant stirring. Just put the stirrer into the pan after setting the timer and start watching your favourite daily soap.
The timer will stop as soon as it's over and your food is done without you getting your pain in your hands. Te best part of this great appliance is the timer, you don't have to keep on checking the dish, just set the timer and it will stop stirring once the time is over.
Roti maker
---
Having a fully automatic roti-maker is what everyone wishes for. With the arrival of Rotimatic roti maker in the market, modern chefs are very happy. Now you don't have to depend on your house-help to make rotis and stand up in front of the stove in the scorching heat to cook rotis for the family. With the help of a Rotimatic roti maker, now you can get fresh and puffy rotis without even doing anything.
Just put the ingredients into the machine and set the timer. You will get fresh rotis after kneading dough, puffing and cooking it. It becomes a huge help especially when you have a huge family. The Reviews on rotimatic are soo good that people are buying it more after seeing the reviews.
Automatic soap dispenser for hands
---
To stop bacteria from spreading in your kitchen, the first thing you need to do is to use soap after finishing your work. Using a bar of soap is highly unhygienic as bacteria spread easily through the use of soap as everyone uses the same soap to clean their hands.
The first thing you need to do to protect your kitchen from all the bacteria is to get this Otto automatic soap dispenser for your hands. Now, you don't even have to touch the bottle and the soap will get dispensed as soon as your hand reaches the sensor range.
Smart scale for making your perfect drink
---
Do you also want to show your talent in making different types of drinks to your guests at your next house party? We have a perfect solution for you to make you dream come true. Now you can also make drinks for several guests with this smart scale that will guide you about the exact quantity of ingredients you require for a particular drink.
Enjoy tonnes of new recipes for drinks from the app that you will get along with this appliance. So next time when you are going to throw a party, don't hesitate to show your talent and give your guests the best cocktails.
Blenders are love
---
Having a food processor and mixer grinder is different. But having a blender is a must in your smart kitchen. Blenders are the best when it comes to making smoothies and drinks. Now you can make whatever you want using the blender without putting much effort. It is easy convenient and efficient that will help you make whatever you want without putting too much effort.
These smart blenders are easily compatible with Bluetooth, wifi which will increase their efficiency. You will also get access to an app that will allow you to update your grocery list and adding nutritional information to it.
It's time for smart toasters
---
Yes, you have heard that right! Smart toasters are also available in the market and you were just unaware of this fact. These smart toasters will help you easily toast your bread, bagels, and waffles with the smart cooking sensor available in it that helps in cooking it perfectly. Other than that, it also has a 15-second reheat option available that will help you reheat your toasts if it gets cold. Isn't it cool enough?
Get a June oven
---
Getting a June oven will help you make your smart kitchen even smarter. A June oven is a combo of seven different appliances acting into one. The June oven works for an air fryer, a dehydrator, broiler, convection oven, slow cooker, toaster, and the warmer drawer at a single place.
This one appliance will serve the purpose of seven appliances in one place. No need to buy seven different appliances for seven different purposes, just buy the June oven and you are done. Other than that, you will also be able to control it through your phone.
Smart 12-cup coffee maker
---
Gone were the days when you have to wake up in the morning to make coffee. Now you just get the coffee by saying, Alexa, please brew me some coffee and your coffee is ready!! Advanced technologies are making our life soo much easier. Now you don't have to do each and everything on your own. Just order your Google assistant and half of your work is done.
If you too are a coffee lover and loves trying different coffees, then having this coffee machine is a must. You will get the authentic taste of all kinds of coffee with just your command.
Smart cooker for all your needs
---
This newly upgraded form of rice cooker is all you need in your smart kitchen. This smart cooker serves the purpose of a rice cooker, slow cooker, pressure cooker, steamer, yoghurt maker, cake maker and a warmer too. You can easily connect with wifi and start operating the way you want.