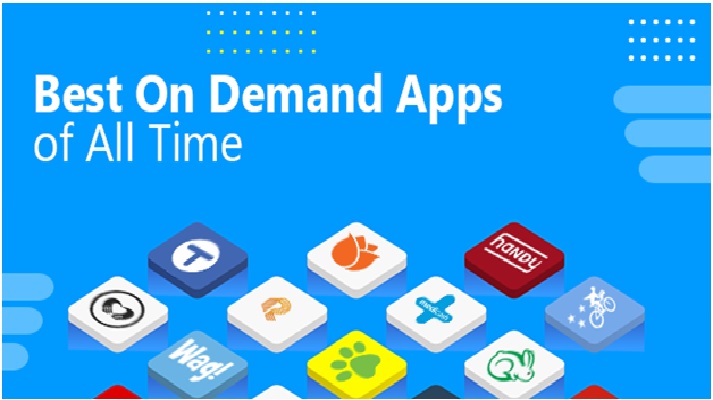 10 Most Successful On Demand Apps of All Times
Most Successful On Demand Apps: Everyday there are hundreds of apps that are added only on Google Play. With other platforms taken into account, the number would only see an upward graph. Mobile apps have been the main center of innovation and technical advancements recently. The users these days want a quick response to every query. If you wish to impress your customers with great UI/UX and bring in the market something that stays for a long time to reach mobile app development companies. These days On demand mobile app development has taken over other app services. With detailed research, we bring here to you some of the best On Demand Mobile Apps of all time.
BloomThat
---
This on-demand app service was quite popular among its users for its quality and punctuality. This was a great app if you want to surprise someone with some cute gifts to make their day special. It had a great intuitive interface and offers a great range of seasonal gifting options. The company was later acquired by FTD companies in 2018. The app has been a model for several other similar apps that have been brightening lives with simple thoughtful gestures.
Key Highlights
Send gifts and flowers in short durations
Reminds you of the events based on your previous orders
Easy integration with your phone calendar
Interesting app-only offers and advantages for great savings
Ratings: 4.9
Installs: 100,000+
Downloads: Android, iOS
My Medicash App
---
Medicash is a user-friendly on-demand service app that is ladened with features and helps its users make claims. The app with its unique ways to keep data confidential has built itself a special space in the field of healthcare-related apps. The users appreciate its service and quality and often enjoy impressive offers it has. The app may charge a little fee, but for its loyal users, it is worth the investment. With this app, you can even send a request and connect with a specialist to discuss your case in almost 15 minutes.
Key Features
Make claims directly through the app
Easily add bank details and sign-up for bank status
Access all the benefits of your health plan
In a few clicks add children as dependent
Ratings: 4.4
Installs: 10,000+
Downloads: Android, iOS
Rinse
---
This is the way we wash our clothes.

Wash our clothes. Wash our clothes.

This is the way we wash our clothes.

So early in the morning.
Who wouldn't like an app that does all their laundry? With this app, the most tiresome job of your daily chore could be made very easy. The app picks up, cleans, and delivers your laundry at the scheduled time. The pick-up time is 8 pm to 10 pm making it convenient for you. Get your laundry done even if you aren't home.
Key Highlights
100% high-quality cleaning
Doorstep pickups and delivery
Customizable service usage
Easy payments online
Ratings: 4.3
Installs: 10,000+
Downloads: Android, iOS
Soothe
---
Gone are the days when on-demand mobile applications meant taxi booking and online food delivery app. It has now extended to a lot more general utility things like a simple massage to shake off all that work stress. Get a spa-quality massage therapist at your home or office space. Taking care of yourself was never easy. The best part you can book the services from the soothe.com from 8 am to midnight. Thus, time is not a constraint here.
Key Features
Create a personalized spa set-up only for you
Hire the most skilled and experienced spa therapists
24*7 customer support team
Share reviews
Ratings: 4.1
Installs: 100,000+
Downloads: Android, iOS
TaskRabbit
---
The same day service app platform is an inspiration for many other apps that help users in providing daily chores services like plumbing, furniture repair, and maintenance. When life gets busy, don't try tackling alone just reach the right app and take assistance. You can easily connect with service providers near you and check their skills. With a cashless payment option, it makes it easier for you to order any service. The app ensures the quality of work and ensures each of its clients is a happy client.
Key Features
Connect with most skilled helpers in your locality in the comforts of your home
Wind up your to-do-list with completion of each task
Cashless payment makes it easier to order services
Marked Safety and quality assurance
Ratings: 4.0
Installs: 500,000+
Downloads: Android, iOS
Rover
---
Why should humans have all the apps? This is an interesting doggy care app that has been a foundation of so many app ideas centered around pet care. The app has 5-star dog sitters associated with it and the app ensures you are updated about the whereabouts of your dog even when you are away. With various services, you can book either a dog walker or a rover who would look for your dog overnight.
Never felt this relieved before!
Key Features
Round the clock support for each booking
Hassle-free, easy and safe payment system
Push notifications for quicker responses
Easy information sharing
Ratings: 3.9
Installs: 1,000,000+
Downloads: Android, iOS
Postmates
---
The app launched at the beginning of the decade was initially meant to deliver household items and furniture later included food delivery too in its services. This app is the major reason behind the expansion of food delivery apps at such a pace. With a range of facilities being delivered at your footstep, this on-demand app is in the market to stay. It is an inspiration behind many similar apps but beating this one is a tough job.
Key Features
Get anything delivered anywhere (A Great Claim to Make)
Round the clock customer care service
Brands with a good reputation are only available
Various payment options are available
Ratings: 3.8
Installs: 10,000,000+
Downloads: Android, iOS
Wag
---
Another dog sitting app on the list. This app lets you hire a person to take care of your favorite pet while you are out for work or a break. Get an assistant for 7 days to look after the furry family member. Thus, now you can enjoy your time and focus on your work instead of worrying about the poor chap at home. Enjoy your vacations and let this person, not just feed but walk and play with your beloved family member while you are occupied with something else.
Key Features
Track your dog sitter with live GPS
In-home individual dog training with basic test
Customer support available even in wee hours of the day
Talk to board-certified vets in case of emergency
Ratings: 3.8
Installs: 1,000,000+
Downloads: Android, iOS
Handy
---
Another app to make your day-to-day life easier and better. Just get ready with a to-do list of basic tasks that need to be accomplished and further let the local experts help you with the same. Hire people for maintenance, furniture, cleaning homes, plumbing, electricals, and whatnot. You can always book a handyman or woman in the neighborhood to get your things done only if you can provide them cleaning tools and apparatus.
App Features
Quickly find work in the neighborhood
Professionals for home cleaning and office cleaning
Next day availability
Affordable pricing that includes tax & tip
Ratings: 3.5
Installs: 100,000+
Downloads: Android, iOS
TSheets
---
This is one app that has made businesses easy to be executed. It helps business leaders to track and monitor their employees. This app could be used to measure the productivity of the employees. This can keep a record of a person's locations, time spent on projects, job codes, notes, vacation and holiday in an easy way. A report can be generated based on this information regarding payroll, billing, and invoices. This app is of great help for business owners as it helps them manage their most important resource in the simplest way possible.
Key Features
Easy to use. Add time sheets and other details in just a click.
Create job schedules with shift timings and share with the team
Geofencing technology integration
Robust project management
Ratings: 5
Instals: 200000+
Downloads: Android, iOS
Wrapping This Up
The Google Play Store and Apple Store are filled with on demand applications that are helping the users in not just work related tasks but day to day chores too. As these apps gain popularity the competition in the market also rises. Considering all the points, its utility and popularity, comn up with an on demand app that solves the users problem could be a great way to earn some great profit and a loyal customer base. If you have an app idea, just hire the best on demand mobile app developer and see how your idea translates to profits.
Author's Bio: Scarlett is a technical content writer who has been working with A3logics, a leading name in the mobile app development industry. /she has been working with an organization for over a couple of years and has been documenting and researching on projects related to Android and iOS app development. In her free time she is often found enjoying her coffee with her books in the nearby cafe.