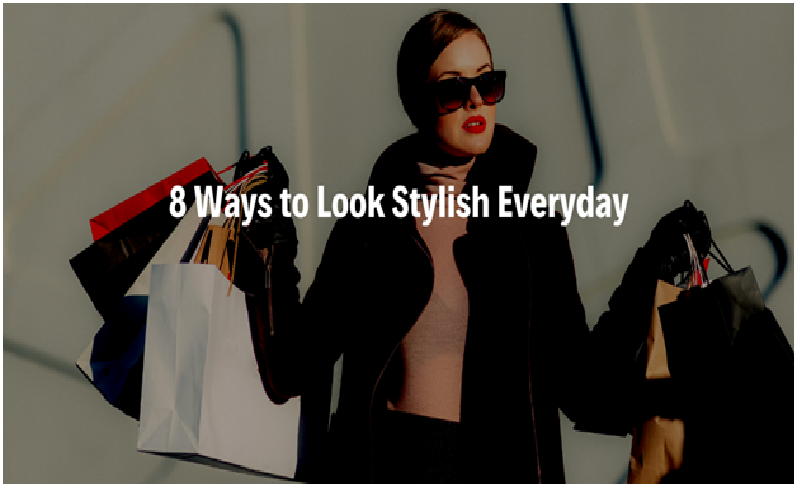 8 Ways to Look Stylish Everyday
It is possible for anyone to look stylish and looking stylish is not just about wearing clothes that are trending or expensive from famous designers. Good styling is about mastering the complex styling trick. In most cases it is as easy as wearing jewelry, throwing on a pair of sunglasses and a hat. So how can you look stylish every single day you step out of your home and out to the world.
Here are a few useful style tips that you could use to transform your look to a head-turning stylish one.
Buy Outfits for Multiple Occasions
---
Don't just buy outfits for that wedding, Christmas party, award ceremony, weekend reunion with friends or for going to meet his parents. It is understandable that when you are going somewhere exciting for you to feel the need for a special outfit. The problem with such purchases is that they only get to go for only that one outing and that is it. If you are buying an outfit for a gala event, for example, you will wear it only once and not in the next gala event or in another casual event.The solution to such a situation simply buying dressier outfits that are more versatile. Go for simple and more classic instead of trend-led outfits because you can wear them on multiple occasions. The beauty of versatile outfits is that they can be accessorized cleverly, and they will never feel like the same look.
Never Buy and Get Rid Of Anything That Doesn't Fit
---
It is understandable to want to hold on to outfits that no longer fit you or buy ones that are too small in the hope that you will lose weight and fit into them. However, don't wear such outfits or keep them because they mess your collection. Besides clothes that don't fit well are never flattering to your figure. A true stylist is honest with herself and finds the right size for the best look. If an outfit doesn't fit you, the best thing you can do is donate it to charity.
Don't Buy If It Doesn't Suit You
---
Well, this happens on occasions where there is a trend that has hit the fashion world. You might be tempted to buy the outfit on a whim because it is a hot trend and because it looked good on someone else. Consider fabrics as well. You might prefer Fabric Yard fabrics. You think they look outstanding and you want to pull off the look. Well, if the trend suits your body type and age, then it is okay, you can have it in your wardrobe. However, it would be a huge mistake if you bought and wore it and it doesn't suit you at all and actually makes you uncomfortable. Don't buy anything because it is a trend, look for outfits that make you look best and suit your body type and everyday style of dressing.
Discover New brands
---
Sometimes a change of style could be just want you need. You might have been caught in a style rut because you are too attached to and very comfortable with certain outfit shops. It is okay to have favorite shopping places that you trust but if you looked around you would discover many amazing brands that are in the market and are just waiting for you to discover them. There are outfits from high-end designer labels to the more affordable mid-range brands which ensure that you find outfits that are just right for you. Exploring will help you discover lovely outfits and eventually end up with very stylish finds that will define your fashion look for years to come.
Create Your Own Uniform Style
---
Forget the widespread notion that says if you are stylish you should never buy something similar to what you already own. Of course, you will not have your entire wardrobe featuring 15 bright red and similarly designed blouses and 10 identical pairs of blue skinny jeans. However, it would be right to make the most of what suits you. Create your own fashion uniform style. Look for pieces that really suit you and buy many of them, but remember to keep the colors different and tweak the style a little to create a uniform look but with some interest. Stick to your own unique formula of outfits and you will be identified and recognized as a fashion icon in your own right.
You Must Accessorize and Do It Right
---
What is a stylish look without accessories? It could be the fancy hairpins, the gemstone jewelry, the fancy handbag, a belt or even a brooch if you can pull of the look. As you choose your outfits and accessories, make sure they complement each other. If its party wear, go wild with the jewelry if you must.  As for the office look, tone down the jewelry a little for a more professional appearance. Wear the hat, the scarf, belt, earrings and shoes the right way and in the right colors that will complement your outfit and overall appearance.
Don't Get Rid Of It Because It Is Damaged
---
Most people are culprits when it comes to throwing away outfits or accessories as soon as they are damaged. Just because an outfit is torn or an accessory is damaged, you don't have to throw it away. You can get them fixed and it is important to know where to fix things within your local community. If you need fabrics just visit any bubble crepe fabric store. There could be a great seamstress or someone who is great at restoring handbags, shoes and other things when they are worn or damaged. Some of the fashion things you own could be unique and hard to find replicas in the market. Rather than lose your stylish look, go have them mended, restored or fixed then continue rocking your stylish look.
Know the colors that suit you best
---
Color is very important when it comes to fashion. The color that suits someone else might not suit you. A white skin, blonde hair and blue eyes would look great in pink and dark skin, black hair and brown eyes would do better with pastels. Just experiment with colors and find out the colors that best complement your natural features.
Looking stylish every day should be something to look forward to every day for you. The above tips should steer you into having great fashion adventures every single day. Be the fashion icon that you are supposed to be by embracing style.