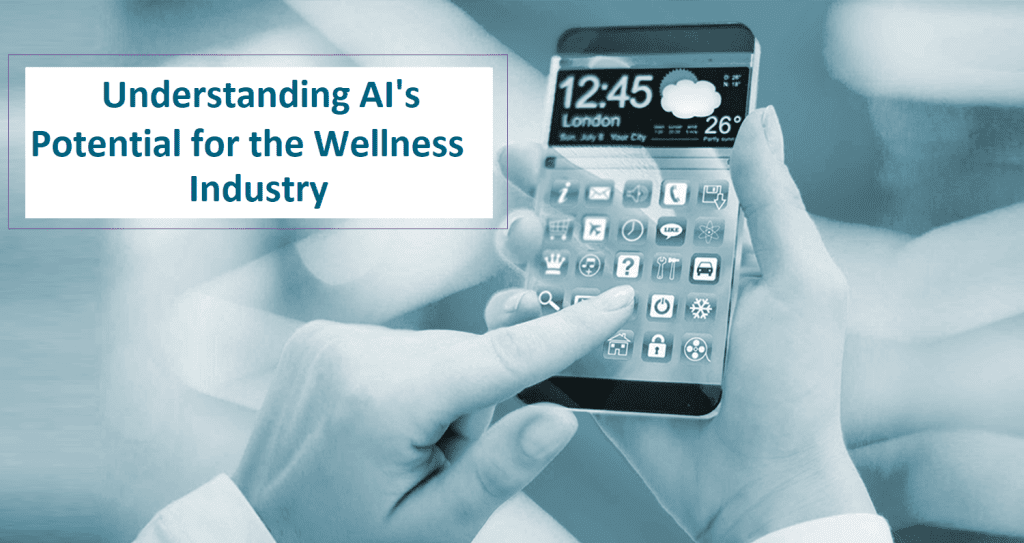 Understanding AI's Potential for the Wellness Industry
Automation is a desirable affair, in truth. It is an advanced technological technique, which hands over the agency to manage menial tasks from everyday life, such as surveying a map for the best route or relaying weather patterns, to the intelligent machines made for those purposes. These machines are referred to as 'Artificial Intelligence' or AI, in general parlance.
Gideon Rosenblatt of The Vital Edge defines this 'artificiality' as a simulation of human intelligence that 'empowers' the computers/robots to make smart decisions based on observational data, without any intervention from their creators. For instance, you might have come across a smart thermostat at least once in your life. How does it work? Well, the AI in its makeup controls the network of devices or appliances connected in a home, as such when the house is empty or devoid of human presence, the thermostat AI senses it and brings down the collective electric load to reduce the energy consumption. Cool, right?
Similarly, AI's potential for the human wellness industry looks promising from where I'm standing. Already, innovation has led to a marvelous collaboration, reducing devastating human errors and bringing an automated efficiency in healthcare operations. Don't believe me? Check out the bright promises of AI-wellness amalgam below.
Optimized Fitness
---
Fitness coaching and physical/mental training have been integral to the wellness industry for decades now. However, given the expenses and time/space restrictions, many people are reluctant to exempt a few hours for the gym from their hectic routines. AI could potentially solve this problem by bringing personalized fitness coaching to your very person, without you having to contact a trainer for the best diet plan, seek a counsel, or mark a calorie-count chart etc. The following game-changers might shed further light on this issue.
IBM's Watson—This in-house AI gets smarter with every second. Megan Ray at Club Industry reports that Watson has recently acquired the function of a crawler which 'studies up' thousands of medical journals and scientific research papers at a time to provide a well-rounded recommendation to those that look up pediatric-related or other queries. In addition, a more cost-prohibitive yet equally innovative fitness solution has been observed in this AI's suggestion of the fitness equipment to each individual gym goer—basing their work out session on their unique needs.
Google's Project Wooden—According to Android Police, Google has been narrowing its focus on the wellness industry, specifically fitness, for quite some time now. One such AI-powered coaching maneuver is reported to be under development, going by the name of 'Project Wooden'. It is expected to tap into the device grid, including Google Home and Wear OS smartwatch, to perform a better live tracking and activity scanning of the subject. The AI once perfected will log the users' daily active time, give personalized and well-suiting workout suggestions, and draft an optimal nutritional plan for the users to follow.
Wearables—How can AI become a part of your daily life? Through wearables, which are already in quite a hype these days. When smart computational technology is affixed inside an accessory, you get a wearable gadget as a result. Fitness wise, there are many AI-oriented gizmos in the market, such as RocketBand tracker which uses the smart RocketBody AI sensor to monitor your metabolic rate via ECG readings and gives sports-medicinal remedies instantly, without you having to go to a lab. Other than this, there's Fitbit which syncs with Google's cloud-based healthcare API and registers your unique biometric data for maximizing training performance.
Point being that the inculcation of Artificial Intelligence in the fitness niche is sure to provide you customized coaching and error-free analysis, in addition to other wellness perks.
Mental Health Support
---
Wellness isn't restricted to the physical aspect of the body only. It addresses the mental factor equally, even in which AI has made some remarkable reverberations. Cami Rosso in an article on Psychology Today asks the readers whether they believe a 'robot psychologist' trend will arise in the next five to ten years, through the medium of smartphone apps. She states that though the AI sentience is far from being completely developed, still its 'non-judgmental', 'non-biased' and 'instant responsiveness' makes it favorable in the users' eyes. For instance, if you're on the verge of depression and need to chat with someone ASAP or whether you're looking for a calmed headspace, you can easily download AI-powered wellness apps over your network, hooked with Fios internet plans, and have a session with the chatbot—your virtual therapist. Some of the top-ranking apps in this regard are Ada, Reflecty, Headspace, Calm etc.
Re-Invented Healthcare
---
A shoulder-niche of the wellness industry, healthcare has received interesting contributions from the AI tech as well. According to the stats mentioned on thenextweb.com, AI's effective application is estimated to bring about a $150 billion saving mark in the US's healthcare industry alone. Apart from this, it is hoped to reduce the massive hospital error and prevent the annual demise of about 440, 000 Americans. Let's see what we can expect from it:
Improved Diagnosis—Once Artificial Intelligence takes hold of the medical imaging tech as large-scale organizations (e.g. NVIDIA & Nuance partnership) are planning for it to do, you will behold an astounding elevation in the result accuracy factor and see a much better diagnostic process.
Better Patient-Physician Communication—Time is of the essence in the healthcare industry, especially when it comes to the discourse between the doctor and the patient. Any delay in diagnosis or report delivery could jeopardize the affected party. AI helps smoothen this communication gap by introducing smart medical apps, like mPower and CareKit, which instantly link physicians with their patients regardless of time/space restrictions.
In conclusion, it is quite surprising to see how far the Artificial Intelligence technology has come since its shaky origins, and how remarkably it has reformed our societal industries. This post helps you understand the effect AI has had on the wellness sector, through three major facets and examples, and what's more to come.