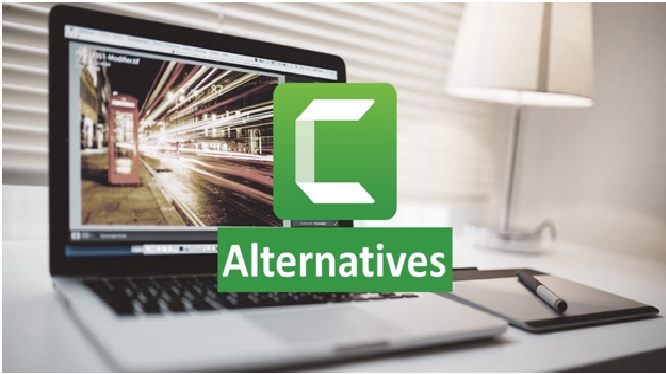 14 Best Free Alternatives to Camtasia 2021 For Mac And Windows
Best Camtasia Alternatives 2021: We live in an extremely fast-pace and ever-growing digital world, where physical distance is becoming an oxymoron. That is to say, physical distance is growing less and less with every passing day, all because of technology and technological advancements.
Design work is often complicated. Let it be in animation, UI/UX, or Video presentations. And to make processes easier, business owners either rely on quality UI & UX design services or use digital tools. One of those digital tools is Camtasia. Before we begin the debate of whether Camtasia is a useful tool, let's first understands what it is.
What Is Camtasia?
---
Just like Google suite or G-Suite, Camtasia also happens to be a software suite, which was designed and created by TechSmith. The basic purpose of the tool is to for create video presentations and presentations via screencast, or via a direct recording plug-in to Microsoft PowerPoint.
In short, it works as an extension or an add-on with certain software to create videos via pictures.
Advantages of Camtasia
---
Camtasia is one of the most popular video tools in the market, its users find it to be an efficient and easy-to-use tool for making videos. A few of its advantages are as follows:
The software does not have a limit on the length of the video.
It can record and store a wide variety of things, unlike its competitors that allow you to record certain number of things.
If you are recording a PowerPoint presentation, Camtasia allows you to turn-on your webcam and have yourself featured as well.
The software has the built-in capability to record spectacular quality of video and save hard-drive space as well.
The software has the capability to edit videos as well.
The software allows you to import and export videos to other formats.
Camtasia allows you to share your videos to other video-sharing platforms.
The software does NOT have a limit on the number of videos that can be recorded and edited, essentially, its limitless.
Without a doubt, Camtasia has innumerate benefits (as its evident above); however, its greatest drawback is that its costly. Camtasia is extremely expensive, which makes people think twice or thrice before buying it.
One might think that given its innumerate benefits, Camtasia is worth the money since nothing comes close to it and the features it offers. That is where you're mistaken, we've complied a list of fifteen (15) video creating and editing software that are similar to Camtasia and are also free.
14 Camtasia Alternatives – Free for Mac And Windows
---
1. Camstudio Software
The Camstudio software is one of the best open-source video creating and editing software out there in the market that is compatible with Windows. It allows to record, create, and edit videos for streaming (YouTube). In addition, it has an added feature that allows users to record only audio, and an interesting feature about the software is that a new version is released every six months, which is free of issues and bugs present in the previous version.
2. Screencast-o- Matic
The Screencast-o-Matic is an online web-based video recording and editing software, which makes it compatible with both Mac and Windows. Since it is a web-based software, it requires Java (Java plug-in) to record screen cast videos. The biggest drawback of using this software is that it records videos up to 15 minutes only. Therefore, to record videos that go beyond fifteen (15) minutes, it needs to be upgraded to a higher version that may or may not be open source. In addition, the software also does not hold space for a personalized screen area, however, it does have a pre-set screen areas (backgrounds) from where the users can pick and choose. However, the software does provide ample space for adding notes, which users can move to their preferred parts and positions.
3. Jing
Just like Camtasia, Jing has also been manufactured and designed TechSmith. It is an open source video editing, creating, and recording videos. It has the great benefit of collaborating with Mac and Windows operating systems. The basic version of the software is free and allows up to five minutes of screen and video recording. Therefore, anyone wanting to go beyond five minutes, will have to upgrade to the paid pro-version. However, both the paid and free versions are exceptional tools for content creators to record short presentations, especially for making short experimental videos or short tutorials. However, the greatest benefit of using Jing is that it allows one to record screencast and audio at the same time, which is not a common feature in most video creating and editing software. Apart from that, there exist a great many built-in editing tools in the software, which make the editing process efficient and hassle-free.
4. EZVID
EZVID is considered an excellent alternative to Camtasia by many content creators and developers. The latest version of EZVID performs almost all the functions that Camtasia does. However, one of its greatest drawbacks is that it works only with the Windows operating system and its editing feature is not as advance as Camtasia's. Instead, this software allows videos to be captured in clips or snaps. The snaps then can be added to a timeline where they can be edited. EZVID allows screencast videos to be uploaded on YouTube and supports a large number of video formats, which makes the software suitable for a large audience with a diverse use.
5. Expression encoder.
Expression Encoder is a superb screencast video-editing and creating software developed by Microsoft for the windows operating systems. The most up-to-date expression encoder version allows the content creator to record the screencast on either all or some of all the activities that take place on the screen. At the same time, Expression Encoder allows the video to be captured and recorded by the webcam and the audio that compliments it. Apart from that, the software allows that the audio and video be recorded at different timings, and the latter be dubbed over the former. However, the greatest disadvantage of using the free version this software is that it does not allow videos longer than ten minutes (10) minutes be edited or recorded. In addition, the software works only with Windows OS.  However, upgrading to the paid version allows videos longer than ten minutes be recorded.
6. Webinaria
Webinariais a popular free screen recording software that is compatible with the Windows operating system. The software is primarily used for recording activities on the users' desktop screen, but the software also includes the video and audio recording feature. In addition, it also supports the option of recording audio and video together. In addition, it has the feature of uploading the video onto the world wide web through the FLV (Flash Live Video) design. Apart from that, Webinaria also allows to edit and add texts to videos.
7. Free Cam
Free Cam serves as an excellent video-recording and editing alternative to Camtasia. Most of the time, this software is used for producing demo and presentation videos, since it has in-built audio and video editors. In addition, the software has a large in-built repository of sound, video, and background music, which give the content developer and editor the freedom to edit and create millions of videos. The most beneficial thing about this software is that its free and works equally well with Mac and Windows operating systems.
8. Bandicam
The Bandicam software comes with a free as well as a paid version. The free version, according to many video editors, serves as an excellent alternate to Camtasia. Bandicam has an added feature that allows editors to add animation and graphics to videos as well as include real-time drawings of the content that they record and produce. However, the software can only be used by Window users, thus limiting its comparability with a plethora of operating systems in the market.
9. Fraps
The Fraps software is an open source video recording and editing software that is well-matched with all operating systems and can be used to product videos of exceptionally high quality. In addition, the software also can capture real-time videos using fraps, a tool used in e-learning.
10. Split
Split is an excellent alternative to Camtasia since it allows to capture and record the content present in the desktop. That is, it allows screen-recording and the material recorded through this software can be streamed live and uploaded onto any video-streaming website, such as YouTube or Daily Motion, or the user's personal website.
11. PicPick
PicPick is an excellent choice for those with limited financial resources. Like Camtasia, PicPick allows high quality of videos to be produced. In addition, the software has many built-in functions and features, such as, motion blur, mosaic frames, watermarks, and much more, which can be extremely useful when editing videos. In addition to these features, the software allows to edit and annotate images by highlighting.
12. Filmora Scrn
Filmora Scrn is designed and created by Wonder share, and has most features that are found in Camtasia, but is far cheaper than the latter. Filmora Scrn givesthe user the option of setting a s custom screen recording field and simultaneously record your screen and camera with audio. In addition, recordings can be captured in 120 frames per second (FPS), so your recordings will be smooth and comprehendible. However, Mac users are limited to 60 FPS. On the editing front, the software gives a lot of freedom to change the appearance and design of the cursor by changing its size, shape, and color and also allows the user to add annotations.
However, the software lacks pan and zoom ability.
13. Movavi Video Suite
The Movavi Video Suite is an all-in-one video editing, converter, and screen recorder software, and looks a lot like Camtasia. At first glance, you may mistake the Movavi Screen Recorder for Camtasia, since their interfaces are extremely similar.
The Movavi Video Suite is a one-stop-shop for all your video creating, editing, and recording needs. The software allows you to capture your desired area and record audio and video either simultaneously or separately. The software also allows you to apply cursor highlights and on-click sound effects, which make the work efficient and easy. In terms of video editing, the Movavi Video Suite has a large selection of creative assets including titles, filers, effects and transitions. The software also allows you to annotate your videos.
14. Create
Create is neither a very popular nor a very famous video creating and editing software, but it's certainly worth the time and the money, especially if you wish to opt for cheaper options.
The Create video editing software comes at half the price than that of the standard Camtasia package. In addition, the software has a one-time payment.
The Create software allows you to record a personalized screen area, zoom into meeting recordings, add shapes and animations in your videos.
The best feature of the Create software is that it helps specially able individuals, those that are too shy to speak or cannot speak. The text-to-speech feature enables the user to insert the text and a voice-over narration will appear.
Conclusion
Without a doubt, Camtasia is one of the best video editing and recording software in the market; however, there are other Alternatives to Camtasia too, which may or may not be expensive than the latter. With this list, we hope that you make an educated choice for yourself when purchasing a video-editing software.
Author Bio
Usman Akram is a digital marketer and SEO specialist who's passionate about experimenting and discovering new SEO tactics and strategies to dominate search rankings while bringing an unmatched user-experience. His main areas of interests are; digital marketing, SEO, web/mobile development trends etc. As of now Usman is serving Buzz Interactive, a leading digital marketing agency as the SEO Manager.
Social Media Profiles
Twitter: https://twitter.com/theUsmanAkram
LinkedIn: https://www.linkedin.com/in/usman-akram-725a7b154/