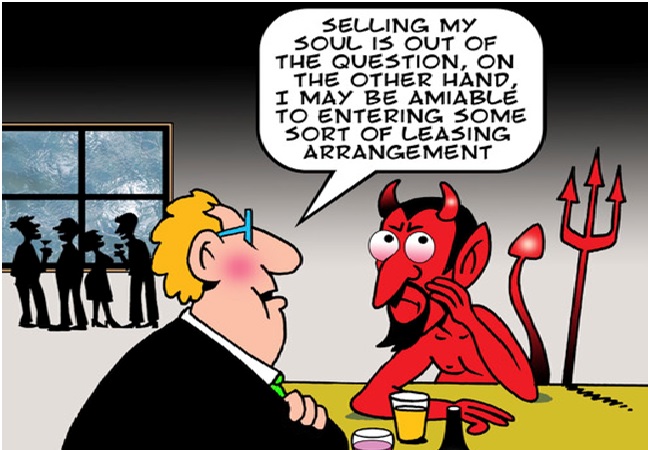 Don't Let the Devil Take Everything from You this Spooky Season
Your soul is your most valuable possession, so you'll want to ensure you obtain a fair price when you decide to sell it to the Devil.
However, you could be thinking that skipping out on the Medium commission is a fantastic way to save money. After all, this is the best method to maximize your gain; furthermore, you're a decent negotiator. In a nutshell, you might be considering a "For Sale By Owner" (FSBO) sale.
Some people may succeed with this, but that is usually not the case. The critical issue is that most individuals are unaware of how the process operates or how much-specialized knowledge is required. And they eventually lose everything to the Devil.
Your home is probably your most valuable possession, so you'll want to ensure you obtain a fair price when you decide to sell. If you're going to get things right, you must take some crucial measures. Keep in mind that the Devil is a cunning negotiator. A soul bill of sale plays a pivotal role in this matter. If you follow our advice, you can immediately have whatever you want without worrying about the costs. Ultimately, no one should part with their eternal souls without getting anything in return.
The risks of losing to the Devil
Wrong pricing
You should never underestimate the importance of setting the right price when selling your soul. Mediums are experts at it because there is a process behind it. There is a chance that you may overprice your soul or underprice it and lose the attention of the Devil. Use extreme caution when setting a price if you decide to go the FSBO route.
Time-consuming
You should also be aware that selling your soul by yourself is a time-consuming process. Remember that you are responsible for every aspect of the sale, including setting the price, setting the stage, and promoting your soul. And you must be available for every show-up. This can be a significant time drain, especially if you have a full-time job outside the home. There is a substantial possibility that the FSBO procedure will take more time than you had planned.
Safety first
Many people who sell their souls without the help of a medium have to deal with "Demons" who are more interested in looking around than buying your soul. In most cases, soul-sellers who choose to sell without the assistance of a Medium don't have the time to vet each demon thoroughly.
Only serious, pre-screened demons will be allowed to see your soul with a professional Medium. Since they don't get paid until they sell your soul, Mediums have a vested interest in protecting your privacy and vetting prospective Demons thoroughly to ensure they're not wasting anyone's time.
Negotiation
You may think dealing with the Devil is like any other negotiation, with some similarities. But do you know how to get your soul's worth without losing everything?
In the event of a sale, you will have certain payment obligations, such as ensuring that 1% of the purchase price is held in escrow by a neutral third party. Coordinating with soul inspectors, attorneys, and agents also matter.
Skilled Medium knows the price at which a specific soul should be offered and works hard to ensure that it does. A skilled Medium knows what a particular soul should sell for and works hard to ensure it does. Most people who try to sell their souls without the help of an agent aren't ready for the sales negotiation, renegotiation, offer, or counteroffer process. The Mediums also closely monitor the closing process and use their expertise to hold transactions together even at the last minute.
No sale
Finally, the greatest danger in handling the sale of your soul by yourself is that you won't be able to sell it for any reason, whether that's a result of incorrect pricing, insufficient advertising, or some other issue. If you've already put a lot of time into the FSBO process, having to start over and whether to use a traditional Medium or a flat-fee broker might be a bit stressful.
It's not impossible!
Selling your soul without the help of a Medium is risky, yet possible. However, you must research previously sold souls in your area to establish the selling price. Remember that most souls already have a commission, so you may need to lower your asking price. You're on the hook for your advertising; therefore, it's up to you to drive as many Demons as possible.
It can take time, pressure, and fury to sell a soul, so be prepared to see it and bargain with the Devil's agent. If you decide to proceed without a Medium, hiring a lawyer is a good idea to help you understand the finer points of the soul bill of sale. However, even with ultimate value, you can save your soul from being taken away by the Devil without any gain.