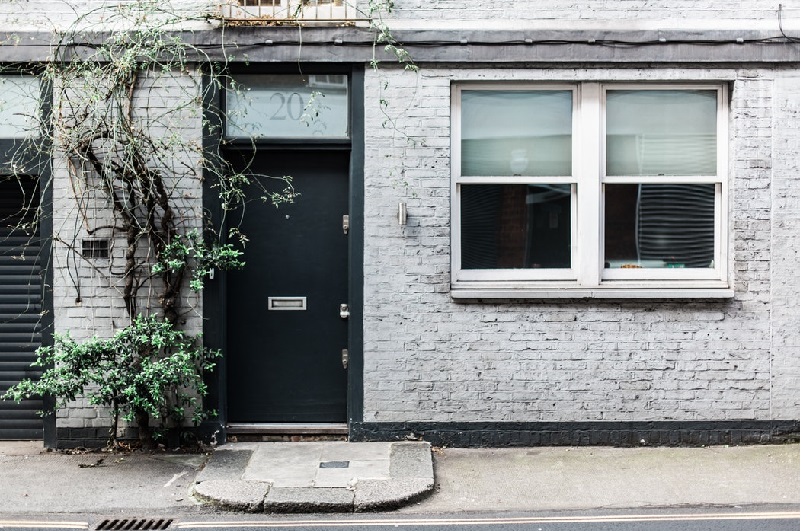 The Complete Guide to Replacing Your Front Door
First impressions always matter. In dates, in business, as well as in house design. This means, that in order for your house to make a good first impression and tell a story about you, design needs to start at the front door. When you look at a house, the front door is often the centerpiece of the façade, this is why it is extremely important to give it your full attention.
Go outside, take a look at your house as a whole and see if the front door matches the rest of the house as it should, or it needs a good do-over. Is it dented or scratched? Does it have cracks or breaks along the edges? Do you feel a draft coming in? These are only a few questions you need to ask yourself to determine if you need a replacement. If you don't know what to look for when replacing your front door, this guide will help you make the best choice to compliment your house.
Best materials for a front door
---
When you choose the material for your front door, there are multiple things you need to take into consideration. Durability, insulation, security, as well as appeal, are all characteristics of a reliable front door. While some materials provide all of those advantages, others only guarantee a few of them:
Wood: The most common choice for exterior doors, wood always looks good and is extremely easy to customize. From pine to oak, mahogany and maple, there are multiple types of wood you can choose from, as well as a variety of finishes, such as colored paint or a simple glaze. Another advantage of wood is that it can be cut to your preferred dimension or shape.
Steel: Insulated steel doors are well-known for security, durability and energy efficiency as well as insulation. If security is your main concern, then this is the best option for you, as although they do not look as good as wooden doors, they do provide more safety.
Fiberglass: Just as steel, fiberglass doors offer more security and energy efficiency than wood and require little maintenance. The best thing is that you can find fiberglass doors that mimic the finish of wooden doors. They are typically more expensive than other options, but the advantages are worth it.
Security
---
When it comes to security, you don't only have to take into consideration the material of the door, but also the locks. There are multiple types of locks available for every kind of door material, but the most secure ones seem to be those that are fixed on wooden doors. This happens due to the flexibility that the wood offers, which allows any kind of lock to be fixed on it.
When you choose an entrance door, find a good locksmith and ask about the multitude of locks you can choose from, be it simple locks or multi-point locks. If you want even more security, you can choose to give up the peephole in favor of a security camera, so you can be aware of who is knocking at your door at all times. Pair it with a good sensor light that lights up when someone is at the door and you won't have to worry about unwanted visitors.
Window glazing options
---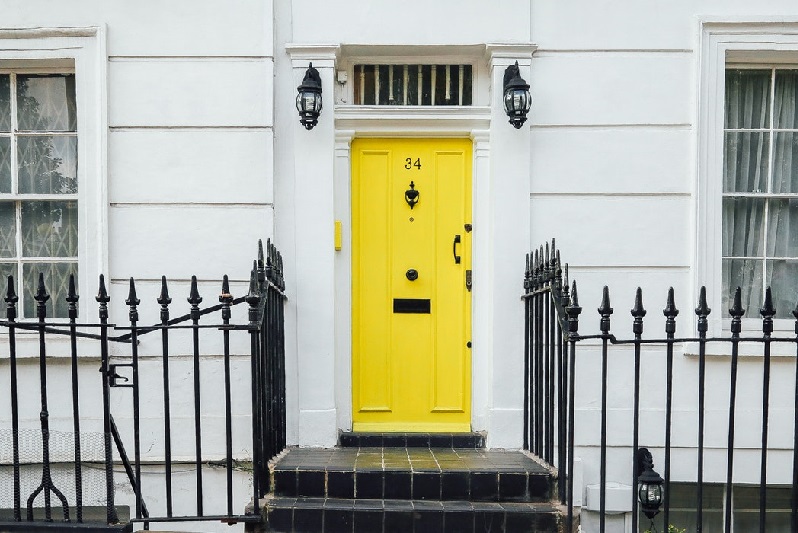 If you choose a door that includes glass, pay attention to the glazing. From clear to tinted and patterned glass, you have a variety of options that you can pick from, which will really change the aspect of your door. You can play with the design as much as you like, but if you want to make the wisest choice, go for double glazing for extra thermal efficiency.
If you have a big entrance, you can choose to counterbalance a smaller door by adding thin vertical side windows next to the door. A transom light, which is the window above the door, can also be a good option to change the regular shape of a simple door.
Front door designs
---
When it comes to design, the sky is the limit. Based on the materials you choose, you have many design options, from simplisticstyles to oddly shaped entrances. If you want a piece of advice, go for a door that compliments the whole appearance of your house.
You can choose a simple wooden one, with no windows or patterns, but painted in a colorful manner, if the rest of your house is a more natural color. Or you can go ahead and choose a white door with big windows, if you want to balance a more colorful façade.
If the space allows it, play with shapes by using side windows cut in an intricate manner. Arched windows, semicircle ones or even simple rectangles can help give the door a more stylish design. No matter what type of design you choose, the only thing you need to worry about is for it to match the rest of your front entrance. From then on, you can choose to style it however you want. Add house numbers, flowers and a nice doormat and you will surely surprise anyone who comes visiting.
Why invest in an energy-efficient front door
---
Another aspect that needs to be taken into consideration, but is sometimes overlooked, is energy-efficiency. The amount of energy lost through front doors that are not properly insulated is incredibly high. Choose a door that has a high R-value, which is the reflectivity value. This tells you how much energy the door reflects and the higher, the better.
A thing that not many people know is that you can qualify for tax incentives if you install an energy-efficient door, which is equal to 30% of the purchase. This also applies to energy-efficient windows, so if you can, go ahead and invest in making a total change for your house. Overtime, it will be worth the investment. Not only because of the tax incentives, but also because less energy will be lost through the doors and windows if you choose to do so.