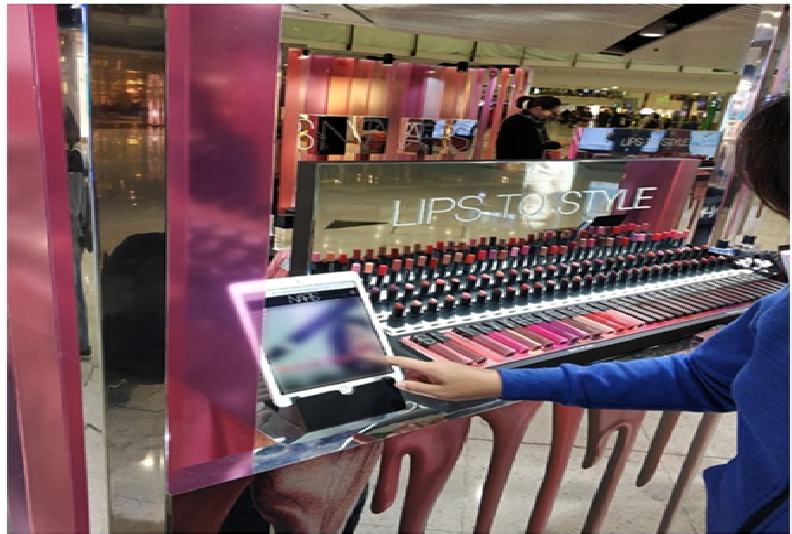 How Can Interactive Promotional Display Boost Brand Recognition
Every industry is heavily saturated and every brand is fighting for the attention of their consumers. It is crucial for brands to stand out from their competitors and attract sales. We are seeing more brands creating unique promotional displays, such as life-size POS display of their product. However, we think that it is time to make use of the advanced technology today to aid in boosting sales and increasing brand visibility. One way to captivate the potential buyers and gain competitive advantage is having a well-managed Interactive Promotional Display that makes use of Interactive Technology Marketing. This marketing tool is sure to generate buzz among consumers because it is eye-catching and will be able to create interest. If your Interactive Promotional Display is perfectly planned, it should be impactful enough that your audience will be reminded of you whenever they see something similar.
In this article, we will be giving a brief explanation of what is Interactive Technology Marketing, and how it can be effectively implemented for your brand to raise brand exposure. We have also listed the benefits of promotional items and how they can be vital for your corporate swag.
What is Interactive Technology Marketing?
---
Interactive Marketing is the individualisation of marketing messages based on consumers' actions. This will be able to provide highly targeted content to each customer to better meet their needs and wants. Merchandisers can make use of the advanced technology to adjust marketing contents to suit customers' tastes and preferences.
How Can This Benefit Your Brand?
---
An Interactive Promotional Display has a modern and futuristic look, which will be extremely distinct. This will intrigue customers to walk towards your store and see what you have to offer. It allows you to stand out from competition and have a competitive advantage over others.
Digital Advertising Display – The use of digital advertising boards will be a great opportunity for your brand to display newly released products, and showcase current promotions. These are relevant information that will be able to grasp the customers' attention and entice them to purchase from you. A digital display will also be able more effective in raising brand awareness compared to a normal Promotional Easel Display. This is also very practical for merchandisers as they are able to easily change the contents without having to remove the entire display and replace it. This will allow them to be more cost-efficient in the long-run. Furthermore, merchandisers can also show multiple contents at once because the digital display can show a few contents in intervals. Not limited to pictures, videos can also be shown to better demonstrate how your product is used, etc. A great quality video will be able to represent, as well as express the personality of your brand. This gives consumers an insight into information, allowing your consumers to feel closer to your brand. Some ways that you can do this is to show clips of employees designing or working on the product, team meetings, as well as the production process.
Touchscreen Feature – A touchscreen feature can be added to the digital display to better engage consumers. Customers tend to have a more positive experience when they have more interaction and engagement with the brand. Having a touchscreen feature will allow you to build rapport with customers, having a higher chance of gaining a loyal customer.
QR Code – To further increase customer engagement, you can also include a QR code in your advertising displays. The QR code can bring your customer to many different websites or platforms. For example, the consumers can visit your social media platforms by scanning the QR code, such as Instagram, Twitter, Pinterest, or LinkedIn. Consumers can also have a short-cut to your website with a scan of the QR code. One of our favourites is to lead consumers to a survey. This way, you can get feedback from customers regarding this new marketing technique, as well as your customer service. This allows you to further improve services offered to customer, thus, increasing customer satisfaction. Not only so, but you can also get customer's information such as phone numbers or email addresses. Such information for you to reach your customers can give you an option to send marketing messages to them to alert them of promotions or new products.
One example that we have for you is Cosmetic Display Counter done by NARS Cosmetics.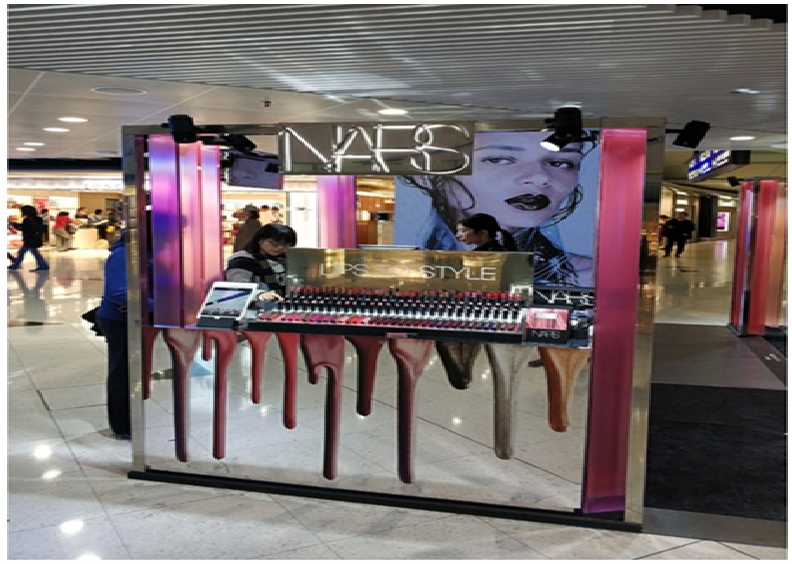 They have successfully made use of Interactive Technology Marketing to amp up their Cosmetic Display Counter.The Cosmetic Display Counter is sure to grasp the attention of makeup lovers. Besides its bright aesthetics that showcases their lipsticks perfectly, they also have an interactive iPad to engage the attention of potential buyers.Needless to say, the interactive iPad used also helped increase sales and boost brand recognition.
This Interactive iPad gives consumers a pleasant shopping experience. This is because it allows consumers to try on lip shades virtually instead of using the actual testers. This might appeal to those who do not want to use the samples provided.This concept will also fascinate those who already have lipstick on and do not wish to remove their lipsticks to try on a lipstick shade. The convenience it provides could be a good selling point.
This is a great example of how you can efficiently implement Interactive Promotional Display that makes use of Interactive Technology Marketing.
Providing customers with personalised contents based on their reactions and response is a great way to grow your market reach. This makes marketing more effective and efficient towards targeted customer base. It also reduces risk and boosts sales because it focuses on customers' actions and prospects. This will ensure higher customer satisfaction, thus a higher repeat purchase rate.
For more information, please click here to find out more examples of excellent Interactive Promotional Displays, and how they can be the key in vastly improving your business.