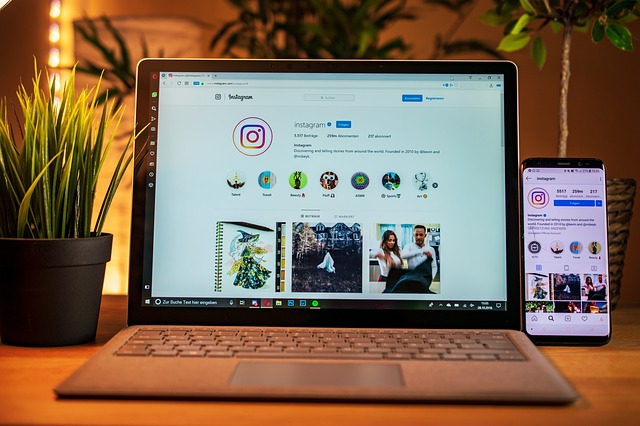 Instagram A Platform For Online Business – How To Create An Online Business On Instagram
Instagram has rapidly become a powerful marketing tool for both businesses and personal brands. Thanks to added features for business accounts, you're able to easily display relevant information to your customers, making it easier for you to sell.
One of the great things about Instagram for business is that you're able to market and sell in the same place, it is an excellent opportunity for small businesses to grow their brand's reach and profits.
Instagram provides several tools, such as insights, metrics, and promoted posts to help you reach your business goals, so if you're interested in creating an online business on Instagram, don't waste any more of your time, and read on.
Let's Get Started – Set Up an Instagram Business Account.
---
First of all, if you want to start promoting your business, you need an Instagram Business account; this is how you set it up:
Download the app from your app store, then tap on it to open it once it has been installed on your phone.
Sign up to Instagram using an email address or Log in with your Facebook account. I recommend the latter if you want to connect your Instagram Business account to your Facebook Business Page later.
Choose an appropriate username that will let people find you. Try to use your brand's name without alterations. If your username is taken, add numbers or abbreviations for your location.
Choose a safe password and fill in your information. Once you're finished, tap Done.
Go to your profile by tapping your profile icon. Then tap the three lines icon on the top right corner and go to Settings.
Tap Switch to Business Profile, then Continue.
Add all the required information, then tap Done.
You now have an Instagram Business account.
Talking Strategy
---
Your Instagram strategy will largely depend on your business goals. Whether you want to get new clients, more sales, or build an engaged audience, you will have to establish specific objectives and parameters that will allow you to use the app to its full potential to benefit your business.
Creating a winning strategy for Instagram.
First, define your target audience; this will determine the type of content you will be posting on your account. Establish an age range, gender, location, lifestyle, etc. to have a clear understanding of who you should attract with your content.
If you already have customers, you should study them as well. Since they're already interested in your products, which means you'd like to find similar profiles to theirs on Instagram.
The next step is to set business goals. These must be Specific, Measurable, Attainable, Relevant, and Timely (SMART). Depending on your goals, you focus on different metrics that will help you stay on track:
If you want to increase brand awareness, focus on follows, profile visits, impressions, and reach. These metrics will let you know how many people are interacting with your business and where they are discovering you so you can keep using the strategies that brought you there.
If you want to increase engagement, focus on likes, comments, and shares. Pay attention to what type of posts get lots of these and keep replicating them.
If you want to increase sales, focus on clicks, mostly those on the link on your bio. Again, analyze what posts are driving the most sales since this will give you an idea of the interests that your audience has.
Optimizing your profile.
Your name and username are the only searchable elements of your profile, so make sure they include your brand name and any relevant variations.
It's a good idea to use the same username and profile picture in all of your social media profiles so that your customers can easily find you anywhere. Your profile image should be your brand logo in 320 x 320 pixels.
Add a relevant link on your bio; this can be a link to your home page, your online shop, your sales funnel, your YouTube channel, etc. It is the only clickable link you get on Instagram, so make sure you use it wisely.
Include your contact information, such as your email address, phone number, and address if your business has one; this allows for better communication between you and your customers.
Action buttons let your potential clients make an appointment with you or buy your products with just one tap, so make sure you include one of those on your profile.
Lastly, you can use the category section to select what your business is all about and let new visitors know.
A regular posting schedule.
When we talk about a posting schedule on Instagram, you have to know that different content performs better at different times, so you aren't able to just Google what's the best time to post and expect your posts to blow up.
You will have to go through a testing period where you try out different times and days to see when you should post. Your Insights will provide all the information you need to establish a posting schedule that keeps your followers engaged.
The idea is to post regularly to stay top of mind with your customers, and your stories can help you achieve this. However, you don't want to overwhelm your followers by posting too often. Also, there are tons of courses online that call themselves "Online Academies" about a particular subject, in this case, they'd call themselves "Instagram Academy", if you see any of those courses, you should check out https://onlineacademyscam.com/ before purchasing them. They post in-depth reviews of almost all the courses out there in the make money online niche. And you can know beforehand whether the course you're planning to buy is a scam or not. It'll save you a ton of time and headache.
Optimal profile bio.
You want your Instagram bio to convey your brand personality.
Even though 150 characters seem too little, you can use a couple of sentences and the right tone to let people know if your brand is more on the serious, fun, or casual side.
Emojis and spacing are great ways to make your bio lighter and easier to read.
Building a community.
Building a community on Instagram takes dedication and effort, but it's not as difficult as it seems. You just have to follow these simple steps:
Find a group related to your niche. You can do this by scanning your competitor's page. If you follow these engaged users, people that might be interested in your content and products will know about your business and probably follow you back.
Do hashtag research. Hashtags are another of the few things that are searchable on Instagram, so they allow you to put your content in front of potential clients that don't follow you. However, you will only achieve this if you use the right ones. Spend some time monitoring and looking for proper hashtags that showcase your content in the best light.
Engage with your audience—people on the internet like it when you interact with them. It's only fair that you reply or like their comment if they took time out of their day to say something beautiful; this will slowly create a relationship between your brand and your audience and encourages followers to interact with your posts.
Consider influencer marketing. Nowadays, even small businesses can benefit from influencer marketing. Micro-influencers are willing to work with you even with a low budget. Look for someone with an engaged audience that will be highly interested in your business and try to work with them. You can offer them free products in exchange for promotion.
Use Instagram ads. Instagram ads do an excellent job of putting your content in front of a larger and targeted audience; this means that your brand will be seen by users that are very likely to follow or interact with your content. However, you must have an evident and accurate vision of who your target audience is for this to be beneficial for your business.
Use your other social media profiles to promote your Instagram business account.
Getting Business.
Instagram not only allows you to market your business, but it's also a great platform to start building one. There are several ways you can start a business with just an Instagram account. Some of them are:
Become an Instagram influencer. You have to choose a niche you're passionate about because you will be creating and posting a lot of content to build the audience you need to be an influencer. This content has to be relevant and useful to other people interested in the field, so you have to dedicate a lot of time on your selected topics. Once you've built your audience, you can choose brands that are looking to promote their products.
Review products; this is pretty much on the same line as an influencer. Find products you like to test and review them on your Instagram account, and always be as genuine as possible to build credibility. If your followers can't trust your reviews, following you is not going to be worth it.
Become an affiliate marketer. Promote and share affiliate links to other people's products and earn commissions after someone buys them using your link.
Create an online store. Instagram is a very crowded platform, so if you want to have a successful online store on Instagram and catch users' attention, you have to offer something unique in a specific niche. Look for already successful shops on the platform and see what products they offer and how they sell them to their customers.
Summing it all up.
---
Instagram is one of the best platforms to start making money online. The best part is that you only need an account to start a profitable business. Once you choose a niche and set up your account, you're ready to go.
Define your target audience, set business goals, and focus on the right metrics to change your course of action along the way to get better results. Engage with your followers and potential clients on the app to build a community for your brand, and then you will be able to earn money just by using your account.
Now that you have this knowledge on your hands don't let it go to waste and start your online business on Instagram today.