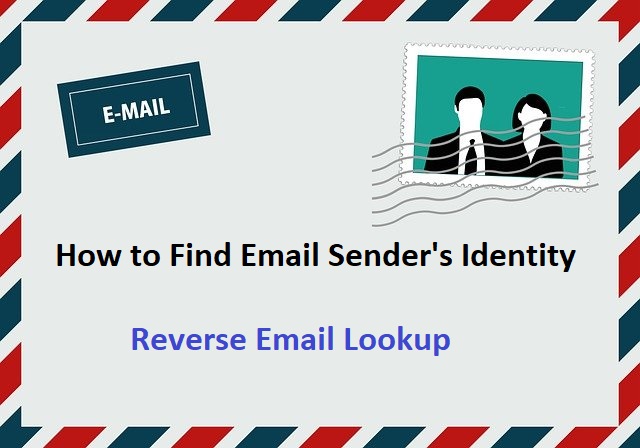 Reverse Email Lookup: How to Find Email Sender's Identity
Are you finding email sender's identity? Here are guide to find out unknown Email Sender's Identity – Reverse Email Lookup
This happens to most people, you get mail from someone, and you are unable to find out the identity of the sender. The sender can be an old friend, relative, colleague, or can be an acquaintance. The mail you have received does not contain proper or enough information to identify the sender's identity, and sometimes it feels so rude to ask for the identity directly. This situation is faced by most of us in our lives. With the help of reverse lookup services, one can easily resolve this problem. Reverse lookup service will help you dig information about the sender, and the problem will be resolved. To trace the information, the email  ID will be required. Therefore if you want to save yourself from embarrassing situations, you can use the reverse email  lookup. There are approximately 290 billion email s sent every day, and you will not be aware of every email  landing in your inbox from a legitimate business or person?  The reverse lookup services can easily help you track out who is trying to contact you and why?
What is reverse email lookup?
---
A reverse email  lookup is a tool that helps you search the person's details using their email  address. This tool helps in identifying the sender information which they have made public online. Normally, people use names to find out their email  addresses, but here it is the opposite; people use email  addresses to find their names.
How to do a reverse email lookup?
---
There are various tools and techniques that can be used to figure out the email  sender's identity. Here we will list some of the free and paid tools and resources. These techniques can work well with any mail service provider, which includes Gmail, Yahoo, Rediff mails, outlook, and the mails which have custom domain names.
Google search
Google search is one of the powerhouses of search engines, and it can find out almost everything. To find out the email  sender, the very first thing you do is search for the sender on Google. Google will reveal any information which can help you to find out the information about that account. Most people use Gmail as their email service provider, and Google can easily provide you their information.
Google can easily track any social media account linked to that email  ID; it can easily find out its Facebook or LinkedIn profile and many more things. This is one of the easiest ways to find out information about any mail account; if this does not work for you, then you can try other search engines as well.
Email  search on Facebook and other social media websites
People willingly share their personal information on Facebook, and now it has become one of the best places to find out information about people. The search box of Facebook allows you to search for people's information using their email  address. You need to copy and paste the email  ID in the search window of Facebook and tap the search button. If the email  sender uses the same ID for their Facebook or LinkedIn account, then their name will come in the Facebook search result. This will help you to find out the sender's basic information and photos easily. But there is one drawback of this method, which is Facebook privacy setting provides users an option by which they can easily disallow people from searching them using their email  ID. Because of this, it might be possible that you will not get the results.
Still, this method is one of the easiest methods to start your search. Like Facebook, there are several other applications like Instagram, Twitter, and LinkedIn, which allow people to search using their email  ID. There are chances that you will find the sender's details by using any of the social media platforms. There are some of the applications which can search for your query on multiple social media.
Email  lookup services
One of the best and easiest ways to keep track of all the email s you receive and information about the sender with the help of a dedicated email  client will automatically gather all the sender information. The application will display all the extracted information right with the email . You can take advantage of various lookup tools, and the share of email  lookup applications and tools is increasing day by day. These tools are majorly used in email  marketing, and they can also reach out to a large audience. It is very important to understand the leads to establish a professional connection with them.
Browser extensions
One more important way to reveal the identity of the email  sender is by using a browser extension. Several browser extensions can help you track out the sender's information once you open the email  in your browser. One of such great extensions is known as LinkedIn sale navigator scrapper. This extension will help you to provide all the information right with your email . If this extension does not work, then several other extensions can provide you the results. These extensions will work on Gmail, yahoo, outlook, and others as well. These extensions work very well, and they always come up with information that can be used to identify the sender's identity.
Reverse mail search engine
If the above-stated method doesn't work and you want to check the sender, you will be left with the last option to find their identity. Several reverse email  search available or reverse people search engines can help you find the correct information about the sender using their mail address. But these Reverse mail search engines are usually paid.
Search for hints
If you do not get any information using the above applications, you can try clues to get the information about the mail sender. You can use some clues like domain name from the mail. The mail's content will also provide you clues about the sender; you can easily search for those things on Google. This will make the reverse email  lookup process easier.
Frequently asked questions about the Reverse Email Lookup
---
How does reverse image lookup work?
There are a number of ways by which you can easily track an email  address. When Google search is performed, the data which is provided by the users is provided to you. This application also provides you an option to disable this information, such as in Facebook, one can opt to disable the information, but one has to disable the option manually; otherwise, anyone can use the information to find your profile.
Moreover, specialized services in Reverse Email  Lookup have the entire database created by the scraping websites. As then use quite advanced algorithms, one can gather information by a simple search.
Are there any charges for Reverse Email  Lookup?
If you use free tools like Google or Facebook, you are not required to pay any money. Moreover, some Reverse Email  Lookup tools can also offer you some data for free and some charges for full results. Some apps can also restrict you by the number of searches that you can perform. If you are required to trace email s just once or twice, then the free version can serve your needs.
What information is provided by reverse email  lookup?
To identify an unrecognizable email  address, you just need to type the email , and the tool will provide you the personal information, which can include –
Full name
Location
Social media account details
contact number
images
country
Can a Gmail email  be tracked?
Yes, by using the aforesaid methods, you can easily track Gmail addresses.
What to do if the above methods do not work?

---
If you cannot trace the sender's identity by using the above methods, then the sender might be using some anonymous websites. The next option which you can opt for is to block the sender address. There are some rare occasions when this does not work.
Reverse Email  Lookup email  address search is important to find out the authenticity of the mail sender. Reverse Email  Lookup application and methods are there in many forms, and they indirectly help you create better conversion. You can automate your mail outreach with the help of these email  address lookup methods, and you can easily cross-check the email  address. The data collected by the reverse email lookup search must be verified.
About Author
Ravi Sharma, CEO of Webomaze – # 1 SEO Company in Chandigarh is a highly enthusiastic entrepreneur. He has got a great grip on the idea of effective eCommerce Strategies, SEO processes, and tactics which are vital for virtual exposure. He is a fun-loving person and a keen traveler who always hunts to find adventure in new places.
Linkedin – https://linkedin.com/in/sharmaravi08
Facebook – https://www.facebook.com/sharmaravi08