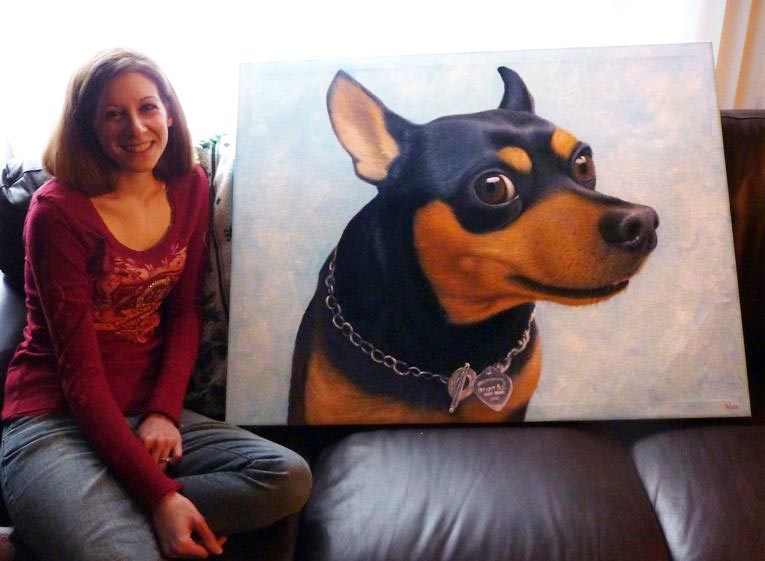 Unique and Personalized Gift Ideas: Custom Paintings and More
Any gift given from the heart is bound to be appreciated. However, if you are in need of something out of the ordinary, it might be time to explore a few new options when it comes to presents, whatever the event may be.
The prospect of turning a photo to painting, creating a lasting memory, along with another particularly 'outside the box' gift idea are guaranteed to get your creative juices flowing as you decide on the perfect present for that special occasion coming up.
Is Painting Still Relevant?
---
Nothing captures a memory quite like a picture does. Perhaps this is why paintings are such a classic way to represent an emotion, event, or person. They succeed in memorializing a specific moment for a lifetime.
Because of their transportive and emotional nature, paintings become family heirlooms, bound to be admired for years and years and placed where they can be enjoyed by all.
Though portrait painting may at times seem to be a lost art, the emotion this art form has the ability to evoke has not changed over time and the idea of creating a custom painting is still very much alive.
Thankfully, there are still avenues through which to commission these paintings and make them fully customizable.
Which is the Best Website to Buy Online Handmade Portraits?
---
Paint Your Life makes portrait painting easier than it has ever been before. The process of creating a personalized portrait is broken down into just a few easy steps, providing an enjoyable and worry-free experience for the purchaser.
Paint Your Life is home to many talented artists who represent expertise in a variety of painting techniques, ensuring that there are many painters who specialize in the medium you seek to choose from and are ready to take on your painting. The mediums offered include:
Oil
Charcoal
Pencil
Watercolor
Acrylic
Pastel
By browsing the work of various artists and types of paintings, you'll be given the opportunity to select the medium that best suits the image you wish to have transferred to canvas.
How Does a Custom Painting Work?
---
What are the steps involved in commissioning a custom portrait?
Select a photograph.
Choose an artist whose work and painting technique best fit your photograph and your vision for your customized picture.
Upload the photo.
Inform Paint Your Life about any alterations you would like to make to the photograph, which will be what the artist will use as a guide.
Select the desired size for your portrait and a frame as well.
Approve the updates you receive from the artist during the creation process. If there are any adjustments you would like made along the way, you need only submit a request and the painter will accommodate.
Receive your custom painting and make room for the entrance of a gift that will stick around for many, many years.
How Do People Feel About Custom Paintings?
---
Whether you seek to memorialize a beautiful family moment or a pet who is no longer living, a gift as personal as a custom painting is bound to elicit a touching and heartfelt reaction from the recipient.
Take a look at how pleased one woman was upon receiving her custom portrait. Not only was she excited over the handmade nature of the artwork, but she was also thrilled by the prospect of sharing the excitement with her significant other.
But that's not all!
The following paintyourlife review is a testament to the flexible and customizable nature of having a personalized portrait created through Paint Your Life. Through mixing and matching photos, the portrait was designed exactly as the commissioner had hoped, making the inclusion of each family member possible.
What's Another 'Outside the Box' Gift Idea?
---
So you've received your custom portrait and it is beautiful. Perhaps you ordered it as a surprise for your significant other and want to add a little something extra to complete the gift's presentation.
Check out this fun Weekly Date Night Jar craft ideas from Ruffles and Rain Boots and present your loved one with the opportunity to continue building memories as great as the one you captured on canvas. This small, yet thoughtful addition will communicate your appreciation for the great times you've spent together and your desire to continue on making memories like nothing else!
A Gift They Won't Soon Forget
If you're ready to knock everyone's socks off with gifts that will touch the hearts of those you love, think personal!
Commissioning a custom portrait through Paint Your Life allows you to have a portrait with the flair of classic charm, but without the hassle of having to sit through its creation!